How to tackle varicose veins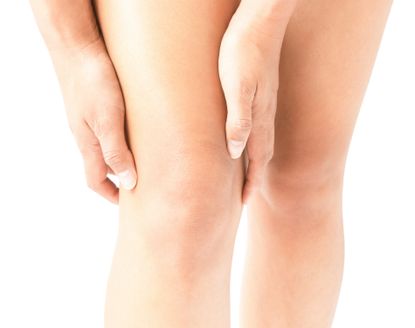 (Image credit: Pongsak Tawansaeng / EyeEm/Getty Images)
If you suffer with varicose veins, or suspect you might be developing them, you don't need me to tell you they're an absolute pain in the proverbial.
Far from being just a cosmetic issue, these enlarged groups of veins often bring a host of irritations to otherwise healthy legs like heaviness, swelling and more thanks to restricted circulation. While in many cases varicose veins are harmless, if yours are causing you pain or serious discomfort it's an idea to pay a visit to your GP, who can take a look and see if medical treatment - anything from laser to stripping the veins - is the way forward.
Assuming you don't fall into this category, but into the one where you've spotted bulbous veins, wish they weren't there and feel a bit heavy in the legs in hot weather, there are ways to ease your ails (or at least the symptoms) too. Try these three simple steps to tackle varicose veins today.
Tighten up
Few items of clothing sound less sexy than compression tights, but the relief that circulation-boosting hosiery can bring to throbbing legs and veins will make you feel (and therefore act) 100% more alluring. Scholl Light Legs, £14.99 (opens in new tab), are fairly indistinguishable from ordinary tights to look at and feel tight enough on that you know they're working but far from bandage-like compression stockings of yore. The 20 denier nudes are ideal for summer, lacking any scary 'American tan' glimmer, and have the side benefit of veiling purple or blue discolouration too.
Lighten up
Created by Beauty Editor Kate Shapland, Legology is a genius range of products, all aimed at relieving heavy, hot and achy legs. The original, Air-Lite Daily Lift For Legs, £62 , (opens in new tab) is a tingly, lemony cream that lightens, refreshes and de-puffs when massaged in daily from ankle to thigh (look at Legology.com (opens in new tab) for cute cartoon step-by-steps) Up the ante by using with the Lymph-Lite Leg Brush, £16, (opens in new tab) which will smooth and exfoliate your skin too. You'll be amazed by how much lighter and happier your legs feel.
Cover up
Now you've worked on the way varicose veins make your legs feel, a few cosmetic tricks can make all the difference to how they look. If it's discolouration you're concerned about, a few drops of Vichy Dermablend Corrective Fluid, £16 (opens in new tab) patted in will do the trick. The coverage is 100% opaque, won't run in the rain and has yellow undertones to counteract blue or purple bits particularly well. If you're showing a bit of leg and want an all-over veiling effect, try the excellent Vita Liberata Body Blur Instant HD Skin Finish, £29.95 (opens in new tab), The three shades all look scarily bronze in the tube, but smooth on subtly without streaking, and give legs a seriously long-lasting all-over colour that glosses over dodgy discolouration, as well making legs look slimmer, smoother and sun-kissed (never a bad thing).
Seek medical advice
If your varicose veins are causing medical problems such as pigmentation, eczema around your ankles, or ulcers, you may be able to get them treated on the NHS. Arrange an appointment with your GP at the earliest opportunity, as all of the above may indicate a long-standing problem with the flow of blood in the veins.
Repeated bouts of veins that are hard and painful, could also indicate small clots.
Swelling of the ankles, aching and itching skin may also be taken into consideration when it comes to potential NHS treatment (opens in new tab).
Winter is an ideal time to have the treatment - providing your GP has considered you eligible - as you will often need to wearthick support stockings for several weeks following the procedure.
Beauty Editor, womanandhome.com
As woman&home's Beauty Channel Editor, Fiona Mckim has tried more products than she's had hot dinners and nothing makes her happier than raving about brilliant finds on womanandhome.com or her instagram grid (@fionamckim if you like hair experiments and cute shih-tzus). Fiona joined woman&home as Assistant Beauty Editor in 2013 under industry legend Jo GB, who taught her everything she needed to know (learn about ingredients and employ extreme cynicism). She has since covered every corner of the industry, from interviewing dermatologists and celebrities to reporting backstage at Fashion Week and judging the w&h Beauty Awards.