The best hairdressers in Manchester in 2020 – a guide to all the best salons in your local area
Let us help you find great hair salons in this buzzing metropolis.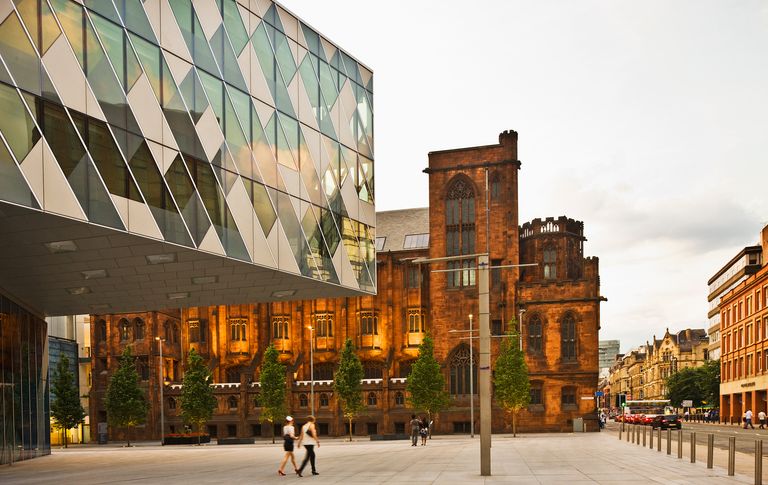 (Image credit: Maremagnum/GettyImages)
Need a great hairdresser in Manchester? Look no further.
There's no shortage of great hair salons in the self-styled Capital of the North. You'll find numerous options in the city centre, including in the trendy Gay Village around Canal Street. Or head to Spinningfields – home to the city's financial district – or the gentrified Northern Quarter. Alternatively, you can head out of the hustle and bustle and in to one of Manchester's attractive suburbs and nearby towns. Try lefty Chorlton or leafy Prestwich for a selection of classy local salons.
Whether you're in need of a change – perhaps one of thesemodern, timeless short hairstyles, a fresh take on your current bob, or you're finally going for a side fringe haircut– you're sure to find the right cut for you in this invigorating city.
How can I find good hairdressers near me in Manchester?
Google is undeniably handy – simply type in 'hairdressers near me' online and you'll get pages of results – but the woman&home team loves Treatwell. Not only is it a one-stop shop for hair and beauty appointments on your phone, it's super easy to use. Currently, there are 69 Manchester hair salons to choose from on the site, and there's the added bonus of customer reviews to give you an idea of what to expect.
Which hairdressers in Manchester have the best reputation professionally?
Manchester has a number of award-winning hair salons. Head tomulti-award winner Melissa Timperley in the fashionable Northern Quarter. This stylish salon is the recipient of numerous awards including Best Independent Salon by the Fellowship for British Hairdressers and Best Client Experience at the NHF Business Awards. Customers rave about the five star treatment they receive here (plus the salon's Instagram features a very cute puppy).
Can I book online? An appointment at Melissa Timperley can be made online.
Another fantastic option is Jon Wilsdon at Toni & Guy Deansgate. A star on the hairdressing circuit, Jon has been a North WesternHairdresserof the Year finalist at the British Hairdressing Awards for two years running.
Can I book online?An appointment at Toni & Guy Deansgatecan be made online.
Best hairdressers in Manchester 2020
Todecide which 10 hairdressers in Manchester made this list, we took the best customer ratings and reviews fromTreatwell. At the time of writing, Remedy is a hit, with 5 stars and 483 reviews. This local salon in the north-east suburb of the Moston has consistently excellent feedback. Customers repeatedly love the service and friendliness of stylists Kelly and Erin. "Always a great experience," wrote reviewer Angela. Book via Treatwell.
And that's not all – here are some more hair salons featured on Treatwell that made the grade and, additionally, offer both women's haircuts and colour. So, take a look – you could find the ideal salon for you.
Top 10 hair salons in Manchester
5 stars, 483 reviews Located in the residential area of Moston, not far from Broadhurst Park, this "exclusive female zone" is a stylish, competitively priced salon that provides a welcoming atmosphere and expert advice. Stylists Karen and Erin get 5 star reviews for their skill, helpfulness and commitment to good-looking hair. "Finally got to a colour and style I totally love," wrote Maria; "Can't fault this salon," wrote Sharyn, while accolades such as "knowledgeable", "friendly" and "experienced" are repeatedly mentioned. 💇Starting price for a wash, haircut and blow dry: £27.50 💇Starting price for half head highlights, haircut and blow dry: £57.50
Hair House Boutique in Wythenshawe
5 stars, 381 reviews Located in Manchester's greenest district, a short walk from Northenden's village centre, this relatively new salon is run by Gemma, who has worked as a stylist and colourist for 15 years and gets 5 stars across the board for her services. Reviewers consistently talk of the "welcoming", "friendly", "attentive" and "professional" service they receive, with one customer appreciating Gemma's "perfectionist" approach. 💇Starting price for a haircut and blow dry: £35 💇Starting price for half head highlights, haircut and blow dry: £55
Hair by Mollie in the City Centre
5 stars, 127 reviews Based within the glam, modern space that is The Dalton Street Salon, Mollie is a women-only hairdresser who's built up a client base and more than a hundred 5 star reviews – not only for her services to hair but for being a lovely human being. "Mollie understood exactly what I wanted and I was so pleased with the results," wrote Lorna, while Lizzie raved of her highlights, "I hardly ever leave 5 stars but I'm genuinely struggling to think of anything I didn't like!" 💇Starting price for a haircut and blow dry: £33 💇Starting price for half head highlights, haircut and blow dry: £80
KLUB Boutique Salon in the City Centre
5 stars, 80 reviews This intimate, elegant salon on the rooftop terrace of the Manchester Hall, a short walk from Salford Central, offers hair and beauty treatments. Hairdresser Brent gets 5 star reviews for his styling skills, with satisfied customers saying they'll definitely return. "Brent did an absolutely amazing job of my hair and I'll definitely be back," wrote Rebecca, while Jessica said, "Brent knew exactly how to fix my hair problem and really put me at ease." 💇Starting price for a wash, haircut and blow dry: £44.60 💇Starting price for half head highlights, haircut and blow dry: £133
Hair Studio by Lily in Prestwich
5 stars, 10 reviews Experienced stylist and colourist Lily is based in Prestwich, a popular suburb of Manchester known for its villagey feel. Described by one reviewer has having "gold hands", Lily is also "professional", "lovely" and "friendly". "Love this place, best hairdressers ever!" wrote Maria, while Roshni reported that Lily "does everything in perfection. I can highly recommend her to everyone." 💇Starting price for a wash, haircut and blow dry: £25 💇Starting price for half head highlights, haircut and blow dry: £50
Village Hair in The Gay Village
4.9 stars, 1178 reviews This unisex hairdressers is about as hip as salons come but that doesn't mean it's so cool you get a cold welcome. Stylists get 5 stars for their friendliness as well as their expertise: "Becca is absolutely lovely and highly skilled," wrote Amber, while Anonymous wrote. "I was really grateful to Sam for making the whole experience fun and relaxing, and I have honestly never had such a good haircut." Another reviewer, Emma, said, "Jay was great and really listened and understood what style I wanted!" 💇Starting price for a haircut and blow dry: £40 💇Starting price for half head highlights, haircut and blow dry: £115
Rupert Hayes Hair in the City Centre
4.9 stars, 395 reviews This well-established salon is owned by local icon Rupert, who worked at Vidal Sassoon in London's Bond Street before setting up on his own. Bright, bold and airy, the salon was Top Rated by Treatwell in 2019. "Exceptional colour," wrote Toni and "amazing service," remarked Dasha, while curly haired customers will be pleased to know it's one of the best salons in Manchester for understanding their unique tresses. 💇Starting price for a haircut and blow dry: £45 💇Starting price for half head highlights, haircut and blow dry: £115
At Hair & Beauty in Chorlton
4.9 stars, 315 reviews A stone's throw from Chorlton Park, in a leafy part of Manchester known for its independent shops, At Hair & Beauty's stylists get top reviews for their advice, "attentive service" and the "great experience" they offer. With lots of repeat customers and loyal clients, this neighbourhood salon is worth the trip. "I felt very well looked after," wrote Sophie. 💇Starting price for a haircut and blow dry: £40 💇Starting price for half head highlights, haircut and blow dry: £100
New Church House in the City Centre
4.9 stars, 305 reviews There's a "glamour squad on standby" at this centrally located hair and beauty salon. Specialising in "transformative haircuts and creative colouring" New Church House has excellent reviews. These include Daniella's feedback on her cut and balayage, "I can't tell you how happy and amazed I am by the result," she said of balayage expert Anton's talents. Other happy customers mention great cuts, "lovely service" and the friendly, welcoming atmosphere. 💇Starting price for a wash, haircut and blow dry: £45 💇Starting price for half head highlights and blow dry: £120
James Roberts Hair & Beauty in the City Centre
4.9 stars, 289 reviews Located in Deansgate, this modern, minimally designed salon offers excellent customer service from "professional" and "friendly" staff who listen to what the clients want. The result is hundreds of positive reviews from people thrilled with their stylish cuts and colour. "Would highly recommend," wrote Joanne, while Judi1 remains "forever grateful" to Dominic for a style "executed to perfection." 💇Starting price for a haircut and style: £44 💇Starting price for half balayage, treatment, haircut and style: £142