The best hair cut and products for your hair type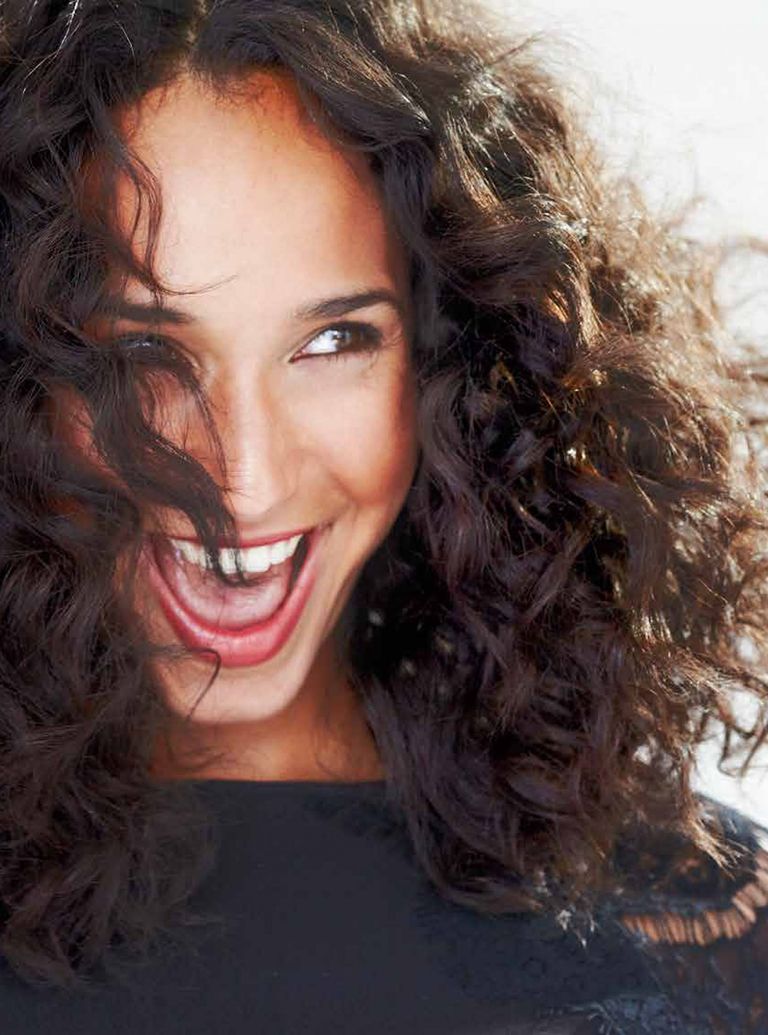 Loving the hair you're in is easier said than done, I know. But if we all took a step back from the mirror once in a while, we might appreciate what we've got. "I love it when clients want to embrace their natural texture." says Ken O' Rourke, Charles Worthington's brand ambassador. Fact is, the less you try and make hair look great, the sexier it looks. Your hair is who you are, so why change it? I tell my clients to learn small tricks and quick fixes as well as picking the right products that work for their hair texture."
In a recent survey by Charles Worthington, only 14% of us actually LOVE our hair, while one third feel their hair is just 'ok'. Time for a change!
Over-processed and frizzy?
"Thoseprone to frizzhave inbuilt volume waiting to be harnessed," says Jamie Stevens, Matrix Global Ambassador. "If hair isn't curly already it's more likely to hold a curl easily. Frizzy hair also holds colour well, so with the right protein and hydrating products you can have a voluminous style."
+ The ultimate cut Keep frizzier hair long with blunt ends and long layers," says stylist Paul Edmonds, "avoid having too many short layers to manage your style better."
+ The one product "People think hairspray is the best way to tame frizz, but it actually needs moisture, so a serum is better." TryAveda Damage Remedy Split End Repair, £25 from Aveda.co.ukwhich feels more like a cream than a serum; or pre-blow-dry, tryGoldwell Kerasilk Reconstruct Restorative Balm, £21.40 at Luxuriouslook.co.uk, which smoothes to reduce dryness.
+The best tip Sleep in your conditioner and rinse out in the morning - this will hydrate hair, boosting its natural movement.
+ Try this L'Oreal Professionel Smartbond is a salon treatment that contains ph balancing maleic acid plus smoothing ceramides to help repair hair. From £30 at L'Oreal professionel salons nationwide.
Fine, Limp and Lifeless?
"Just think, you always look groomed and you never have to battle with frizz," says Jamie Stevens. "Flat hairjust needs a bit of encouragement to lift at the roots and it's amazing!"
+ The ultimate cut Blunt, bob shapes work best to maximise the weight and add a little more bounce," says John Frieda Creative Expert Kerry Warn. Smooth hair suit grown up ponytails and sophisticated chignons too.
+ The one product "Use a texture spray at the roots to give a quick boost of volume to dry hair.Charles Worthington Volume & Bounce Texturising Spray, £13.95 from Amazon.co.uk, is "like backcombing in a bottle" says Ken; or try the newL'Oreal Elvive Fibrology Air Root Lifting Dry Shampoo, £3.99, at Superdrug.co.uk.
+ The best tip "Use your hands to rough dry hair to create natural volume. Then with a round brush, take top sections of hair, blow-drying upwards to create smoothness and height," says James Galvin. "Alternatively if you don't have time to style your hair, switch up your parting to create instant height."
Having a brittle grey day?
"Grey hairis the new black," says Kerry. "It's a bold look that radiates modern elegance," However, grey or brittle hair is likely to be dehydrated, so keep it nourished.
+ The ultimate cut "If it's very coarse, go for a fun, chic, shorter haircut as this requires much lower maintenance," advises James Galvin.
+ The one product Hair oil for sure! Saturate hair from mid-length to ends, allowing it to sink in overnight for a burst of moisture. TryAveda Dry Remedy Daily Moisturizing Oil, £21.39 at Amazon.co.uk,orBumble and Bumble Hairdressers Invisible Oil Dry Oil Finishing Spray, £25, at Bumbleandbumble.co.uk.
+Try thisGrey hair is beautiful but it can become dull if you don't look after it. Make sure it stays glossy withShu Uemura Art Of Hair Cool Blonde Colour Lustre Shade Reviving Balm, £25.60 at Lookfantastic.co.uk
+The best tip "Apply a tiny bit og hair oil onto the back of your hand, rub a bristle brush on it and use to keep flyaways at bay and keep hair perfectly sleek," says Ken.
Crazy curls?
"Curly hairis so versatile as you can wear it in so many different styles and it looks amazing with no accessories," says Ken. "Plus there's no need to blow dry or shampoo as often, which saves a lot of time and money. You have natural body that straight haired girls crave."
+The ultimate cut
Many hairdressers prefer to cut curly hair in its dry state, as once wet it's almost imporssible to judge how it will sit once dry. "Remember curls will always look amazing and suit your face shape," says Jamie Stevens. "Don't layer too much though as this can give you a triangle-like effect." Texturing and point cutting create a better curl.
+ The one product "The trick to styling curls is to keep them fresh, bouncy but manageable on a daily basis," says Luke Hersheson, creative director at John Frieda. "Treat curls to a moisture boost on the second or third day post wash" TryJohn Frieda Frizz Ease Dream Curls Daily Styling Spray, £4.78 at Amazon.co.uk For super thick corkscrew curls add a five-minute mask to the ends, such asKerastase Discipline Masque Curl Ideal, £27.07 at Amazon.co.ukorKlorane Leave-In Cream with Mango Butter, £12 at Boots.com
+The best tip Shampoo with care. "Most people with curls just shampoo the same way someone with smooth hair might, says Stylist James Galvin. "But if you vigorously scrub this will strip out the natural oils that help keep curls defined, and can lead to frizz. Gently massage the roots instead."
+Try this "Twist damp hair around fingers after distributing a product and you'll have perfect curls," says Karine.