First Look At Trinny London Makeup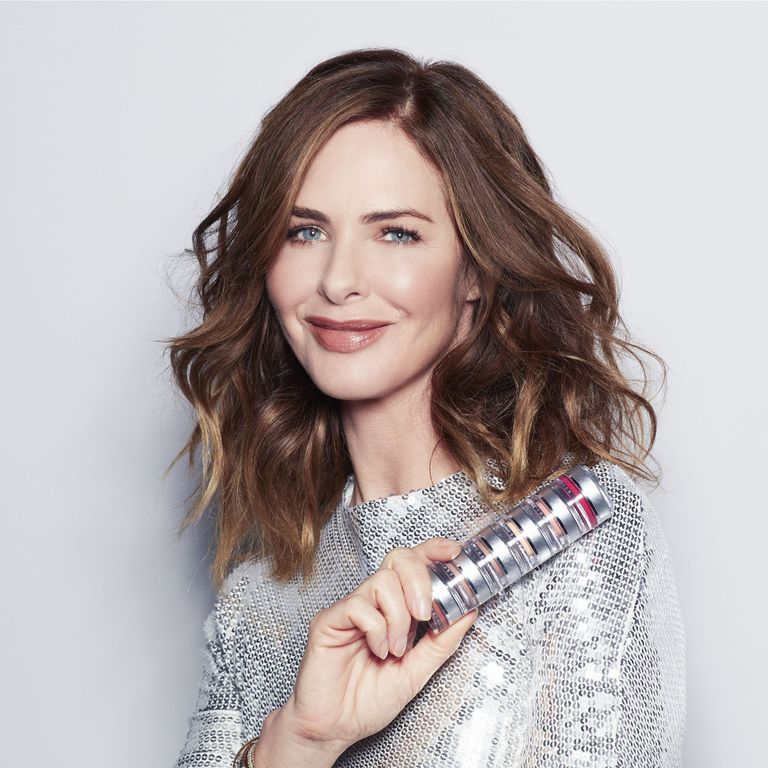 It's safe to assume you've heard of Trinny Woodall before.
Whether you remember her as the strict wardrobe mistress in noughties TV phenomenon What Not To Wear or are one of the 300k+ followers who devour her brilliantly barmy Instagram videos (for the uninitiated, I'd recommend the 'leopard print coat on a moped' clip as a gateway) Trinny is a familiar face in the arena of style advice, and now can add beauty entrepreneur to her CV too.
Trinny London, the just-launched makeup range is causing quite a stir in the beauty industry, and it's easy to see why. Far from another generic celeb-endorsed collaboration, this collection is actually based on a unique and incredibly useful proposition (one of those ideas that's so brilliantly simple you wonder why nobody has thought of it before)... meet The Stack!
Every formula in the 11-strong collection is cream-based, can be applied with your fingers and lives in tiny click-together pots. So instead of lugging a bulky makeup bag around, you can carry one neat stack with everything you need, from Just A Touch Foundation +Concealer, £28 to multitasking Lip2Cheek, £25 and radiance-boosting The Right Light Highlighter, £25 - the list goes on. Everything works together so can be layered up, nothing costs more than £35 and most are in the £20-£25 range. Clever, right?
The collection is only available online, at Trinnylondon.com and cleverly, you can get tailored product selections based on their eye, hair, skin colour and undertones with the Match2Me tool online. After filling out my own Match2Me (quick, and quite fun) I tried the BFF Cream SPF30 in Light, £35 which was silky and glowy with no trace of the chalky finish so many SPF bases leave behind. The Lip2Cheek in Phoebe, £25 was the perfect true-red flush for my fair skin and pink undertones but my absolute favourite was Eye2Eye in Strength, £18 a creamy, easy moody mauve shadow that applied like a dream and didn't settle into my eye creases like so many shadows do.
There's plenty more in the collection to discover and love (if you're oily but hate the ageing effects of powder, do check out Face Finish Mattifying Balm, £25) and with curated stack combinations coming in November, I'd say Trinny London is not just the latest buzz in beauty, but one to watch for the future too.