Does Coolsculpting work? We tried fat freezing and these are our thoughts
Does Coolsculpting work and is fat freezing really worth it? We reveal all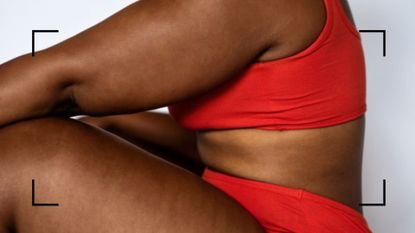 (Image credit: Future/Getty Images)
woman&home newsletter
Sign up to our free daily email for the latest royal and entertainment news, interesting opinion, expert advice on styling and beauty trends, and no-nonsense guides to the health and wellness questions you want answered.
Thank you for signing up to . You will receive a verification email shortly.
There was a problem. Please refresh the page and try again.
"Does Coolsculpting work" must be the most commonly-asked question about the popular fat freezing treatment—and rightly so. Regardless of your body type or what area you choose to have treated, Coolsculpting is a fairly major investment, both financially, in terms of time spent having the treatment, and waiting for results. So whether you are already clued-in about Coolsculpting and thinking of trying it yourself, or are simply curious to find out how it works, consider this your honest guide.
It's no secret that when it comes to certain beauty goals, products can only do so much. We all know even the best skincare routine can't firm up loose skin or make lines disappear. The cleverest body exfoliators aren't going to entirely transform your skin texture and despite what they claim, even the best cellulite treatment won't make a significant difference to orange peel thighs. That's where "tweakments" come in—these minimally invasive treatments involving needles, lasers, and various other machines stop short of surgery, but are definitely more serious (and seriously effective) than your average jar of cream.
Along with EMSculpt Neo, Coolsculpting is undoubtedly one of the most popular body tweakments around. This body contouring treatment uses low temperatures for targeted fat reduction, to shape and smooth specific areas of the body.
Coolsculpting—everything you need to know
What is Coolsculpting?
Coolsculpting is a body contouring treatment that can spot-reduce fat by cooling specific areas of the body to 12.2° F/-11° C. This is cold enough for fat cells to die, but not other healthy cells. The fat cells then naturally pass out through the body over time, which can result in up to 30% fat loss in the treated area.
How much does Coolsculpting cost?
Coolsculpting price varies by practitioner and area treated, but expect to pay a minimum of $1100/£800 per area. If several areas are treated the cost will often run into the low thousands.
How long does Coolsculpting take?
Anywhere from 35 minutes to two hours per cycle. Depending on their location and the equipment used, several areas can sometimes be treated at once to save time.
What areas can you treat with Coolsculpting?
Popular areas that tend to get the best results from Coolsculpting include the thighs, stomach, flanks (lower back), upper back, arms, and lower chin. Coolsculpting is not an all-over fat loss treatment; it is designed to treat specific, stubborn areas of fat. Basically, it works best on soft, "grabbable" pockets of flesh.
When will I see results?
Some patients notice results from four to six weeks after treatment. Expect to see the difference in your shape after around three months, after the fat cells have been fully expelled from the body.
w&h's Coolsculpting review
Fiona McKim, w&h's senior beauty editor, tried Coolsculpting Elite treatment, from £2000 at Berkshire Aesthetics.
Why I tried Coolsculpting
My body type could be described as "likes exercise, but also likes sauvignon blanc." I try not to worry about wobbly bits; being a journalist bodily perfection is not my raison d'etre (thank god) so I'd rather slap on the best self tan and get on with living life.
With that said, I'm only human. If someone could wave a magic wand and smooth my stomach and lower back bulges with very little effort on my part, I'd be game. In reality, said magic wand is the hoover-like paddle of Coolsculpting Elite, a faster and more effective iteration of the targeted fat-freezing device. The paddle shape and upgraded technology of the Elite device promises better results in less time, but works much like traditional Coolsculpting by sucking in the excess bulge and holding it in below-freezing temperatures to trigger fat cell death.
What the treatment was like
My fairy godmother in this scenario is Dr. Selena Langdon, known in the industry as The Body Guru and I can't argue. Dr. Langdon is one of the first UK practitioners to use the new Coolsculpting Elite, so I was in safe hands. After a Zoom consultation, I visited Berkshire Aesthetics bright and early on treatment day and began with Selena photographing the areas I wished to sculpt, marking them up with a Sharpie. Seeing my scribbled-on tummy and back I couldn't help but think of the frighteningly game cosmetic surgery patients in my top TV guilty pleasure show, "Botched." It's at this point that I started to wonder what I was letting myself in for, but I needn't have worried.
Upstairs in the comfy Coolsculpting suite, I lay back under blankets while the paddles were attached. The sensation I experienced during the 45-minute session went from tugging to cold to numb to nothing. I kicked back and watched Netflix while the device did its thing. Post-freeze, a vigorous massage gadget pummeled the treatment areas to disperse the frozen cells. This was the only uncomfy bit and only lasted a few ouchy minutes before I popped off with a numb and slightly red tummy and back, but essentially zero downtime.
The results
Three months on, my silhouette is visibly smoother. The little bulges I would notice in tight clothing are visibly reduced, my previously straight up and down waistline has a noticeable curve and my high-waisted jeans zip up a little easier. Results! The great thing about Coolsculpting is that the results should stick around as long as you maintain your weight. The only downside for some will of course be the price; this is the crème de la crème of body contouring after all.
Coolsculpting before and after pictures
Coolsculpting side effects and risks
Coolsculpting is approved for use in both the US and UK and has a long and established safety record, with over 60 clinical research papers published. With that said, as with any cosmetic procedure, Coolsculpting does come with the risk of some side effects and it's important to be aware of these before undergoing any procedure.
While many patients will have a comfortable experience, both during and after the treatment, some do report mild discomfort in the area. This can present as numbness, redness, swelling, bruising, tingling, itching, and skin sensitivity. This can last anywhere from a matter of days to some weeks, but in the vast majority of cases will resolve itself quickly.

In rare cases, Coolsculpting UK (opens in new tab) does warn of "Some additional side effects such as paradoxical hyperplasia, late onset pain, freeze burn, vasovagal symptoms, subcutaneous induration, hyperpigmentation, and hernia may also occur."

Always remember, this is a medical procedure. If you are in any doubt, check in with your doctor who can advise if Coolsculpting is the right choice for you.
Your pre-treatment safety checklist:
Visit a pro: As with any tweakment, only have Coolsculpting by a medical professional and never a beauty therapist or a salon worker.
Do your research. There is never any emergency cosmetic treatment, so take your time and investigate who you're going to see, and go to several people or several clinics.
Trust your inner skeptic. Be wary of special offers, chains with two-for-one deals, or persuasive staff. If you feel under any pressure at all, walk away.
For more information, and to search for GMC registered doctors, visit gmc-uk.org
Beauty Editor, womanandhome.com
As woman&home's Beauty Channel Editor, Fiona Mckim has tried more products than she's had hot dinners and nothing makes her happier than raving about brilliant finds on womanandhome.com or her instagram grid (@fionamckim if you like hair experiments and cute shih-tzus). Fiona joined woman&home as Assistant Beauty Editor in 2013 under industry legend Jo GB, who taught her everything she needed to know (learn about ingredients and employ extreme cynicism). She has since covered every corner of the industry, from interviewing dermatologists and celebrities to reporting backstage at Fashion Week and judging the w&h Beauty Awards.