The ultimate DIY facial for your skin type to keep skin glowing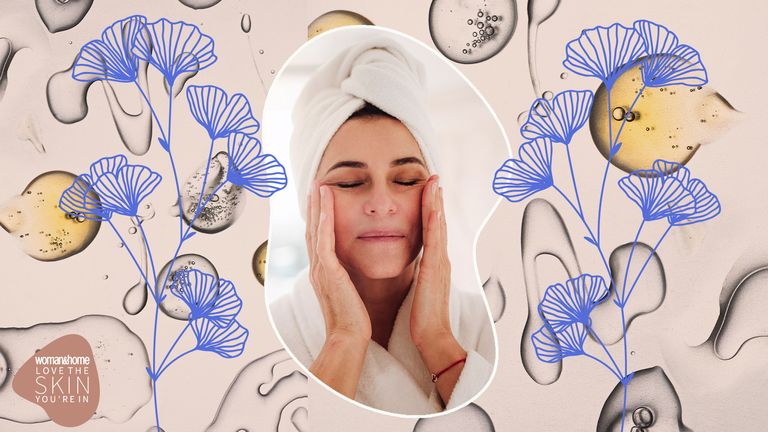 (Image credit: Future)
A DIY facial is one of those activities that most of us intend to do regularly, then life gets in the way.
But if there are some small positives to be gained during this unsettling period of enforced social distancing and self-isolating, having plenty of 'me time' is one of them.
Your beauty routine may be pretty far down your list of priorities at the minute, which is fair enough.
But speaking from experience I will say taking the time to do something lovely for yourself and your skin can be a soothing balm for the soul, or at the very least least a fun distraction for an hour or so.
So how do you recreate the benefits of a professional facial in the comfort of your own home? woman&home has the lowdown...
What makes the ultimate DIY at home facial?
In my opinion there's a formula for a great at home facial, and it's pleasingly simple.
The products and ingredients will vary by skin type, but you can't go wrong with a routine that follows these four steps:
Cleanse
Exfoliate
Treatment
Finishing trick
Most of us already have a cleanser we like and probably a few exfoliators and face masks knocking around the bathroom, so feel free to dig those out rather than buying anything new.
If you do want to treat yourself, every product recommended below is available to buy online for home delivery.
Ready to try your own DIY facial? Run a bath, put on a podcast, pour a large glass of wine – whatever you fancy – and dedicate a little chunk of your day to feeling good in your own skin.
The ultimate DIY facial for dry skin
1 - Cleanse
Use a balm or a cream cleanser, something rich and nourishing. Work it into your skin in small circles with warm water (hot can be drying) and then remove with a soft cloth.
This Emma Hardie balm is packed with essential oils and Vitamin E this classic balm includes a free cleansing cloth and donation to Look Good Feel Better charity.
VIEW NOW: Emma Hardie Limited Edition Moringa Cleansing Balm, £47, Cult Beauty
2 - Exfoliate
Glycolic acid is an excellent way to exfoliate dry skin, not only loosening dull dead skin cells but promoting collagen growth for plumpness.
It's often found in products labelled as peels – don't worry you won't actually peel – look for a serum or mask that includes nourishing ingredients as well as acids.
As soothing as it is exfoliating, this Decleor peel smells like heaven and leaves skin soft and smooth.
SHOP NOW: Decleor Green Mandarin Bi-Phase Peel, £45, Feel Unique
3 - Treatment
Sheet masks are divisive, but there's no denying how satisfying the good ones are – nothing feels quite so quenching on dry, tight or parched skin.
Look for solid hydrating ingredients like hyaluronic acid, glycerine or squalane, rather than anything gimmicky or perfumed.
VIEW NOW: Garnier Nutri Bomb Milky Sheet Mask Almond Milk and Hyluronic Acid, £3, prettylittlething.com
A plumping mask that punches well above its price tag, smells lovely too.
4 - Finishing trick
The skin around the eyes is thin and lacks sebaceous glands for natural hydration, so if dryness is a problem it'll be doubly so here.
A really luxurious eye cream may seem like an indulgence, but can make all the difference.
SHOP NOW: Sisley Black Rose Eye Contour, £108, Space NK
So spendy but honestly so worth it for the texture, illuminating formula, precise applicator that massages as it goes and gloriously spa-like smell.
The ultimate DIY facial for sensitive skin
1 - Cleanse
Avoid anything fragranced, containing sodium laureth sulphate, or with essential oils which can be irritating.
Go for simple cream or fluid cleanser, gently massaged with lukewarm water and splashed off with (clean) hands.
SHOP NOW: Kiehl's Centella Sensitive Facial Cleanser, £28, Feel Unique
I always divert to this if another product makes my skin flare up. It's soothing, creamy but ultra-effective, it's the perfect mild cleanser.
2 - Exfoliate
It's a myth that sensitive types should avoid acids, pick wisely and you can absolutely benefit from exfoliation.
Poly hydroxy acids (PHA) are a good bet, with larger molecules that don't penetrate as deeply, plus they draw moisture into skin so help it feel comfy.
SHOP NOW: Garden of Wisdom PHA Plus Serum, £14, victoriahealth.com
An excellent, gentle exfoliator that sinks in quickly and won't irritate.
3 - Treatment
Depending on your skin you may want to avoid strong actives like retinols, particularly if you have rosacea or are prone to flushing.
Instead go for cooling, calming masks and get your active ingredient fix via peptides – versatile cell-communicating ingredients that perform all sorts of skin-energising functions and are unlikely to cause any irritation.
SHOP NOW: 111Skin Sub Zero De-Puffing Energy Facial Mask, £20, harveynichols.com
Another brilliant mask from the cult brand loved by A-listers.
This one packs in two key peptides, inflammation-reducing caffeine, and circulation boosting ingredients for glow.
I keep mine in the fridge for a lovely cooling effect when I apply.
4 - Finishing trick
Ceramides are brilliant for sensitive skin, as they promote a healthy skin barrier, which keeps irritants out.
Why not try Elizabeth Arden Training Manager Anja Skytte-Mosbaek's three step at-home massage as you apply a ceramide-rich cream or serum?
'When you apply your skincare, apply on face and decollate with upwards and outwards movements.'
'Use your thumb with slightly invigorating movements, like little "flicks" with your thumb, start at the jawline and move upwards.'
'This will additionally stimulate blood circulation, and act as a little workout for your skin.'
SHOP NOW: Advanced Ceramide Capsules Daily Youth Restoring Serum, £39, Look Fantastic
The original and best skin plumping and strength restoring capsules.
The ultimate DIY facial for dull skin
1 - Cleanse
Good cleansing is so crucial for radiant skin.
If you're feeling dull and not particularly sensitive you can work some gentle exfoliation into this step by using cleansers with low levels of exfoliating acids or fruit enzymes.
Take at least a minute to really work the cleanser into your skin before removing with a clean towelling cloth. This provides some physical sloughing too.
SHOP NOW: SkinCeuticals Simply Clean, £31, Look Fantastic
Fresh and foamy with enzymatic exfoliator extracted from citrus fruits, this 200ml pump lasts for ages and makes a refreshing morning cleanse too.
2 - Exfoliate
Get real bang-for-your-buck glow with an acid-packed mask that sits on your skin for ten or fifteen minutes rather than swipe-on toner.
Depending on your skin type, a mixture of Alpha and Beta Hydroxy Acids is a punchy combination that works on dead cells on the skin's surface, and clears pores.
BHAs can be a little drying, so if that's an issue stick with AHAs like glycolic and lactic.
SHOP NOW: Luneia Radiance Ritual, £40, luniea.com
Creamy but noticeably tingly, this combines AHA and BHAs with nourishing squalane oil and comes with a handy cloth for removal.
3 - Treatment
If you've gone in hard with the acids, finish with a creamy, soothing mask.
Oils that aren't comodogenic (pore-clogging) are a good idea, plus emollients like shea butter to soften and humectants like hyaluronic acid or glycerine to draw moisture into that peachy fresh skin.
SHOP NOW: Pai Rosehip BioRegenerate Rapid Radiance Mask + Cloth,£30, Look Fantastic
A gentle mask that soothes as it plumps and smells absolutely gorgeous.
4 - Finishing trick
As with any part of your body, working out your facial muscles has a firming and toning effect and improves circulation for radiance.
Try FaceGym founder Inge Theron's at-home chin-press up:
'Make a V with your hand and rest your chin in the V. Pull your lips over your top teeth hold for 5 seconds and repeat (do this 10 times).
Move the hand to either side of the chin with the length of your fingers covering your ears, and make the sound Eeeee with your mouth x 10.
Put your ring fingers inside your mouth on either side, pull the skin to the side and use your jaw muscles to bring the fingers back in to touch your teeth x 10.
Use the FaceGym Signature Training Serum for 'added skincare benefits and to help your hands glide over your skin'
SHOP NOW: FaceGym Signature Training Serum, £50, facegym.com
Energising coffee bean oil, a lovely slippery texture and relaxing fragrance make this perfect for a pre-bed ritual.
The ultimate DIY facial for oily or combination skin
1 - Cleanse
Prone to clogged pores, shine or breakouts?
You may gravitate towards foaming cleansers for that ultra-clean feeling, but make sure they don't include Sodium Laureth Sulphate.
This foaming agent strips skin of natural sebum, usually making it produce even more.
Gel cleansers are refreshing and good at dissolving excess oil and grime, just read the ingredients and ensure it's SLS free.
SHOP NOW: BeautyPie Japanfusion Pure Transforming Cleanser, £7.50 (members), £25 (non-members), Beauty Pie
Ticks every box by starting off gel-like, turning into an oil as you massage it in then finishing up fresh and milky as you splash it off with water. I am obsessed.
2 - Exfoliate
Beta Hydroxy Acids are your best bet for de-gunking pores, and salicylic is the gold standard BHA.
I find swipe-on acid treatments feel the most pleasant on oily or congested skin, look for one with antibacterial ingredients like witch hazel or clary sage too.
SHOP NOW: Odacite Blue Aura Cleansing Water, £39, Cult Beauty
Don't let the colour throw you, this non-astringent liquid is packed with natural botanicals plus BHAs for effective yet gentle clarifying.
Treatment
Clay is a brilliant natural ingredient to take on congestion, particularly white kaolin or bentonite which crop up regularly in masks billed as 'clarifying' and 'purifying' formulas.
Obviously with those dirt and oil-drawing properties comes uplift of natural sebum, a good thing if you have far too much but be sure to use something that also softens so you don't end up feeling parched.
SHOP NOW: Charlotte Tilbury Goddess Skin Clay Mask, £38, Cult Beauty
The ultimate gunk-drawing yet glow-enhancing mask, it makes my pores look smaller and my whole skin texture smoother in 10 minutes.
4 - Finishing trick
Oily skin needs hydration too!
Use a light cream or serum that sinks in and does its thing from within. Anything too rich and occlusive will sit in a layer on top of the skin unpleasantly.
As an added extra try facial massage using something cool – ice cubes wrapped in a face cloth will do nicely, or one of the many facial rollers available cheaply on Amazon.
It feels gorgeous, boosts vasoconstriction and circulation to de-puff.
SHOP NOW: 001 London Cryopress, £75, 001skincare.com
This lives in my freezer to be deployed almost daily.
The high-tech material holds on to sub-zero temps and the chunky roller feels amazing on tense facial muscles and puffy morning skin.