Charlotte Tilbury Magic Eye Rescue vs Clinique Pep-Start Eye Cream
Charlotte Tilbury Magic Eye Rescue vs Clinique Pep-Start Eye Cream – which eye cream should you choose?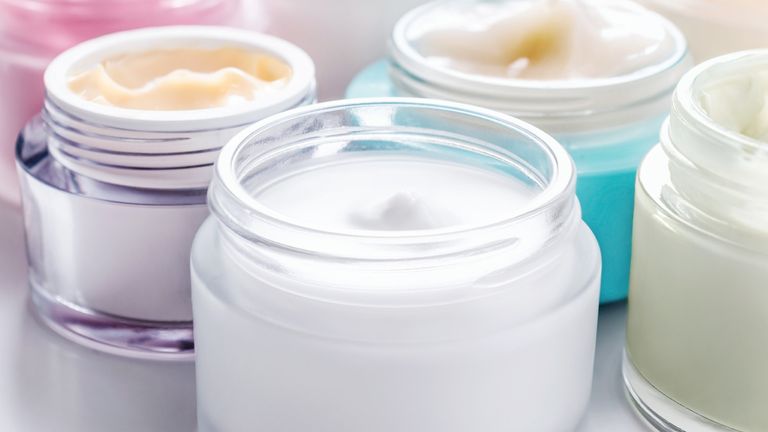 (Image credit: Getty images)
If you're looking for the best eye cream (opens in new tab) for dark circles, lines and puffy eyes, Charlotte Tilbury Magic Eye Rescue and Clinique Pep-Start Eye Cream both have a lot to offer. Confused about which one to choose? Picking the ideal eye cream for your skin's needs can be a challenge. Here, we break it down for you.
In one sense, these eye creams have a lot in common. They are both designed to perk up tired eyes and share some key ingredients, including peptides and algae. From another perspective, they really couldn't be more different. Charlotte Tilbury Magic Eye Rescue (opens in new tab) is all glamour, from the jar to the texture and the typically Tilbury product name – so full of hope and promise.
Clinique Pep-Start (opens in new tab), on the other hand, takes a more pared-back, functional approach (well, functional with a soupçon of fun from that bubbly massage applicator), but certainly isn't lacking in desirability. This is an excellent eye cream for pragmatists, while Charlotte Tilbury is for the dreamers. Whichever of those ideologies floats your boat really comes down to you.
In this Charlotte Tilbury Magic Eye Rescue vs Clinique Pep-Start Eye Cream guide, we'll explore the pros and cons of both eye creams so you can make the right choice.
Price: Charlotte Tilbury Magic Eye Rescue £42
vs Clinique Pep-Start Eye Cream £24
Key ingredients: Charlotte Tilbury Magic Eye Rescue: Plant stem cells, algae, peptides
vs Clinique Pep-Start Eye Cream: Several peptides, squalane, algae, hyaluronic acid
Texture: Charlotte Tilbury Magic Eye Rescue: Rich, glossy, light peach tone
vs Clinique Pep-Start Eye Cream: Light, lotion-like, soft-focus minerals
What's special about Charlotte Tilbury Magic Eye Rescue?
(opens in new tab)
Clinique Pep-Start Eye cream
RRP: £25
Well, firstly, just look at it. Like everything that comes out of the house of Tilbury, this eye cream is supremely appealing. The pleasingly old-school jar with rose-gold accents is every bit as seductive as what's within it – a rich, nourishing, lightly peach-toned cream. One look at this and you'll want to dig right in.
She's not just a looker, though. One great and, if I'm honest, slightly unexpected thing about Magic Eye Rescue is how seriously formulated it is beneath the glamorous facade. The ingredients list is a cocktail of top actives for the eyes. This includes texture- and line-improving retinyl palmitate, a retinol (opens in new tab) derivative that's less irritating than pure retinol, and ascorbic acid, which is a potent form of vitamin C for brightening. There are also skin-energising peptides and Winter Daphne stem cells, a moisturising and barrier-protecting plant extract.
You can't knock this formula for packing in the skin-improving ingredients, or for feeling deliciously nourishing and continuing to do so long after applying. In fact, the only thing you could really knock it for is that it might be a bit too rich for some, perhaps if you already have oily skin or just prefer products that sink in and disappear instantly.
Also, despite the obvious aesthetic appeal of the packaging, beautiful jars like this aren't exactly the most portable. It could also cause some of the more temperamental ingredients, such as vitamin C, to be destabilised over time from exposure to light and air.
What's special about Clinique Pep-Start Eye Cream?
(opens in new tab)
Charlotte Tilbury Magic Eye Rescue
RRP: £42
There is something very gratifying about the clinical, plain-speaking nature of this product. It offers three things: To brighten, hydrate and smooth. And it does so with a tried-and-tested combination of moisturising and skin-energising ingredients, plus an extra blurring kicker from soft-focus minerals.
The ingredients work their way through these principles, starting with hydration from solid, dependable hyaluronic acid and glycerin, plus squalane (opens in new tab), a barrier-restoring and skin-replenishing ingredient that mimics a plumping lipid already present within our skin. Then we get several peptides, which are very well-researched cell-communicating ingredients that perform various tasks and can be summed up neatly as "energising". This is undoubtedly a good thing for fresh-looking eyes given a bit of time and consistent use. Texture-wise, Pep-Start is lightweight, easily absorbed and has a likeable coolness on the undereye area.
One particularly special element of Pep-Start is its nifty spherical applicator that doubles up as a massage tool. Running the bobbly tip into your eye contour feels lovely, helps drain away fluid and allows for totally finger-free application. It's easy to adore such multifunctional and fun-to-use packaging; what's harder to love is the fact that when you push the applicator back in, a little dribble of product makes a break for it from the end. Obviously, once you know it's going to happen, you can allow for this unrequested extra helping, so there isn't wastage. But it would be even better if you didn't have to think about it.
Should I buy Charlotte Tilbury Magic Eye Rescue or Clinique Pep-Start Eye Cream?
There are a few factors at play here. First and foremost, there is expense, as Pep-Start is a few quid shy of being half the price of Magic Eye Rescue. Although both are highly effective at achieving what they set out to do, this cost disparity is somewhat reflected in the products. Charlotte Tilbury throws harder, faster actives into the mix, as well as a richer and more luxurious-feeling texture. For this reason, if you have very dry or dehydrated skin, deeper lines or pigmentation, Magic Eye Rescue is perhaps more likely to tick your boxes.
And in the red corner, Clinique Pep-Start – one for the skincare realists, with its easy-going texture, fresh depuffing effects and solid hydrating formula. Those soft-focus minerals offer a decent, albeit temporary, blurring effect and the lightweight tube is eminently practical and portable. If I'm making it sound a bit sensible (read: lacklustre), that's not the intention at all. Truly, it is refreshing to see an eye cream making feasible claims and delivering on them. Pep-Start is ideal for anyone looking for an eye cream that's straightforward, effective and – I mean this in the most positive way – a great all-rounder.
As woman&home's Beauty Channel Editor, Fiona Mckim has tried more products than she's had hot dinners and nothing makes her happier than raving about brilliant finds on womanandhome.com or her instagram grid (@fionamckim if you like hair experiments and cute shih-tzus). Fiona joined woman&home as Assistant Beauty Editor in 2013 under industry legend Jo GB, who taught her everything she needed to know (learn about ingredients and employ extreme cynicism). She has since covered every corner of the industry, from interviewing dermatologists and celebrities to reporting backstage at Fashion Week and judging the w&h Beauty Awards.