Is your mobile phone giving you wrinkles? Probably, if you're looking at it for this amount of time daily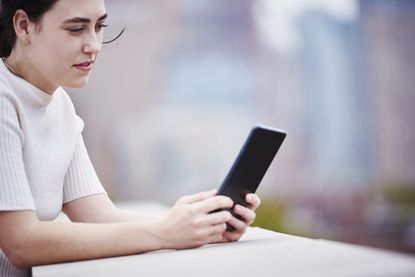 Part and parcel of modern life is constant use of our mobile phones, with any occasion documented by selfies and a snap posted to social media.
However, this need to share has its downsides, with many of us feeling insecure about the way our skin looks in pictures.
According to research from Avon (opens in new tab), this is a bit of an epidemic, with nearly a quarter of adults unwilling to post a photo of themselves to social media without a filter because they don't like how their skin looks.
But the thing is, the more we use our phones – the more it seems our skin will be impacted!
MORE:You actually only need three items in your skincare routine, according to a top dermatologist
In the same research, Avon revealed that close proximity of the phone to the face can impact on the state of our skin, so we should limit the amount we use our phones to 2 to 3 hours per day.
Anthony Gonzalez, Director of Global Skin Care and Trend Innovation at Avon, warns, "electromagnetic rays (blue rays) emitted from our phones can accelerate ageing at an alarming rate, as blue light can trigger free radicals that can damage skin's collagen".
There's been some research into the impacts of blue light onto the skin, and whether it's true that the light rays can prematurely age the face. A study published last year in the Journal of Biomedical Physics and Engineering revealed that "exposure to blue light can lead to different levels of damage in human eyes and skin," so it seems it is something to be worried about.
But in the UK, only 10% of people are aware that blue light can have an impact on your skin, yet according to Avon's research, 60% of UK women say that they spend more time looking at screens now than they did 5 years ago.
Dr Susan Mayou, a consultant dermatologist, said, "As a nation, we're now spending a huge part of our days looking at screens – up to 12.5 hours a day according to Avon UK's research – and much of this time is spent looking at mobile phones.
"As a result, we're seeing a significant number of younger patients with visible signs of premature ageing and a dull, uneven skin texture. The increasing popularity of 'selfies' now means that people are pointing their phones at their faces for increased periods of time."
So although it's tempting to reach for our mobiles and have a scroll through our social media when we get bored, it might be better to put it down and read a book instead as there's no fear of premature aging from printed words.
Avoiding too much blue light will be better for our skin and for us too – maybe next time we won't feel the need to slap a filter on our Instagram post and dare to bare instead!
Lauren is the former Deputy Digital Editor at woman&home and became a journalist mainly because she enjoys being nosy. With a background in features journalism, Lauren worked on the woman&home brand for four years before going freelance. Before woman&home Lauren worked across a variety of women's lifestyle titles, including GoodTo, Woman's Own, and Woman magazine.