How to do gel nails at home
Keep reading and there'll be no more Googling 'how to do gel nails at home'.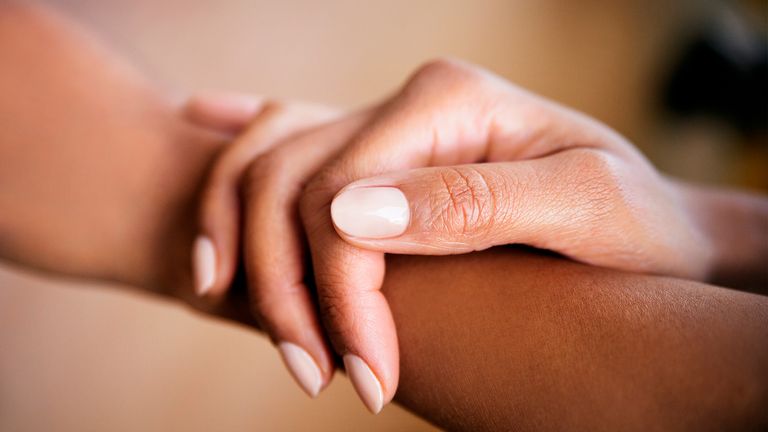 (Image credit: Cavan Images/Getty Images)
More of us than ever have been Googling 'how to do gel nails' in lockdown as there's never really been a better time to watch paint dry. And doing so has revealed some surprisingly simple hacks. 
Since the pandemic hit, sales of nail products have soared - particularly Stateside, where Amazon has reported that sales of nail-care products climbed 218 per cent in April last year. 
What's more, gel nails have become a mainstay in many of our routines because they are simply so good at resisting chips for more than two weeks. Fortuitously nail brands have upped the ante with their gel polish offerings and DIY kits are currently flying off the shelves. 
So whether you want to try the trending 'baby' French manicure or go for something bolder, there's something for everyone.
How to do gel nails
Below is a helpful video that Los Angeles-based nail artist Brittney Boyce posted for how to apply gel polish the right way. The main takeaway is that as a gel polish tends to be thicker in consistency, you should either invest in an LED kit or make sure you give it enough drying time (at least 30 mins, but overnight is best) before applying the topcoat to avoid bubbles.
The best DIY LED gel manicure kits
Super cute, this pocket-sized LED lamp comes with four 3-in-1 polishes - pearlescent pink to deep scarlet hues - so you don't need to worry about applying base and topcoats. Results are speedy, too, as the polish cures in 60 seconds. The kit also includes a glittery nail file, a cuticle stick and a selection of remover pads to shape, refine and safely erase your manicure with none of the fuss.
As you can see, this kit has literally everything you could possibly need to do an at-home gel mani: prep+prime wipes, top and base coat, gel remover and four polishes to choose from, as well as a professional LED lamp. The best bit? It takes only 15 seconds for a hassle-free cure. 
A step by step guide to getting salon-level results with your gel manicure at home
1. Buff and file your nails
Move the file gently in one direction and back again to avoid flaking the nail. Buff the surface of the nail with a microfibre file to smooth any ridges.
2. Apply cuticle oil
This helps to loosen up the cuticles, making it easier to push them back with an orange stick.  Be sure to wash the oil off your nails before applying your polish —any leftover oil could prevent your gel nails from adhering properly.  
3. Apply a thin layer of specialized gel base coat
Be careful to only apply base coat to the nail, avoiding the skin. If any touches the skin, use a cuticle/orange stick to remove it straight away. When curing the gel polish in the LED light box recommended for your gel system, make sure you always stick to recommended timeframes. 
4. Apply your coloured gel polish
Work in thin layers and remember to seal the tip of the nail with a horizontal swipe of polish. Do two nails at a time, cure for the recommended time and repeat on the next two nails. Finish by painting your thumb. 
5. Apply your second coat of colour; repeat step 4
6. Apply your specialized gel top coat
Again go in with a light hand to avoid bubbles and seal the tip of the nail. 
7. Finishing touches
Sweep the wipes in your kit over the nail bed and lavish your nails and the surrounding skin with hand cream.