The anti-ageing 'eyelift' patches that sell every 30 seconds have finally launched in the UK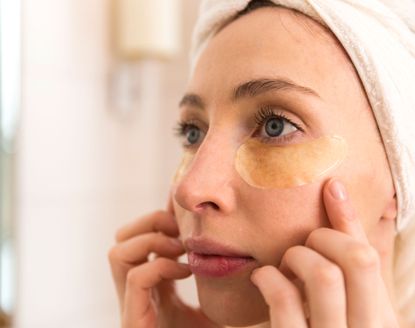 With so many 'miracle' products out there, it can be hard to know which is actually going to benefit your skin and help minimize the effects of ageing.
And when it comes to your delicate under-eye area, it's even harder to notice a difference if you suffer from dark circles, puffiness or fine lines.
But there may finally be an answer to your under-eye woes as the best-selling 'eyelift patches' by Spanish beauty brand Sesderma have finally launched in the UK.
The brand's C-Vit Eye-Contour Patches have been dubbed 'miracle eye SOS' by those that have used them and are currently selling one pack every 30 seconds in their native Spain.
With sales up by 574 per cent in the past month alone, these fast-acting eye contour patches contain a host of anti-ageing ingredients that help protect and strengthen the resistance of the delicate skin around your eyes.
More:Marks and Spencer is selling a 'Super Vitamin C' range that promises to transform skin in just one week (opens in new tab)
Buy HERE! (opens in new tab)
Ingredients include ascorbyl glucoside (a stabilised form of vitamin C) to add brightness and palmitoyl tetrapeptide to calm and combat signs of lines and wrinkles, plus all-important hyularonic acid for hydration.
The brand claim that the patches help reduce signs of fatigue and dark circles, immediately improving the appearance of the eye area.
Due to the eye patches unique formula possessing both antioxidant and regenerating properties, your skin will look luminous and the overall appearance of your eye contour will be greatly improved.
The patches are so simple to use and require no faff or fuss. You simply apply them to the area under each eye and leave them to work their magic for 10-15 minutes, and then simply throw them away.
Plus, at £18 for a box of five, they work out at £3.60 per use which is a much more affordable option to costly surgery, whether non-invasive or not.
We'll definitely be adding them into our beauty and skincare routine.
Jenni McKnight is a beauty, lifestyle and entertainment journalist and a regular contributor to woman&home, having previously worked as Acting Senior Content Editor of our former sister site, CelebsNow. She has also written for HELLO! Magazine, GoodToKnow, the Daily Mirror and Yahoo!