Beauty Buys That Eradicate Redness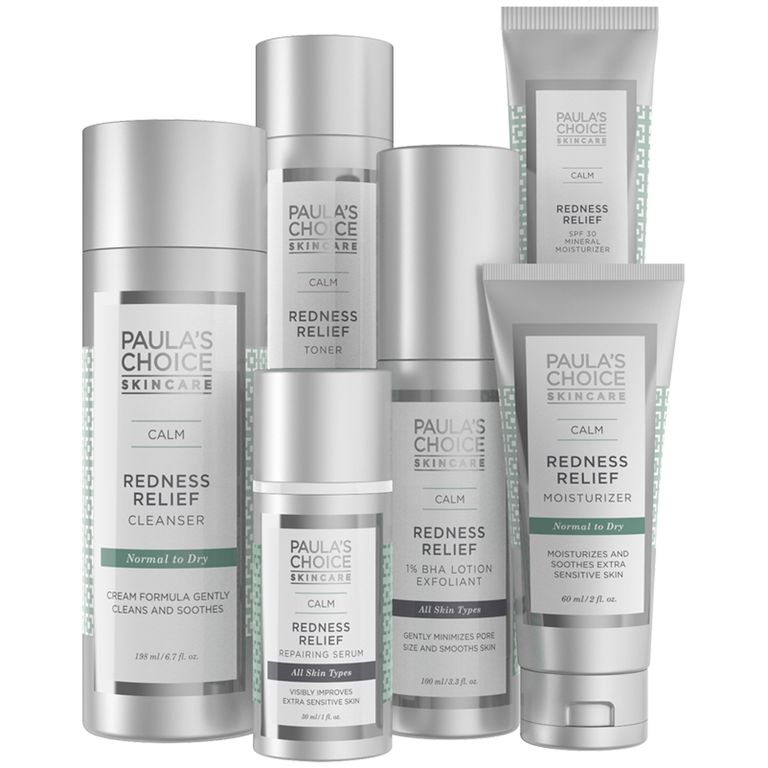 Calm rosacea with our top beauty buys for an even skintone...
Does your skin regularly feel hot, red and flushed? If you suffer with rosacea, you'll know that just about anything can cause a flare-up - stress, spicy food, alcohol, hot and cold temperatures or changing between the two. This makes winter a particularly aggravating time of year, and while true fixes are a matter of lifestyle and long-term trial and error, there are plenty of cooling, calming skincare solutions that can bring your skin relief from rosacea right away.
Like all Paula's Choice products, the Calm Redness Relief collection is filled with honest, active ingredients to tackle skin issues without any unnecessary bumph. For calming rosacea this means ceramides, to rebuild the skin's protective barrier, natural anti-irritants liquorice root extract and willow herb plus antioxidants and moisturising glycerins. Leaving out artificial colour and fragrance adds to the anti-irritation effect.
The innovative range contains everything you need (cleanser, toner, moisturiser, serum and exfoliant) to relive redness. It even helps soothe acne, sunburn, insect bites and minor skin irritations.
Keep clicking for other great buys that help soothe and redness...
The amazing all-rounder
If you only buy one redness relieving product I'd suggest you make it Healgel Intensive. This small but mighty pot is icy cool so feels instantly soothing, and contains tons of super-healer arnica to tackle inflammation and fade rosacea-related thread veins or visible blood vessels. You can use it topically on little outbreaks or smooth it on all over before make up as a medicated primer. Buy Healgel Intensive for £33.75 at Amazon.co.uk
The Protective Cleanser
La Roche-Posay Toleriane Dermo-Cleanser boosts sensitive skin's tolerance to inflammatory free-radicals and reduce the risk of irritation. Infused with Thermal Water sourced from a natural French spring and rich in antioxidant selenium, this clever fluid's soothing and softening abilities are second to none, which is why dermatologist are forever recommending it. Buy La Roche-Posay Toleriane Dermo-Cleanser for £11 at Boots.com
The Magical Mist
Redness isn't the only issue rosacea can cause, the feeling of intense flushing and head can be more unwelcome than the visible effects, so keep a bottle of Urban Decay Chill handy at all times. This fine, lightly tingly mist feels immediately calming and cooling on skin plus helps set your makeup in place so it won't melt off every time you get an attack of the mean reds. Especially handy on holiday or after a few glasses of red. Buy Urban Decay Chill Makeup Cooling And Setting Spray for £22 at Urbandecay.com
The Colour Corrector
Green makeup looks a bit scary, but you'd be suprised how well those minty shades knock redness out of your skin without making you look like Princess Fiona. L'Oreal Paris Nude Magique Anti Redness CC Cream, is packed with pigment capsules and a drop of green emulsion to targets redness to leave skin with an even canvas for foundation or concealer. Buy L'Oreal Paris Nude Magique Anti Redness CC Cream for 9.99 at Superdrug.com
The Oil Absorber
If there's one thing more irritating than irritation itself, it's the side effect of slick, makeup-melting, boiling hot skin, which is where Cover FX Custom Blot Drops come in. These handy little droplets can be added to any makeup or skincare, or used alone to totally mattify without the cakey, pore-clogging effect of a powder (or redness of blotting papers) The liquid feels cool when applied then quickly sets down to a velvety, polished finish that, crucially, your skin can happily breathe through. Buy Cover FX Custom Blot Drops for £34 at Fabled.com
The Insta-Primer
Created by Dean and Davis Factor (grandson's of Max Factor), this Smashbox Color Correcting Primer in Adjust was designed to withstand the hot lights at the family's Smashbox Studio's in LA. Its slippy silicone texture melts into pores creating an even, smooth base ready for foundation while the subtle green pigment neutralises redness. Smashbox Color Correcting Primer in Adjust for £26 at Smashbox.co.uk
The Skin-like Foundation
It's likely you're looking for a foundation with robust coverage to keep redness hidden away, yet heavy, highly pigmented formulas can feel heavy and pore-clogging, making flushing feel even worse. What to do? Look to Diorskin Star Foundation, a feather-light fluid that vanishes pretty swiftly into skin but does a great job of covering what you don't want to be seen all day. As well as cosmetic effects the formula contains a healthy dose of liquorice extract, which helps speed up your skins microcirculation, combating redness. Buy Diorskin Star Foundation for £23.99 at Amazon.co.uk
The Super Calming Moisturiser
Medik8's Redness Corrector Moisturiser isn't cheap but contains all the good stuff your skin needs to stay calm - soothing aloe vera and white tea as well as protective antioxidant Vitamin E and thread vein zapping caffeine. It also leaves out all the stuff your skin doesn't need, like mineral oil, parabens and alcohol plus slips in a sprinkle of green mineral pigments to visually disguise redness in a flash. Buy Medik8 Redness Corrector Moisturiser for £51 at Amazon.co.uk
The Pressed Powder Compact
Multitasking and translucent, Clinique Redness Solutions Instant Relief Mineral Pressed Powder cools your complexion while soaking up oil to visibly improve shine, reduce redness and cover broken capillaries. Simple and effective, Sold. Buy Clinique Redness Solutions Instant Relief Mineral Pressed Powder for £26.50 at Clinique.co.uk