Promotional Feature

Female hair loss: in the quest to hold back the years, it's the final frontier. You might have your crow's feet under control, but have you ever stopped to consider whether your crowning glory might be giving the game away? Or perhaps you're one of the growing number of women opting to avoid gym or swimming pool changing rooms for fear that others will notice your increasingly skimpy strands?

The psychological effects can be devastating but, whilst we'll happily discuss anti-ageing moisturisers, Botox and which celebrity may or may not have gone under the surgeon's knife over drinks with the girls, how many of us feel comfortable enough to broach the subject of hair loss? With 1 in 4 women affected, and 70% of those affected confessing to feeling "very" or "extremely" upset by thinning hair, we think it's time the silence is broken.

What causes hair loss in women?

Female pattern hair loss, also known as Androgenetic Alopecia or hereditary hair loss, is the most common type of hair loss experienced by women. Hair loss is very gradual and may go unnoticed for a number of years before thinning becomes obvious. The classic signs of female pattern hair loss are thinning at the top of the head and widening of the parting. The scalp gradually becomes more visible and hair is more difficult to style.

Certain people are genetically predisposed to female pattern hair loss. The condition may be inherited from your mother or father. Hair loss may also be caused or exacerbated by autoimmune disorders, thyroid problems, pregnancy, dietary deficiencies, medication, stress or over-styling.

"Unlike men, women rarely become visibly bald. However, thinning can become quite extensive leading to distress and loss of confidence," says Sally-Ann Tarver, Consultant Trichologist at Cotswold Trichology Centre. "I'd advise people to seek professional advice from a pharmacist, GP or trichologist as soon as they start to notice changes in their parting. Professional advice is often delayed because people feel hair loss is a taboo subject, but the sooner you take action the better."

What can I do about it?

Ask for help

Don't suffer alone. Take a deep breath and talk about it, not only with friends and family, but with your GP - who can point you in the direction of a local support group or counsellor if appropriate - and your hairdresser, who will be only too happy to recommend cutting and styling solutions tailored to your unique needs and concerns.

Look after your locks

Thinning hair tends to be dry, fine and brittle. Minimise breakages by investing in a silk pillow and indulging in regular deep-conditioning treatments. "If your hair is thinning it's important that you keep looking after the condition of it. Many people avoid washing and conditioning for fear it will make their hair fall out more, but it doesn't," comments Denise McAdam, hair stylist and Woman & Home writer. "Make some time in your routine to use nourishing products like a hair mask or a deep conditioning treatment so your hair is as strong as possible."

Become style-savvy

Hair loss tends to appear more obvious on long, straight styles. Ask your hairdresser for a shorter cut with a fuller shape. If you can't face the chop, opt for a shoulder-length cut with a bouncy feel, which you can style with a round barrel brush, curling or waving tongs and/or a natural-bristled teasing brush at home. "Don't be afraid of styling products, they're important to maintain volume in the hair at the roots," advises Denise. "A volume-boosting mousse is great to give the illusion of fuller hair." She also recommends asking your colourist to use at least 3 different tones in order to create the impression of depth.

Use a clinically proven treatment for female pattern hair loss

Regaine® for Women Once a Day Scalp Foam is the only clinically proven women's foam to regrow hair, containing Minoxidil. Following 6 years of research, the product has proven effective for 8 out of 10 women in clinical trials. The treatment is capable of reversing follicle miniaturisation by increasing the supply of blood and nutrients to the hair follicles. This helps strengthen the existing hairs, stimulates growth and extends the length of the growth cycle. "Regaine for Women Once a Day Foam is easy to use and fits in really well with any hair and beauty routine. Women have seen great results using the product after going through something as emotional and personal as hair loss," says Rebecca Bennett, Professional Relations Manager, Johnson & Johnson. "It's a long term commitment, but results can be visible within 24 weeks. You may experience increased shedding in the first few weeks of use, but stick with it! This is a good thing as it means the product is working and reactivating follicles to grow thicker hair."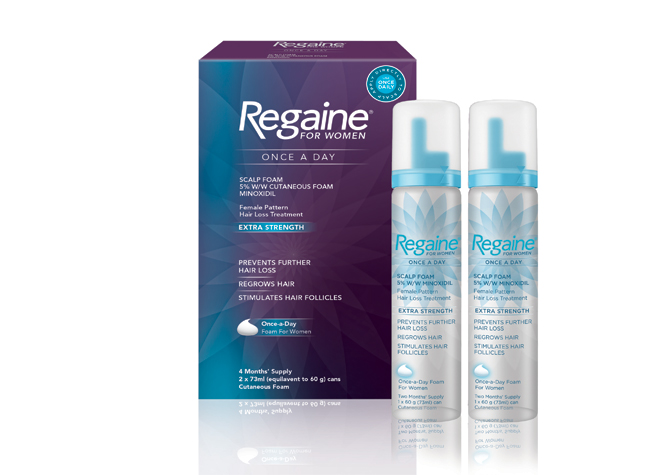 Live well

Stress may cause or aggravate hair loss. Meditation, yoga and massage can all help you relax, while regular exercise and a good diet will help maintain your general health and wellbeing.

Regaine® for Women Once a Day Scalp Foam 5% w/w Cutaneous Foam is for female pattern hair loss. Contains Minoxidil. Always Read the Label.

Sally Ann Tarver and Denise McAdam are independent experts and do not endorse Regaine® or any other brands.