When is it going to snow in the UK this year and where is it confirmed?
Heavy snow in the UK might not be that far away as forecasters predict 'blizzards' in some areas...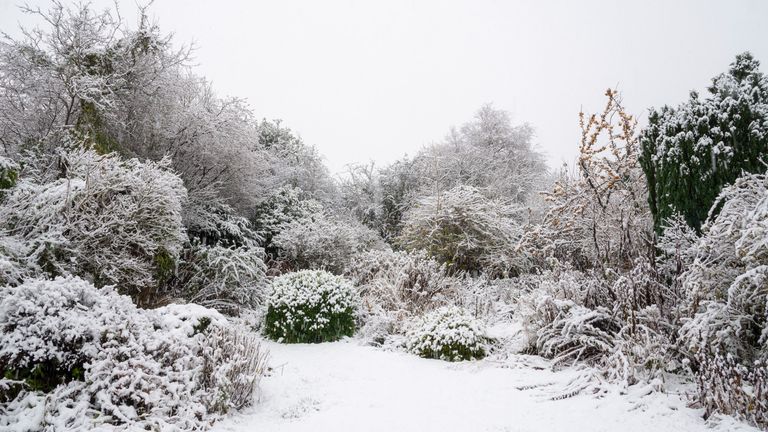 (Image credit: Photos by R A Kearton via Getty)
Snow in the UK is set to be a "shock to the system" as forecasters predict bitter conditions and possible blizzards further north.
Winter might already feel like it's been here forever, but there's plenty more ice and snow in the UK headed this way before spring arrives. With parts of the south having recently experienced their coldest temperatures of winter so far, it seems Brits shouldn't be considering putting away their best cashmere sweaters and best winter coats just yet. Current forecasts are suggesting that the mercury could drop as low as -7 degrees Celsius within a matter of days and heavy snow in the UK is also predicted to fall in a "short" burst as January gives way to February.
But when exactly is it going to snow in the UK and where is it confirmed? We reveal all you need to know about the blizzards predicted to arrive…
When is it going to snow in the UK this year and where?
Anyone hoping that there'll be no major snow in the UK this January might not be so lucky this winter as forecasters are predicting not only dropping temperatures but the possibility of "blizzards" over high grounds in the space of 24 hours. Jim Dale, Senior Meteorologist at British Weather Services has now predicted that parts of the country could see the mercury dropping as low as -7 degrees Celsius as the first week of February approaches.
And it seems like it's those living in Scotland who should be preparing themselves to bring out their best winter boots and warmest leggings. The meteorologist explained to Express.co.uk that the snow will generally be confined to areas there over the coming week.
He told the publication, "The high pressure is regressing by the time we get to the 31st—this sedate, tranquil, boring weather. Basically, a cold front comes south during the course of that particular day - 30th into the 31st, it sort of happens the day before and then the cold air pushes in over the night. What it's going to do is deliver some snow."
When it comes to exactly where there could be snow in the UK, it seems the majority of the flurries will fall over the highlands and the Grampian Mountains in Scotland.
"But the snow is going to be confined almost certainly to Scotland and the majority of that is over the highlands and the Grampians," Jim continued. "So they're going to get a good covering. They're going to go back to where they were a few weeks ago, where they had a decent covering before the milder weather came in."
He went on to add that the temperature will also plummet, sharing, "And it will feel colder as that cold front comes down further south across the country. Temperatures in the overnight 31st into the 1st tipping down. And you're going to see the Glenns around -5C, -6C, -7C, that sort of temperature."
If this already doesn't have you searching for your ultimate hot chocolate recipe to keep you warm, then we don't know what will. But there is some good news for those dreading a blizzard of snow in the UK, as the meteorologist also suggested that whilst the coming snowfalls are likely to be heavy, he expects them to be brief.
Jim explained, "It doesn't last, it's a short 24, 36 hour period—it's not actually a case of it coming back across the following week. It's just a quick, sharp shock to the system, particularly for Scotland. It may be powerful enough, there may be enough wind in that 24 hours as the snow is falling to cause blizzards over the high ground."
"You're really talking those higher-level routes, some of the higher villages and what have you that are up there," he continued. "But it dissipates quite quickly and ends up in the North sea. It's quite a concentrated frontal system, it comes in and then whams back out again into the North Sea."
And this snowfall might not be the only one the UK faces over the coming days. Alyssa Smithmyer from Accuweather has reportedly predicted snow could also fall over the weekend of 29th January in Scotland and higher areas of northern England, though rain is also possible.
🌧️ Despite the largely settled conditions for southern areas of the UK this week, there's more going on for northern regions🌬️ Strong winds and rain will affect #Scotland in particular over the coming days pic.twitter.com/BXooWwk46GJanuary 24, 2022
See more
According to the Evening Standard, she told the Daily Express that, "On Saturday and Sunday, a separate low-pressure system will bring the possibility of rainy spells over north and central regions of the UK, as well as the chance for wintry showers across northern Scotland, south-central Scotland and the higher ground in northern England late Sunday."
So it seems those who live in Scotland and particularly in the picturesque highlands, the likelihood of seeing some fleeting but potentially heavy snow in the UK is far higher as January draws to a close.
Will it snow anywhere else in the UK?
Whilst northern areas have experienced the most snow in the UK this winter so far, some might be wondering where else flurries could fall as February looms on the horizon. Current predictions have forecasted that it's unlikely that there will be any major snowfall further south, but it might not just be the highlands of Scotland and Northern England that receive a blanketing.
Instead, according to The Mirror, forecasts from WXCharts have suggested that an arctic front will make its presence known in Scotland on January 28th, before sweeping southwards. These forecasts predict that flurries will fall in Newcastle by 6pm that day, whilst January 29th could see icy showers cover East Anglia.
Further south might not have snow forecast, but these areas won't completely escape the coming wintery conditions as it's thought temperatures will also plummet here. As reported by The Mirror, the Met Office have warned of "severe frost" and "icy conditions" for large parts of England and Wales over the next few weeks.
The move towards colder conditions and predictions for snow in the UK this January comes as Jim Dale previously explained that there could be as many as six major storms during the winter, which began with the winter solstice 2021.Jim described these storms as "significant" to The Sun, though it's not yet known how severe they could be following Storm Barra and Storm Arwen which swept across the UK in November and December.
"There is always a balancing effect taken by the weather, and autumn was far too calm for us not to see a payback during the winter which will bring several significant storms," he declared.
So it seems that not only should Brits living in northern areas prepare themselves for the possibility of some blizzards of snow in the UK as February arrives, this might not be the last the country sees of these freezing conditions before spring arrives. There's never been a better time to remain warm inside watching the best romantic movies ahead of Valentine's Day!
Will it snow in London 2022?
Whilst some Londoners might be dreaming of seeing some snow in the UK this winter, others are likely dreading the transport chaos it causes. So far this winter the capital has yet to have any major flurries and this looks set to remain the case going forwards into February.
Opening up to Express.co.uk, Jim Dale has revealed that the possibility of London seeing snow this January very much depends on the direction of the wind over Europe as he speculated, "How far that actually comes in, and whether or not we get a proper plunge, depends on a little battle going on. Does it end up in Denmark, Germany or does the thrust come across and affect the eastern parts of the UK and down to the London area?"
Meanwhile, Alyssa Smithmyer expressed her belief that London will escape the worst of the coming conditions, with drizzle and sunny spells forecast though the last week of January, before mist and fog gives way to brighter days.
This not unsurprising for this time of year as the Met Office reports that statistically, the place that most often sees snow in the UK is the Cairngorms in Scotland, with an average of 76.2 days of snow or sleet falling there. In contrast, the possibility of seeing significant snowfall in London is much smaller.
According to World Atlas, data from the Met Office has shown that the central parts of London actually experience less than 10 days of snow or sleet each year and that for these few days, the snow rarely settles.
It's understood that the outskirts of London and areas with higher altitudes tend to get more snow during these rare days, as the urban centre of the capital often has a higher temperature. This causes snow to melt more quickly there and in turn makes it more unlikely that snowflakes will actually settle when they fall. Between January and March, snow in the UK is also more common regardless of area, whilst the run-up to Christmas is often slightly milder.
In previous years, London has seen some seriously major early-year snowfall—after all, who could forget the Beast from the East in March 2018? This arctic snow storm blew in, leaving transport struggling to keep moving through the shocking conditions.
Can it be too cold to snow?
With temperatures plummeting across the UK this January as winter takes hold, many people might be wondering if it can be too cold to snow at all. But unfortunately for those hoping that lower temperatures decrease the chance of precipitation falling as snow, this sadly isn't the case.
The answer to this intriguing question is that technically there is no temperature that is too cold for it to snow. Snow can fall at exceptionally cold temperatures and the main condition required for flurries is, of course, moisture in the air.
As revealed by AccuWeather, warmer air tends to hold more moisture whilst in colder temperatures the maximum capacity for moisture in the air is significantly reduced. This means that the colder the temperature, the less water there will be in the air, making it a question of being too dry rather than too cold for it to snow, especially heavily and settling.
It seems that winter 2022 is likely to mean yet more freezing temperatures, frost and snow in the UK, especially for northern and higher areas, making wrapping up warm an essential for anyone braving the wintery conditions outside.
Emma is a Senior Lifestyle Writer with five years experience working in digital publishing, ranging from book publishing to magazines. She currently looks after all things Lifestyle for Woman&Home, GoodToKnow and My Imperfect Life.
Before she joined Future Publishing, Emma graduated from the University of Warwick with a Bachelor of Arts degree in English and Comparative Literary Studies. After leaving education, she started out her publishing career in the world of books, working as a Publisher for an independent digital publisher specializing in back-list and debut commercial fiction novels. With a huge book list and a passion for bringing the best stories to the broadest audience possible, Emma filled her spare time with reading the latest best-sellers and catching up on hit adaptations.
In 2017 she joined TI Media as a fiction writing coordinator on Woman's Weekly and Woman's Weekly Fiction as part of the features team. From here, she used her love of books, working to bring short stories to our dedicated readers and began writing for the books pages of Woman, Woman's Own and Woman&Home, as well as online features ranging from genre round-ups to travel pieces for womanandhome.com.
After honing her skills, Emma branched out online in 2020 when Future gave her the opportunity to focus on digital-first. When she's not writing about the next big lifestyle trend, she enjoys cooking, long walks and watching as many crime dramas as she can!