The Crown drinking game Ibble Dibble explained, so you can play it too
The Crown drinking game Ibble Dibble - what is it? And how to play it explained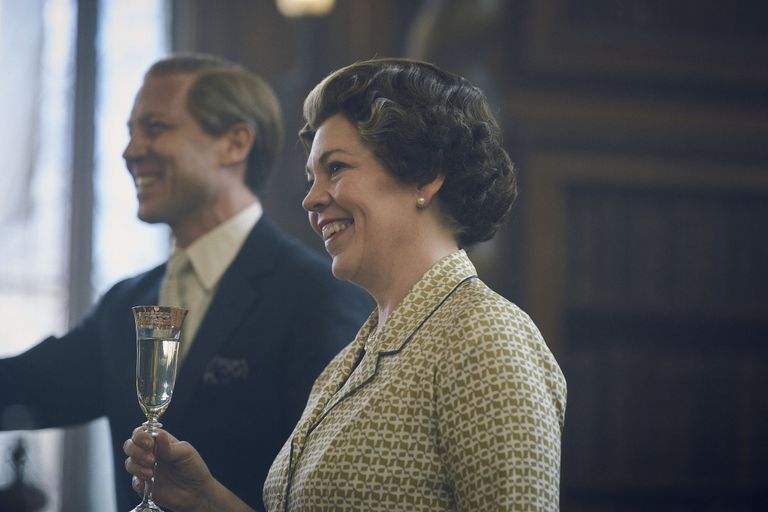 (Image credit: Netflix)
After wondering how true is the crown?  The Crown drinking game Ibble Dibble is a real thing that you can learn to play too.
If you're bored of the fitness apps in lockdown, or maybe you're looking for some exciting party games this festive season, then why not brush up your skills with the rules of the game that has taken the Netflix drama by storm.
The game relies on being a bit of a tongue twister, hence the name, Ibble Dibble. Any number of players are required to sit around a table and in terms of props, you will need a cork and a lighter or matches. The full list of rules are detailed below. 
The cast of The Crown playing Ibble Dibble
Gillian Anderson recently shared a photo of The Crown cast playing Ibble Dibble together, with the caption, 'A royal jam. @thecrownnetflix'
What you will need to play The Crown drinking game Ibble Dibble:
A cork
Lighter or matches
A drink
The rules of The Crown drinking game Ibble Dibble:
Gather everyone who wants to play and get them to sit in a circle. Before you start, burn the end of your cork so that it turns black. Each game player then gets an Ibble-Dibble based name with a number - i.e. One Ibble-Dibble, Two Ibble-Dibble and so on...
The game starts with bare faces, and one person must reciting the specific tongue-twister to kick things off. 
For instance the rhyme for One Ibble Dibble would go something like this:
"One Ibble Dibble with zero Ibble Dibbles calls five Dibble Ibble with zero Dibble Ibbles."
Then player five has to recite the rhyme replacing the numbers with the order they were given it, for example, "Five Ibble Dibble with zero Dibble Ibbles calls two Ibble Dibble with zero Dibble Ibbles."
Player two would then have a go and replacing the numbers with their order, for instance, "Two Ibble Dibble with zero Dibble Ibbles calls three Ibble Dibble with zero Dibble Ibbles."
But any player who messes up - pauses, stutters, gets their Dibble and their Ibbles the wrong way around, or says the number of Dibble Ibbles someone has on their face wrong, not only do they have to take a drink, but they get a black dot on their face.
And the game continues... 
Inspired by the royals? Play one of these fun drinking games this weekend
And if you're a fan of the show you will remember how awkward it got in the Margaret Thatcher scene when she took so long to play that it ruined the pace of the game.
Obviously the more you play and drink (responsibly), the sillier it gets and the winner is the person with the least amount of Dibble Ibbles on their face.
But what is the game's importance? Well, it's all part of the Balmoral Test - an unspoken royal family ritual, dumping a newcomer into the deep end, to see how well they fit into the social climate and adapt to long-held traditions. 
Maybe one to save for the next zoom party call? What are you waiting for - crack open that gin advent calendar...
Royal book deals to buy this Black Friday weekend
Selina is a Senior Celebrity Writer with more than 13 years experience in newspapers and magazines. She is currently Senior Entertainment writer for Goodto.com, womanandhome.com and Myimperfectlife.com
Before joining Future [formerly TI Media], Selina spent two years as a Showbiz Freelance Writer, worked as a Showbiz Writer at Heat magazine. Selina previously spent six years as Acting News Editor and Entertainment Reporter at the Scunthorpe Telegraph where she was awarded a O2 Media Judges' Special Award for helping a terminally ill cancer sufferer realise his dying wish and marry his childhood sweetheart.
When she's not interviewing celebrities you can find her getting into a spin on the ice, planning her next Mini adventure or making memories!