The Queen, Prince William, and Kate Middleton pay Remembrance Day tribute with sweet social media updates
The Queen and other royals have paid tribute to remembrance day through their social media channels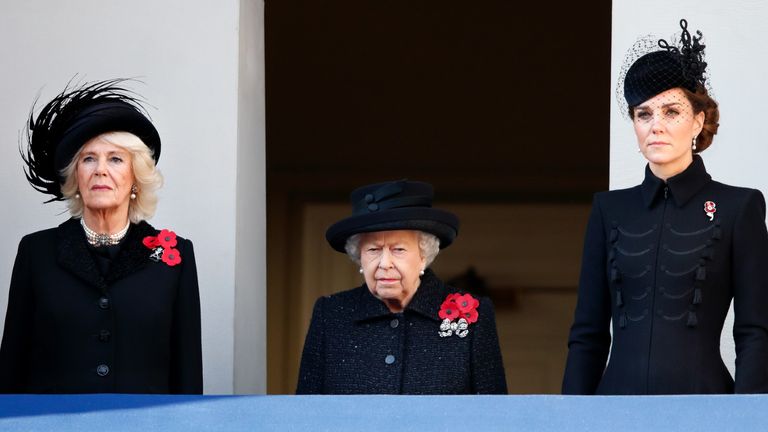 (Image credit: Max Mumby/Indigo / Contributor / Getty Images)
By Laura Harman
The Queen, Prince William, and Prince Charles have all used their social media accounts to pay tribute to the upcoming Remembrance Day that takes place in the UK on Thursday, November 11, 2021.
The Queen has led members of the royal family in paying tribute to Remembrance Day.
Members of the royal family have changed their profile pictures on Instagram to pay tribute and contribute to the Armed Forces community.
---
As the leader of the armed forces, the Queen has led remembrance day services at the cenotaph for many years. Although remembrance day doesn't take place until November 11, the Queen has made sure that in this digital age, she has paid tribute in other ways.
The Queen made a subtle change to her social media profile and changed her profile image to a photo of herself at a previous remembrance day service. The Image showed the Queen's face and neck as she was dressed all in black with only the red of the poppies adding color to the image.
Prince Charles and Camilla also changed their profile image on social media. The royal couple added an image that showed the pair of them sitting with members of the Royal British Legion, who collect money for the armed forces community every year.
This is a recent image that was taken just a month ago when Camilla and Charles hosted the charity organization at their home Clarence House. It was at this same event that Prince Charles' insecurity was highlighted in photos taken with Royal British Legion members.
Prince William and his wife Catherine also used their social media page to promote the Royal British Legion's charity for remembrance day.
Instead of posting an image of themselves like other members of the royal family, Kate and William instead drew attention to the poppy collection itself and posted an image of the red paper poppy that can be purchased across the UK.
The poppy has the number '100' pasted across its petals which signifies the 100 years since the poppy appeal began in 1921.
The Royal British Legion says of this momentous year, "In 2021 we are marking 100 years since the nation's collective Remembrance traditions were first bought together."
They added, "We remember the Armed Forces, and their families, from Britain and the Commonwealth, the vital role played by the emergency services and those that have lost their lives as a result of conflict or terrorism."
Not all members of the royal family will be able to commemorate this 100-year tribute to the fallen soldiers. Prince Harry was denied the chance to lay a wreath at the Cenotaph which reportedly left him 'saddened and disappointed' as a former member of the armed forces. It is thought that the Prince will continue to stay in the US over the remembrance day weekend.