The Duchess of Cambridge's subtle tribute to the Queen at Prince Philip's funeral
The Royal Family bid an emotional farewell to the Duke of Edinburgh today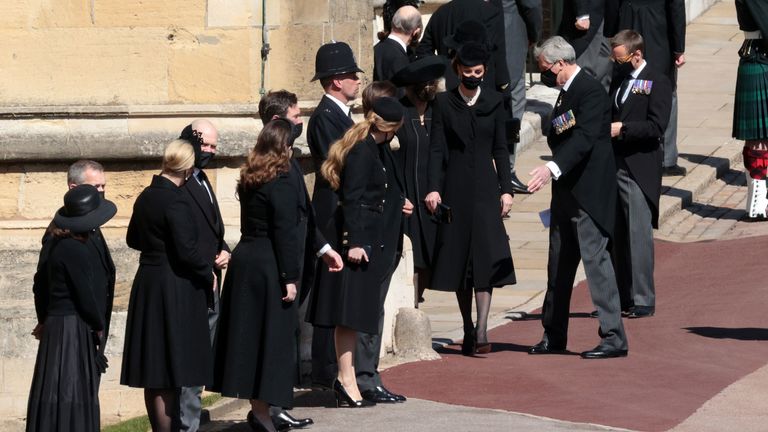 (Image credit: Getty Images )
The Duchess of Cambridge's ensemble for Prince Philip's funeral in Windsor held a special meaning - particularly for the Queen. 
The Duchess of Cambridge arrived at St George's Chapel in Windsor today wearing a meaningful outfit. 
Catherine was spotted wearing the iconic Japanese pearl choker necklace from the Queen's personal collection - the intricate piece of jewelry's design commissioned by Her Majesty herself. 
Duchess Catherine was also wearing her diamond-drop earrings, which are also from the Queen's collection. 
---
Catherine was one of the first to arrive at Prince Philip's funeral, which is taking place today. Due to Covid-19 restrictions, the guest list was limited to 30 people, meaning Prime Minister Boris Johnson could not attend, as is customary. 
Catherine arrived in a respectful all-black outfit and some statement jewelry that held a special significance. Duchess Catherine wore a pearl and diamond choker, gifted to her by the Queen.
The Japanese diamond choker is a special heirloom within the royal family, worn previously for a host of special occasions. This choice of jewelry may also be a nod to the late Princess Diana, as she famously wore the beautiful necklace at a state banquet for the Netherlands, in 1982. 
The stunning four-strand necklace boasts a diamond clasp, and the pearls that make up the delicate strands were given to Her Majesty by the Japanese government. 
Catherine had previously borrowed the piece to celebrate the Queen's 70th wedding anniversary to Prince Philip, so this choice was a sweet nod to their enduring marriage. 
Prince Philip's funeral took place today in St George's Chaple in Winsdor. During the service, the Duke of Edinburgh was praised for his "kindness, humor and humanity". The Queen sat alone for the service, cutting a poignant figure dressed in black, looking solitary where the Duke would have usually been by her side. 
The Duke of Edinburgh's Funeral procession travels from the Quadrangle of Windsor Castle to St George's Chapel — with the coffin carried by a Land Rover designed by The Duke, & accompanied by representatives of the Armed Forces, members of The Royal Family & Her Majesty The Queen pic.twitter.com/ayNf2ApcqlApril 17, 2021
See more
Prince Philip passed away peacefully aged 99 at home in Windsor Castle. Today's service will pay homage to one of his great loves, the sea. 
After the news of Philip's death was announced, the UK has entered an official mourning period. 
In the case of Prince Philip, this mourning period is set to last eight days. During this time, all flags must be flown at half-mast and all newsreaders will reportedly wear black.