Royal Family share moving poem to mark one year anniversary of Prince Philip's passing—'these words are as powerful as the man himself'
The Royal Family shared a moving tribute to honor the one year anniversary of Prince Philip's passing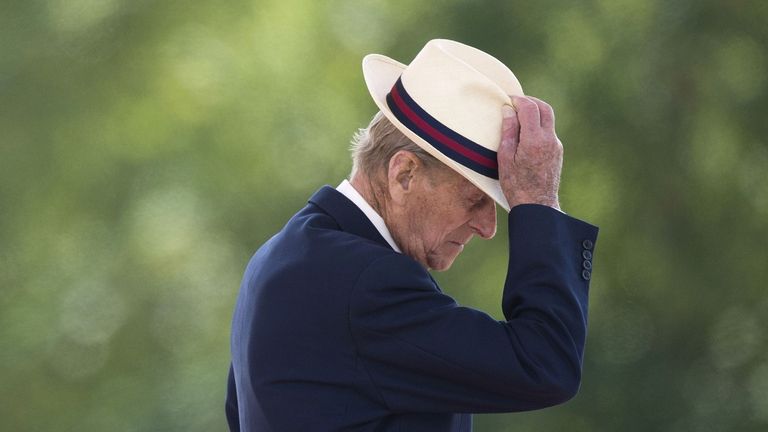 (Image credit: Nigel Treblin/Getty Images)
The Royal Family have paid tribute to the one year anniversary of Prince Philip's passing with a moving online tribute. Setting the words of the poem The Patriarchs – An Elegy, against a montage of intimate family photos, the tribute captures the duties and integrity of Philip's life.
It has been one year since Prince Philip, the Duke of Edinburgh passed away.
To honor the occasion, the Royal Family shared an emotional montage of personal, family photos set to a reading of a poem.
---
A poem capturing the many facets of Prince Philip's life has been shared by the Royal Family, as they pay tribute to the one-year anniversary of his death.
The moving poem, titled The Patriarchs – An Elegy, is read by the poet laureate himself and set against piano music. The elegy was written by the poet laureate Simon Armitage and shared across various official Royal Family social media accounts on Saturday, April 9.
Remembering His Royal Highness The Duke of Edinburgh on the first anniversary of his death. Find out more about his life and legacy at: https://t.co/6tFq2vjyNkWords: 'The Patriarchs – An Elegy' by Poet Laureate Simon Armitage pic.twitter.com/WpB2L6D75KApril 9, 2022
See more
It reads, "On such an occasion / to presume to eulogise one man is to pipe up / for a whole generation – that crew whose survival / was always the stuff of minor miracle, / who came ashore in orange-crate coracles, / fought ingenious wars, finagled triumphs at sea / with flaming decoy boats, and side-stepped torpedoes."
The poem captures the spirit of Philip's generation as "husbands to duty", "great-grandfathers from birth", and "last of the great avuncular magicians" in the poem, before concluding in the final verse, "But for now, a cold April's closing moments / parachute slowly home, so by mid-afternoon / snow is recast as seed heads and thistledown."
While his words come to life, they are accompanied by a montage of photographs from the Duke of Edinburgh's incredible life, including images that capture both the largeness of his role in world history and more intimate, family moments, including his wedding day and the birth of his four children.
Fans were quick to share in both the grief and remembrance of the late Prince Philip.
Responses to the moving video and poem included comments which said, "These words are as multifaceted and powerful as the man himself. May God continue to bless you as you successfully navigate through these years."
Others shared their favorite images of Prince Philip and members of the family. Posting a series of photos of the Queen and Prince Philip together, one fan wrote, "Lovely poem...and great pictures. He was such a handsome young man. You can see the love he and the Queen had for each other in their eyes. RIP Prince Philip."
Another fan wrote, "The greatest royal partnership in history. Proof that royalty has a place in advanced cultures when you have great people in charge."
While many shared the same sentiment, remarking how they can't believe how fast the time has flown by since the news of his passing was shared with the world, some offered their experiences with grief.
One comment wrote, "Time doesn't heal anything, it just teaches us how to live with the pain."
Jack Slater is not the Last Action Hero, but that's what comes up first when you Google him. Preferring a much more sedentary life, Jack gets his thrills by covering news, entertainment, celebrity, film and culture for woman&home, and other digital publications.
Having written for various print and online publications—ranging from national syndicates to niche magazines—Jack has written about nearly everything there is to write about, covering LGBTQ+ news, celebrity features, TV and film scoops, reviewing the latest theatre shows lighting up London's West End and the most pressing of SEO based stories.