How Prince Harry is supporting Meghan as her half-sister releases a memoir promising to expose hidden truths about the Duchess
Eek!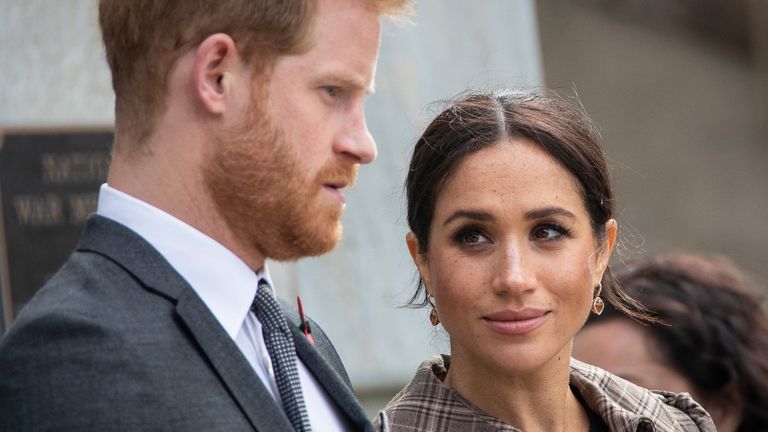 (Image credit: Rosa Woods - Pool/Getty Images)
Meghan Markle's estranged sister, Samantha Markle, has released a memoir, The Diary of Princess Pushy's sister Part 1. And Meghan is reportedly "sick to her stomach" over the release.
The Duchess of Sussex is reportedly "sick to her stomach" over half-sister Samantha's memoir, Diary of Princess Pushy's sister Part 1.
But, her husband Prince Harry is said to be "totally supporting Meghan and doesn't believe a word that comes out of Samantha's mouth". He has always been protective over Meghan.
Samantha has previously said the book won't be a "slamming tell-all story," but Meghan might not be entirely comfortable with its contents.
"I don't know if she (Meghan) will be comfortable with it. Some things she will and some things she won't," she said. 
"It's fair and balanced. Naturally, some things she will like and some things she won't. Truth is stranger than fiction, and I have predicated myself on the truth."
The book, published by Barnes and Noble, promises to expose "hidden truths" about the family, months after Samantha branded her half-sister a "shallow social climber".
The synopsis reads, "Amidst a firestorm of fake news and media mayhem, Samantha Markle shares the truth about her life and family against all odds and ultimatums, as a royal fairytale plummets from the tea towels. Sometimes the truth really is stranger than fiction."
Who is Samantha Markle?
Also known as Samantha Grant, Samantha Markle is 54-years-old and shares a father, Thomas Markle, with the Duchess of Sussex.
Samantha has previously claimed to have raised Meghan for 12 years when she was growing up in California, something that has never been confirmed by Meghan herself. 
The half-sisters are said to have not spoken for a decade, but that didn't stop Samantha from feeling hurt that she wasn't invited to Meghan and Prince Harry's royal wedding.
Talking about the snub, she said, "There are some members of the family who have an air of entitlement about even a wedding invite, I don't understand why we didn't get one but I don't expect or demand one."
Despite claiming to have been unbothered by the absence of an invitation to the Royal Wedding, Samantha has gone on to make life difficult for Meghan - often lashing out at the Duchess on Twitter.
She tweeted, "Harry is a "wuss" to allow the Duchess of Nonsense to mistreat everyone who has been close to her, especially her family. Diana would be ashamed. Stop wearing Meg's skivvies and bra and take your pants off her!"
Samantha even said Prince Harry should have married his ex-girlfriend, Cressida Bonas, for her likeness to Princess Diana.
Alongside a picture of Cressida, she wrote, "She is much more like Diana. That's who Harry should have married."
Georgia studied Print Journalism at university in Nottingham, England before going on to work on several leading celebrity magazines, as well as freelance writing for international magazine Grazia Middle East. An enthusiastic, hard-working and ambitious writer, Georgia recently launched her own communications consultancy, farq media. As Director and Founder, Georgia helps businesses with their Public Relations strategy, as well as influencer and celebrity marketing. She also represents several influencers of her own. She lives with this motto in mind; "if your dreams don't scare you, they aren't big enough."