Right on Trend: Rose Gold Jewellery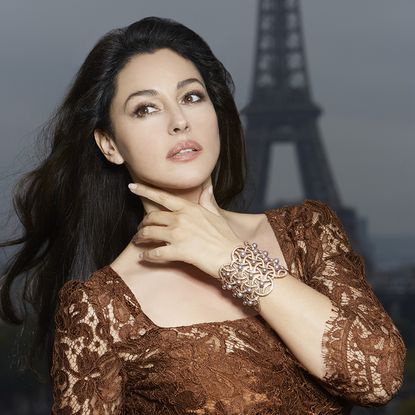 Warm, glamorous and perfect for every skin tone, rose gold is this year's must-have jewellery
Over the course of the last six months, rose gold has emerged as the hottest colour of jewellery - and with reason. Not only is it beautiful, but its warm, rosy glow suits every skin tone and virtually every occasion. It is elegant by itself and super glam when dressed up with diamonds or pearls - like in this stunning cuff bracelet worn by Monica Bellucci, which is part of Cartier (opens in new tab)'s new Paris Nouvelle Vague collection. Image: Francesco Escalar/Lightshape © Cartier 2012
Atlas Ring by Tiffany
Part of the Atlas collection, inspired by the Atlas clock outside Tiffany's iconic Fifth Avenue shop, this fabulous 18-carat rose gold ring comes with a magnificent diamond border. £2,850, Tiffany (opens in new tab). Image: Tiffany & Co.
Tearoom Earrings by Astley Clarke
These glamorous stud earrings feature elegant morganite surrounded by diamonds and set in 14-carat rose gold. £1,450, Fortnum & Mason (opens in new tab).
Rosa Mundi Pendant by Bee Goddess
This intricate pendant by Istanbul designer Bee Goddess has seven tiers of pave rose petals with a single diamond in the centre. £8,650, Harrods (opens in new tab).
Little Light Triple Ring by Astley Clarke
Three little pave stars add a fun, graceful touch to this pretty 14-carat rose gold ring. £695 Harrods (opens in new tab).
Vague Ring by Cartier
Part of the new Paris Nouvelle Vague collection, this stunning intertwined ring is beautifully paved with diamonds. Also available in white gold. £4,250, Cartier (opens in new tab). Image: Stephan Abry © Cartier 2013
Pink Gold Ring by Pasquale Bruni
This striking rose gold ring by Italian designer Pasquale Bruni features smokey quartz and diamonds. £2,450, Harrods (opens in new tab).
Paris Nouvelle Vague Earrings by Cartier
Sophisticated rose gold spheres are beautifully paired with diamonds and pink sapphires in these dramatic earrings. £16,400, Cartier (opens in new tab). Image: Vincent Wulveryck © Cartier 2013
Fiji Blue Diamond Pavé Toggle Bracelet
Celebrity favourite Monica Vinader combines rose gold with blue diamond pave in this fun friendship bracelet. £365, Harrods (opens in new tab).
Knot Key Pendant by Tiffany
Simple but elegant, this open knot key pendant in 18-carat rose gold is part of the Keys collection, inspired by ancient keys that once unlocked grandiose mansions and heavy trunks. Tiffany (opens in new tab). Image: Tiffany & Co.
Carla Passino is a multimedia journalist with more than seventeen years' experience in national and international media.
Carla's primary areas of interest are political, economic and housing trends in global cities. Much of my time is spent writing about the world's prime property markets and the factors that affect it, covering fiscal, legal, political and financial issues linked to home ownership, and reporting on major shifts in British, European and international housing. Over the years, Carla has written about culture, education, interiors, farming, travel, food, wine and more.