THIS Is How Often You Should Change Your Bedsheets
Two-thirds of us don't change our bedding often enough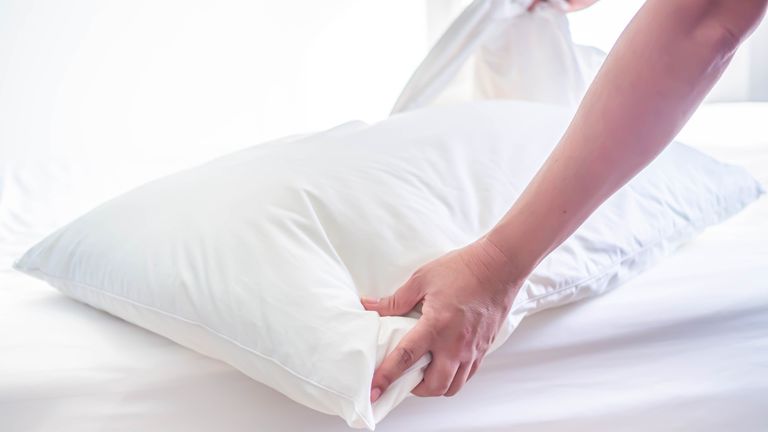 (Image credit: Getty Images)
How often do you change your bedsheets? According to New York microbiologist Phillip Tierno, for two-thirds of us, the answer is "not often enough".
According to a YouGov poll, only a third of us changes our bedsheets once a week, as Tierno recommends.
30% of us bundle the bedclothes into the washing machine every fortnight. Meanwhile a staggering one in ten of us only bothers once a month.
With huge Black Friday bedding discounts now here, it's the perfect time to pick up a new set. Now all that's left is to make sure we look after our bedding carefully.
But does leaving a week or two between washes really make a big difference?
Harlequin Coppice double duvet, £95 £76 (save £19) | John Lewis
Make a statement with this stunning trailing leaf motif duvet cover which features ivory floral blooms. The 200 thread count of cotton sateen is breathable and comfortable - ideal for a perfect night's sleep. We simply adore the colour of this bedding set.
Why do we need to change our bedsheets regularly?
Let's consider the facts - but unfortunately, they don't make for easy reading. You produce around 26 gallons of sweat in bed each year, helping to cultivate an environment described by scientists as an "ideal fungal culture medium".
Samples of feather and synthetic pillows between 18 months and 20 years old indicate that a single pillow can contain up to 16 species of fungus.
This combines with the bacteria contained in your sweat, saliva, mucus and other bodily excretions to produce a veritable "botanical park" of bacteria and fungus - nice.
Sleeping with the window open won't help much, either: you sweat all year round!
Can your bedsheets cause allergies?
If this doesn't sound bad enough, your bedsheets could also trigger unpleasant allergy symptoms.
On average, we can expect to share our beds with 10 million dust mites. And that's not including the lint, dust mite debris and faeces you are "almost forced to breathe in" each night.
Exposure to these materials can trigger sniffing and sneezing and it's not just allergy sufferers at risk.
Tierno explains: "Even if you don't have allergies per se, you can have an allergic response".
This is reason enough to make today laundry day, no?
How do you ensure your bedsheets are fully clean?
According to microbiologist Laura Bowater, we should be washing our sheets at a minimum temperature of 60°C in order to kill off bacteria.
"Dry sheets and pillowcases in direct sunlight if you can, as UV light is effective in killing micro-organisms," she recommends.
And that's not all!
"Run a hot iron over pillowcases on the cotton setting (200°C)," Bowater suggests, as this will help "kill any leftover bacteria."
How else can I keep my bedding hygienic?
Bed and mattress retailer Dreams has suggested that there are a few ways we can help keep our bedding clean between washes.
Don't allow your pets in your bed - as much as you love them, this won't help keep your sheets fresh and hygienic between washes
Shower before going to bed
Try and avoid putting lotions on before you get into bed
Remove all make-up and wash your face before going to bed
Don't eat or drink in bed
What other bedding should we clean regularly?
You should also aim to clean your mattress at least twice a year. But how exactly do you clean such a bulky bedroom item?
First, strip and wash your bedding
Before you put it back on, open the windows to air your mattress
Vacuum the mattress thoroughly, using a handheld vacuum or vacuum with a clean brush attachment
Pay special attention to seams and crevices
Sprinkle with baking soda to eradicate any nasty odours
Leave it to air for another hour or so.
Vacuum again to remove all traces of baking soda
Then leave it to air for a little longer before putting the sheets back on
Simply follow these handy tips and you can rest easy, knowing there are no unwanted nasties hiding in your bedsheets and mattress.