The Gilded Age—everything we know about HBO's new drama from Downton Abbey creator Julian Fellowes
HBO's The Gilded Age boasts an A-list cast including Cynthia Nixon, Christine Baranski and Meryl Streep's daughter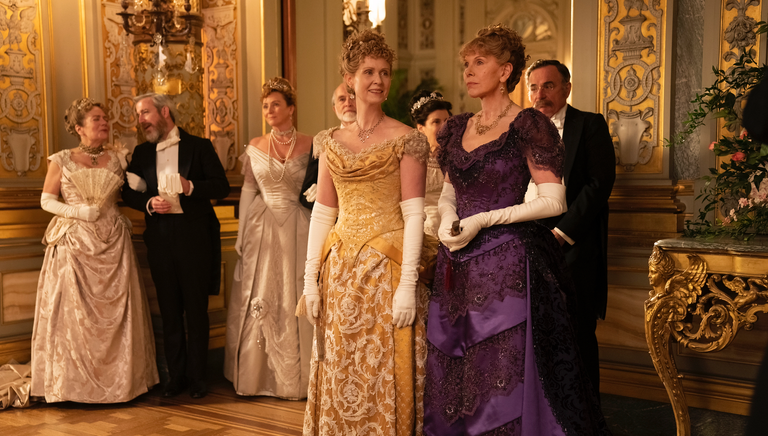 (Image credit: WarnerMedia)
With a new year fast approaching, it's about time for a new obsession—enter HBO's new exciting period drama, The Gilded Age.
With Bridgerton series 2 still a while off, what better way to kick off 2022 than with another sumptuous, captivating period drama?
From Downton Abbey creator Julian Fellowes, The Gilded Age promises to transport audiences back to a time of old world glamor and high society.
Here's all you need to know about the upcoming series…
What is The Gilded Age on HBO about?
The series, much like Downton Abbey, will explore class and social circles, but this time, from the other side of the pond.
The title of the series hints at what the show will focus on—the Gilded Age was an era that occurred during the late 19th century, from the 1870s to around 1900. It was defined as a time of rapid economic growth, especially in the Northern and Western United States, seeing an influx in what is often dubbed "new money", as workers and savvy businesspeople made vast amounts of money.
In a summary for the show, HBO explains, "against the backdrop of change, the story begins in 1882—introducing young Marian Brook, the orphaned daughter of a Union general, who moves into the New York City home of her thoroughly old money aunts Agnes van Rhijn and Ada Brook.
Accompanied by Peggy Scott, an accomplished African-American woman, Marian inadvertently becomes enmeshed in a social war between one of her aunts, a scion of the old money set, and her stupendously rich neighbours, a ruthless railroad tycoon and his ambitious wife, George and Bertha Russell."
Who is in the cast of The Gilded Age?
Plenty of familiar faces are taking part in the new series.
Cynthia Nixon, fresh from reprising her role as Miranda Hobbes in the Sex and the City reboot And Just Like That, will star as Ada Brook, one of the Old Money elites.
Joining her are veteran actresses like The Good Fight's Christine Baranski, playing Agnes van Rhijn, and Broadway star Donna Murphy as Mrs Astor.
Meryl Streep's daughter, Louisa Jacobson, will lead the cast.
American Horror Story's Taissa Farmiga, Broadway legend Audra McDonald, Harlem's Sullivan Jones and Basic Instinct's Jeanne Tripplehorn also star.
The Gilded Age release date
The Gilded Age will premiere in the new year exclusively on HBO.
The first episode is released on January 24, with episodes set to air weekly after that.
The first season is made up of 10 episodes.
Jack Slater is not the Last Action Hero, but that's what comes up first when you Google him. Preferring a much more sedentary life, Jack gets his thrills by covering news, entertainment, celebrity, film and culture for woman&home, and other digital publications.
Having written for various print and online publications—ranging from national syndicates to niche magazines—Jack has written about nearly everything there is to write about, covering LGBTQ+ news, celebrity features, TV and film scoops, reviewing the latest theatre shows lighting up London's West End and the most pressing of SEO based stories.
Jack's other favourite topics are exploring the new and the now. From strange hacks to wellness trends, Jack has an open mind, always willing to try something different. From Gua Sha to infrared saunas, drinking apple cider vinegar to biohacking, if there's something that could possibly help unearth his abs or smooth out his skin, he'll research, try and cover it.