Phillip Schofield defends Eamonn Holmes after 'lacking in taste' hot tub joke
The TV presenter came out as gay yesterday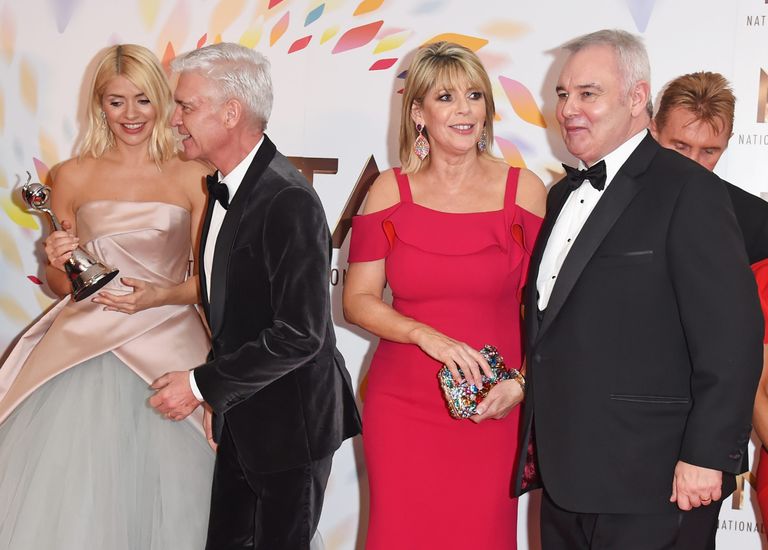 Phillip says Eamonn "lightened a very emotional moment"
Eamonn Holmes came under fire on social media for his jovial reaction to Phillip Schofield coming out as gay.
Phillip Schofield was joined by This Morning co-stars Ruth Langsford and Eamonn Holmes on screen, just moments after he had announced to the world that he's gay.
Eamonn made light of the situation, responding to the news with,"I am disappointed in a couple of ways.
"First of all, I thought you were going to come in and announce you had resigned and I could have your job, but that wasn't to be."
He then went on to say, somewhat bizarrely, that it had been a "great imponderable in life" that Philip's wife Steph and Holly Willoughby's husband Dan Baldwin didn't have "a problem" with the two presenters sharing a hot tub.
Many fans failed to see the funny side.
MORE:TV presenter Phillip Schofield comes out as gay in moving statement
'Anyone else feel Eamon's joke to Philip about it now making sense why his wife wasn't upset about him in a hot tub with Holly, was incredibly lacking in taste?! #ThisMorning' wrote one fan.
While another tweeted, 'Eamon Holmes being inappropriate as per today, his hot tub comment was gross. Basically insinuated Steph has always known Phil was gay and that's why she let him be friends with Holly… WTF #ThisMorning'
Phil, however, appreciated the joke, defending Eamonn on twitter.
'Can I just say that @EamonnHolmes & @RuthieeL were utterly magnificent with me today, privately downstairs just the three of us and upstairs in front of the world. I couldn't have hoped for a better, calming and loving set of hugs and support, I adore them both.
MORE:Phillip Schofield makes Holly Willoughby cry with this adorable birthday gift
'And for the record, @EamonnHolmes made me laugh, he lightened a very emotional moment and I'm very happy that he did.'
Eamonn responded with a message of support for Phil, writing, 'A picture paints a thousand words. This is a man who was in pain, who today confided in Ruth and I and who knows we stand in support of him, his family and his sexuality .... Also unlike some, he appreciated a laugh to break the tension. @Schofe hoping you find happiness.'