Nicola Walker On Enjoying Success In Her 40s
Nicola Walker talks to woman&home about enjoying success and opens up about romance both on and off screen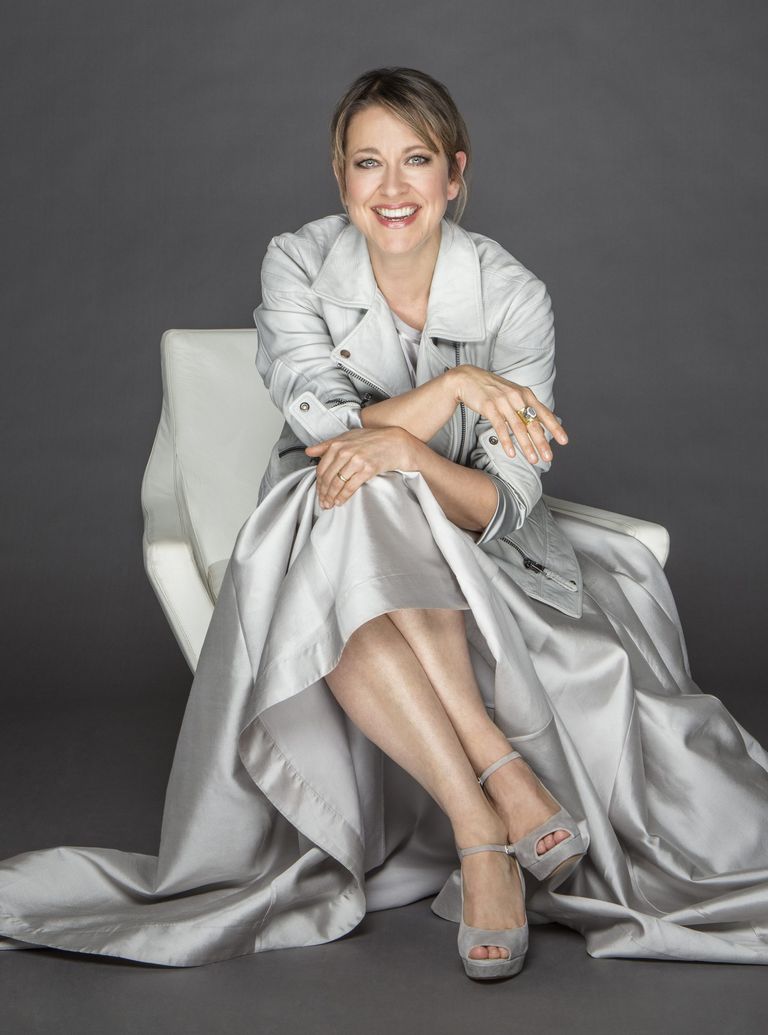 (Image credit: Trevor Leighton)
Nicola Walker, 46, is one of those actresses who on first meeting, might fool you into thinking she's not actually "famous" at all. She arrives at our shoot dressed in jeans and a parka coat, having determinedly travelled across London on the Underground. Does she not get recognised, I ask? "When I did Spooks, people did start quietly sidling up to me on the Tube - but it's only in the past couple of years that it's started happening more." Does she mind? "Not at all, but the worst is when you're in the supermarket screaming at your husband and someone comes over and says, "I think Unforgotten is wonderful"; you have to reset your face into "Thank you very much!" - then they walk away and you continue shouting at your husband."
Fast becoming the queen of prime-time TV, it's no wonder all eyes are on Nicola. From her role as Senior Intelligence Analyst Ruth Evershed in long-running spy drama Spooks to that as Gillian, the northern sheep farmer in Sally Wainwright's Last Tango in Halifax, she's no stranger to versatility. And now? She's stealing the show once again as DCI Cassie Stuart in a second series of hit ITV crime drama, Unforgotten. Nicola lives with her husband, actor Barnaby Kay, and their ten-year-old son Harry in London.
On "overnight" success...
I'll never forget the moment last year when my dad phoned and said, "Nic, you're an overnight success at the age of 46!" Two of my dramas, Unforgotten and River, were airing at the same time and Dad had read about my "success" in a newspaper - he thought it was brilliant. I was thinking, "Does this mean I'm going to be put in a box for a bit now?" In this industry, people like to look at different faces on their screens - even I do. I'm still hoping nobody's bored of me yet!
When I'm not working, I find it difficult to hang onto my sanity. It's now become a joke in my family that as soon as I finish a job I'm on a loop saying, "I'm never going to work again" - it drives everyone mad! Maybe that's why I still don't feel like I've "made it" yet. But it's only now I'm in my mid-forties that I realise if I didn't get offered more work, I'd actually try to do something about it. That's one of those brilliant feelings that comes with age.
My husband, Barnaby, who's an actor too, would tell you that deciding which roles each of us take is a bit like the UN's negotiation process. In fact, he'd probably say it's more like a mini dictatorship - and I'm the dictator! It's a constant juggle between getting it right at home and getting it right at work - and I still don't know the secret. We're lucky that we've never had a nanny because we have a lot of help from family and friends - but it takes a lot of begging... and a lot of gratitude after the event!
Unforgotten was a bit of a no-brainer. I'm a big fan of crime dramas, but often the "investigation" part goes much too smoothly - and you don't get that with this. My character DCI Cassie Stuart and her partner Sunny [Sanjeev Bhaskar] take quite a long time to identify their victim because they're not superheroes, they're just great police officers. When we meet them again, they're working on a new murder case - and you'll see that they don't always get it right. That's life, isn't it? You'll also find out a lot more about Cassie on a personal level this series too - why her husband's not there, and her relationship with her father, who she's living with, gets a lot more interesting!
There's not much time to socialise during filming, but I do find time to annoy Sanjeev by trying to make him come out for boozy lunches with me once filming has finished. The rest of the time, we're running through our lines trying to make our interview scenes sound natural - in other words, me driving him mad going through the lines.
On where it all began...
I was never the sort of child who wanted to be the centre of attention - I was actually quite shy. But I was obsessed with all those glamorous black-and-white movie musicals - Fred Astaire, Ginger Rogers and Gene Kelly - and I liked the idea of pretending to be someone else. You can sort of disappear when you do that.
My dad worked as a scrap metal dealer and my mum was an interior designer - they were at a complete loss as to what to do with a child who wanted to act. It's true that sometimes ignorance is bliss because instead of being daunted by it, they took me to our local youth theatre, the Harlow Playhouse in Essex. This brilliant teacher called Roger Parsley would get us to perform plays based on improvisation and write our own stuff. It probably kept me out of a lot of trouble.
I was the first in my family to go to university [Cambridge], but when I graduated, I turned down a place at RADA - what was I thinking? Perhaps it was sheer ignorance. I got myself an agent who said, "If I can't get you a job in the next six weeks, you can think about RADA again." And the first job she got me? A part as a folk singer in Four Weddings and a Funeral. I lived off the money from that for quite a long time!
On the truth about marriage...
I met Barnaby when I was 25 (we were starring in a play together called The Libertine), but we only got married five years ago. I was always quite daunted by the idea of marriage; my parents had the most amazing partnership, and no one wants to be the one who gets it wrong. But now that we've done it? Actually, it was just the legalities we were missing before.
Maybe in a couple of years I'll be saying, "If only we'd done 'date night', he wouldn't have run off with that 22-year-old!" But I just don't feel the need for it with Barnaby. He'd hate me for saying this, but he's a brilliant musician, and when Harry's in bed, sometimes we'll open a bottle of wine and he'll play the piano while I drunkenly sing along. I love it when we do that. Perhaps that's our version of date night!
I admit I sometimes find it weird when Barnaby comes home on a Saturday night having just acted out a love affair with a very beautiful woman. We're both actors, so of course I understand, but equally I've seen a lot of marriages break down. I try to give him the space to do the work he wants to do (as he does me), then I warn him repeatedly that if he ever leaves me, I'm going to kill him... that's all I've got! The fact is though that he'll probably carry on having on-screen relationships until he's 80, whereas I won't because I'm a woman and we don't make shows like that very often in this country. My big one was Ruth Evershed in Spooks and a kiss at the end with Peter was as dramatic as it got.
On friendships (that last)...
I found my best friends, Sue [Perkins] and Sarah [Phelps] in my first term at university. Doing further education at that age isn't straightforward because you're growing up and there's a lot of deal with, so we went through a lot of highs and lows together, which is probably why now, they feel more like sisters than friends.
I'd say I'm the "needy" one out of the three of us. I'd happily live in their pockets if I could, but I've had to grow up a bit and realise I'm not allowed to do that. At the moment, we're spending most of our time moaning down the phone to each other about how little we're seeing each other - but as long as you can hear the other person's voice, they can keep you on the straight and narrow.
One of my most unexpected friendships came when I met Sarah Lancashire [Nicola's Last Tango in Halifax co-star]. I think we drive directors mad because we're always talking right up until they shout "Action!" Then they shout "Cut" and we're talking again! She's such a good actress though that there are times during takes where I think she's stopped acting and gone off script, then I realise that it's just because she sounds so utterly real.
On what really matters...
I've read about people who say their dogs have changed their lives and snorted with derision - well, now that's me. We had dogs growing up, but I didn't want one now because I didn't think I could cope with the work that comes with it. Then Barnaby took me to see a gorgeous black Labrador puppy, and of course I said yes. Dora's nine months old now and suddenly I'm getting up at 5.15am to take her for a walk.
We spend a lot of time in Cornwall, which usually involves my husband waking us up (too) early shouting, "It's operation body board!" Then he throws us in the car and we arrive on a beach at 8am, shivering in wetsuits. He's right to do it though because when we're throwing ourselves around on our pieces of polystyrene in the sea, life doesn't get much better.
Some of the best acting I've ever done was when I had to go home early for work from a family camping trip in a wet, Cornish field last year. When I left Barnaby and Harry, I said, "Ah, I wish I could stay." It rained non-stop and actually, I couldn't wait to get in the car, get the heating on, get back home - and get back to a bed! Let's just say I'm not a natural camper.
Nothing beats a ridiculously long walk where you get a bit lost and end up in a pub with an open fire. I'm a terrible map-reader and I often find myself telling farmers I'm terribly sorry, while they shout at me with my map upside down.
On switching off...
I don't have an online profile of any kind - probably because I think that I'd only have about three followers and they will be my blood relations! But actually, one of my friends who's an actress came off Twitter because she didn't want to be involved with this idea that casting directors look at how many Twitter followers you have if it's down to casting between two actors. There's this fear that it's becoming a marker of one's status. I've had to put myself up for enough rejection, and I don't want to put myself up for it on an even larger level.
Like all parents, I worry about my son and tech. Barnaby and I draw the line, then it gets crossed around a week later. The secret is to try to distract Harry - take him off in the car somewhere or do a little dance. Or say, "Oh we've had a power cut."
I wish I could inhabit the phrase "Don't sweat the small stuff" a bit more. I was flicking channels on the TV recently when I saw a programme on mindfulness. It made me realise I need to start noticing what I'm feeling, rather than getting wound up and obsessing over it. I'm still working on it!
On what the future holds...
I can't pretend I'm a writer, but my plan B would be to write something with Barnaby... a TV script perhaps. One of my good friends who's a writer would tell me it's not that easy, of course - but it would give me some discipline and the incentive to get up and get moving, which is incredibly important for us all, isn't it?
One thing I'm learning to do is to be braver. Anne Reid [Nicola's Last Tango in Halifax co-star] is always encouraging me to do it - I think she wants to try and get rid of the remnants of whatever shyness there was in me when I was younger. When I have a moment of weakness, she just says, "Oh it's ridiculous darling, just get on with it, do it". I love that.
Series two of Unforgotten is on Thursdays at 9pm on ITV. Catch up on the ITV Hub.
Photograph: Trevor Leighton
Video
Catherine has a career in women's lifestyle journalism that spans almost thirty years. Since 2020 she has been the Editor-in-Chief of women's lifestyle magazines at Future Publishing, where her remit includes the print editions of woman&home, Woman's Own, Woman, and Woman's Weekly. In this role, she is responsible for the strategic direction, content creation, and brand extensions for each publication.
Prior to this position, she held several senior roles within the organization, including Editorial Director and Group Editor. She was also Chair of the British Society of Magazine Editors in 2017, and editor of Wedding Magazine from 2006-2012.