Madonna banned from Instagram Live, jokes she's 'never worn so many clothes in my life'
The Queen of Pop was left speechless after realizing she was banned from hosting an Instagram Live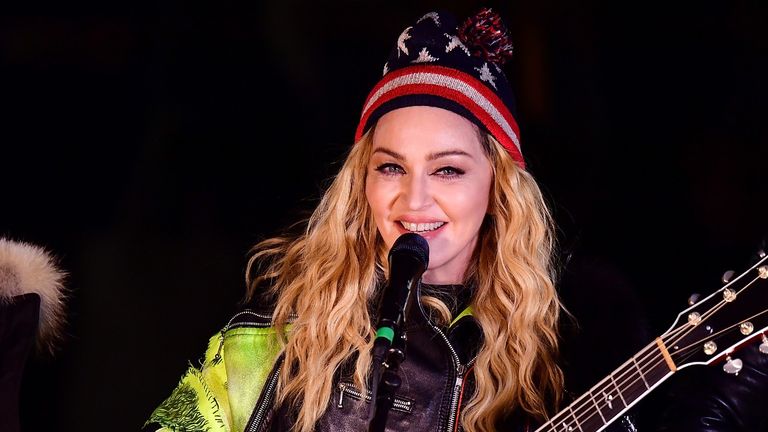 (Image credit: James Devaney/GC Images)
Madonna might need to update the lyrics to one of her legendary tracks to "Instagram Don't Preach."
Just when you thought that time Madonna flashed her thong on TikTok would get her in hot water, it transpires that something far less controversial got her reported.
The icon claimed to have been left 'speechless' this week when she posted footage of herself trying to go live on Instagram only to get an error message saying that she had been, "blocked from sharing live videos," on the platform.
"What the f–k?", Madonna exclaimed in the videos, upon reading a message that said, "posts from your account have recently been removed for going against our Community Guidelines, so live video sharing has been temporarily blocked."
The video shows a confused Madonna trying to get on the platform, joking that she has, "never worn so many clothes in my life!"
The irony is Madonna – who recently flashed fans on TikTok – was wearing more layers than she has on her social media for some time.
She was wearing a Marine Serre top underneath a red tank, red shorts, and fishnets – but Instagram still wouldn't let her go live.
Madonna then took to her Instagram Story, where she shared her Facetime call with artist Sickick about the situation.
"We just tried to go live and Instagram blocked me, but they're being really mysterious about why," she says on the phone. "I don't know why. They're not giving me a reason. It's like a bureaucracy inside of a computer."
She continues, saying, "I haven't done anything lately. I haven't done anything crazy. Not this week anyways."
Well, not quite, Madonna.
The pop star might not consider it crazy, but she's likely been banned from the live videos after posting a string of NFT inspired art which was to be auctioned off to help raise funds for charity. Yep, Madonna released 3D prints of her vagina in NFTs.
The videos showed a CGI-realized version of Madonna giving birth to different organisms, including trees and insects. The visuals included close-ups of the birthing process and a 3D model of her vagina – something which might have alerted the Instagram censors.
"It's been an amazing journey building this together from an intellectual idea to an emotional story, giving birth to art," explains Madonna on the Mother of Creation NFT project.
"I wanted to investigate the concept of creation, not only the way a child enters the world through a woman's vagina, but also the way an artist gives birth to creativity."
Jack Slater is not the Last Action Hero, but that's what comes up first when you Google him. Preferring a much more sedentary life, Jack gets his thrills by covering news, entertainment, celebrity, film and culture for woman&home, and other digital publications.
Having written for various print and online publications—ranging from national syndicates to niche magazines—Jack has written about nearly everything there is to write about, covering LGBTQ+ news, celebrity features, TV and film scoops, reviewing the latest theatre shows lighting up London's West End and the most pressing of SEO based stories.