Did Kim Kardashian change her voice to sound like Pete Davidson?
Fans of The Kardashians on Hulu are accusing Kim Kardashian of having changed her voice and accent to sound more like boyfriend Pete Davidson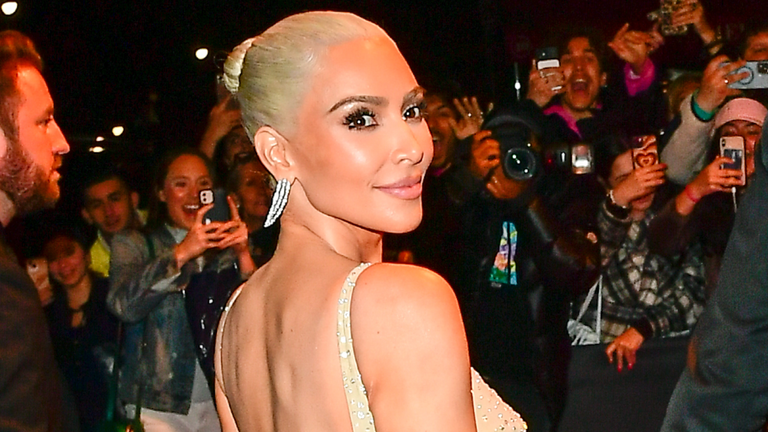 (Image credit: Raymond Hall / Contributor)
Another day, another Kim Kardashian-related headline to make our heads spin. This time, fans are accusing the celebrity of having changed her voice to sound more like current boyfriend Pete Davidson.
Kim, who recently wore a Marilyn Monroe dress at the Met Gala, is currently starring on The Kardashians on Hulu (basically, a new and improved Keeping Up With the Kardashians, albeit on a different network).
Cosmopolitan (opens in new tab) reports that one particular scene on the show caught the audience's attention. In a recent episode, Kim is heard talking to friends and family about her sister Kourtney Kardashian's engagement to rocker Travis Barker.
"We already knew they were trying for a baby," says Kim in the scene, which also stars her mother Kris Jenner. "To me, a baby [means] you are stuck for life. Marriages come and go. No offense, guys. Take it from me. And good luck at your wedding. I believe in love. That's why hopefully there will be just one more wedding for me, fourth time's the charm."
The specific clip was posted to Reddit with the caption, "Kinda cute how Kim has started to sound so much like Pete 😂". Reddit users then took to the site to comment on the star's behavior.
"Her valley girl voice transformed into a middle aged woman from Staten Island🤣🤣🤣," reads one comment.
"She sounds like Erika Jayne," someone else wrote.
"This is so candid," another user wrote. "I wonder if she has always been like this and the mask is slipping, or she is changing her personality to match Pete."
Other fans went on to praise Kim. "I like this version of her - she seems more comfortable," one user commented. "I love her more funny, jocular side we're seeing lately," another said.
Although, in the clip, Kim certainly doesn't sound like the Kim we're used to hearing, fans were also quick to note that she hosted Saturday Night Live, where she supposedly met Pete, on October 9. Travis, though, proposed to Kourtney on October 17. Sure, Kim might have started dating Pete within those eight days... but is that enough time to completely change your accent? Perhaps. Kim is a superstar, after all.
Anna Rahmanan is a New York-based writer and editor who covers culture, entertainment, food, fashion and travel news. Anna's words have appeared on Time Out New York, the Huffington Post, Fortune, Forbes, Us Weekly, Bon Appetit and Brooklyn Magazine, among other outlets.