Mulberry Launches Glamorous Suffolk Bag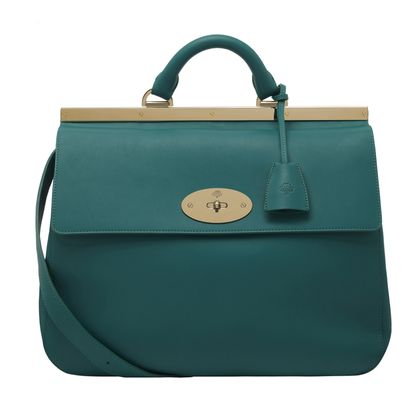 The new addition to Mulberry's bag range, the Suffolk is a rare gem - it's innovative and traditional at the same time. Mulberry is a synonym for timeless elegance and the new Suffolk bag captures the essence of the company's style perfectly, while introducing innovative design elements.
The Suffolk is a structured bag with a top frame that's reminiscent of classic English handbags. This is a design departure for Mulberry but it doesn't feel like it: the new touch is beautifully combined with signature elements, such as the stylish postman's lock. The result is a chic, understated bag that still looks quintessentially Mulberry.
The Suffolk comes in classic calf leather (in off white, black and emerald) or in the beautifully texturised shrunken calf (in ginger, or midnight blue, above), as well as printed hair calf (in midnight blue) and stunning ostrich (in pheasant green).
Mulberry's new bag is as practical as it is beautiful: it can be worn in the hand or on the shoulder, thanks to a detachable shoulder strap, and has internal belt straps to adjust the size of the main compartment.
Mulberry also carries a smaller version of the Suffolk (above) in classic, shrunken or hair calf, with prices starting from £1,350. For more details, visit the Mulberry (opens in new tab) website.
Carla Passino is a multimedia journalist with more than seventeen years' experience in national and international media.
Carla's primary areas of interest are political, economic and housing trends in global cities. Much of my time is spent writing about the world's prime property markets and the factors that affect it, covering fiscal, legal, political and financial issues linked to home ownership, and reporting on major shifts in British, European and international housing. Over the years, Carla has written about culture, education, interiors, farming, travel, food, wine and more.