The 20 best cook books everyone needs in their kitchen
The best cook books will inspire you to create new dishes and experiment in the kitchen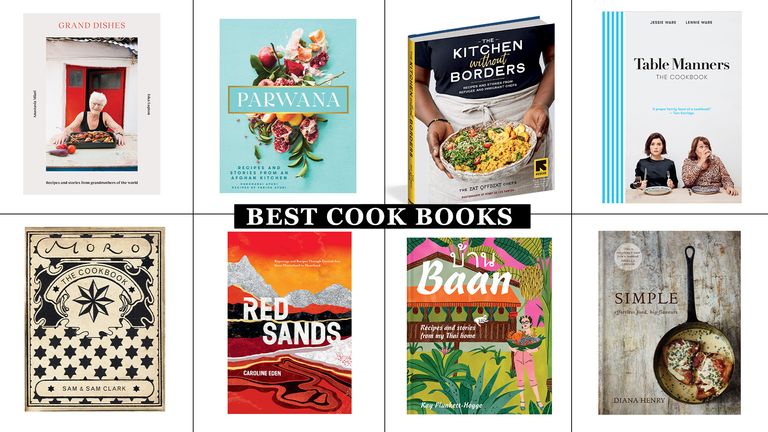 (Image credit: Future)
The best cook books are a must in any kitchen, whether you're a seasoned chef or a novice cook looking to improve your skills.
Many cook books used to be about the technical parts of cooking—how to roast a chicken; how to boil an egg, how to make a white sauce etc. But now, the emphasis is on creativity and flavor— and treating yourself (and any guests, we suppose) to the most delicious recipes around. In fact, cook book sales are up 33% compared with 2019, as we all look to expand our cookery skills and take our tastebuds on a culinary journey. And it's no surprise - for many of us, cookbooks are kitchen essentials—life manuals, mood lifters, and the best cookery teachers.
The best cook books - as well as the best blenders and the best food processors to help you actually make the recipes - should have a place in every home. As such, we've rounded up a list of the best cook books that every kitchen should have. There are some recognizable faces on our list, from Nigella Lawson to Diana Henry—as well as some up-and-coming chefs for you to get to know. We've got some old, some new, and some yet-to-be-released books, all with one thing in common: their culinary brilliance.
From grandmothers to refugees, Vietnam to Afghanistan, vegan to meat-lovers, simple to fussy, and everything else in between. It's no longer just about the food but the history, geography, culture, and voice of the chef too.
The best cook books to buy in 2021
A new cookbook is the best way to hone your skills, change your diet or just shake up your usual weekly shopping. We've scoured the market, and these are the best cook books to buy - whether you prefer to read them in print or on your best eReader or best Kindle.
1. Ottolenghi Flavor: A Cookbook, by Ixta Belfrage and Yotam Ottolenghi
Ottolenghi has become a household name in recent years, with his Instagrammable dishes making their way onto many of our tables. Sure, his recipes often require quite a few ingredients—but after trying them out we reckon you'll agree it's worth it. With his co-writer and recipe developer, Ixta Belfrage, this vegetarian book has won over even the most committed carnivores, with vegetarian recipes such as oyster mushroom tacos, tofu meatball korma, and swede gnocchi with miso butter. If you still need convincing, you must make the spicy mushroom lasagne. For that alone, it's one of our best cook books of the last decade. 
---
2. Simply by Sabrina Ghayour
Sabrina is a British-Iranian cook who has now written five cookbooks—but for us this is her best yet. A major drawer of this is how easy and clear the recipes are to follow. Most of them also have a 'simply delicious with' section, giving you ideas of other recipes in the book that together would make a lovely meal. Although not a veggie book, there are a huge amount of options for non-meat eaters and meat-eaters alike. The yogurt and Spice-roasted Salmon would make a gorgeous addition to a summer spread.
---
3. The Moro Cookbook by Samuel and Sam Clark
This book, by the husband-and-wife team behind London restaurants Moro and Morito was what paved the way for Ottolenghi-esque recipes. It may be 20 years old, but it's one that many chefs couldn't be without. The Spanish and North African recipes are accessible and clearly written, with beautiful accompanying stories too. The marinated chicken recipes are particularly delicious. 
---
4. A Table for Friends by Skye McAlpine
If you've missed socialising with loved ones and are keen to get back to dinner parties, this book will become your bible. Known for her fancy table arrangements and feasts posted on social media Skye's book is your guide into becoming the best host possible. As she puts it, this is food "you can plonk down in the center of the table for everyone to tuck into, towering platefuls of it." Examples of recipes include a Sicilian cous cous salad and a creamy lemon spaghetti - we're drooling just thinking about it. 
---
5. Root: Small vegetable plates, a little meat on the side by Rob Howell 
If you're keen to eat less meat but are struggling to cut it out altogether, then this option on our best cook books list offers a happy medium. Instead of having meat as the centerpiece, these recipes lead with seasonal plants, with a bit of well-chosen meat and fish for the odd special occasion. Vegetables are no longer just the accompaniment to a meal in Root—it's another one that will please both veggies and non-veggies in equal measure.
---
6. Red Sands: Reportage and Recipes Through Central Asia, from Hinterland to Heartland by Caroline Eden
This isn't your usual cook book, but that's why we like it. Red Sands is a little more like a travel book—but it includes recipes author Caroline has picked up and adapted from people and places she visited while journeying through central Asia for six months. Reading this is true escapism and helps to connect delicious recipes to their origin, which is why it's one of our best cook books. The recipes range from hearty soups and breads to delicate pastries, meat dumplings, and Uyghur noodles—yum. 
---
7. The 7-Day Basket by Ian Haste
The idea of this book is so simple and yet so ingenious–Ian gives us a shopping list of goods which will come together to create meals for the next seven days, saving time, food, and money. This is what your week could look like: Pea, feta and mint frittata with a lemon-dressed salad; Griddled tuna steak, niçoise salad; Feta and chicken meatballs in lemon spaghetti; Thai coconut king prawn curry; Chorizo and mushroom toasts with sunny-side-up eggs; Tear-and-share chicken shashlik naan; and Peach and sage-stuffed pork fillet with garlic roasties. Yes, please!
---
8. Grand Dishes by Iska Lupton and Anastasia Miari
Everyone's grandma makes the best food, don't they? Well, authors Iska and Anastasia were inspired by the delicious food we all likely know from our grandparent kitchens, sending them on a journey to find the best grandma cooks from around the globe. Helen from Tennessee teaches us how to make the BBQ sides, including slaw and potato salad. Lally from Germany has the best schnitzel recipe, and Betsy's Mexican Chicken Tostadas sounds excellent. A wonderfully nostalgic and touching read about the lives of these remarkable women, alongside some truly tasty dishes.
---
9. Parwana: Recipes and stories from an Afghan kitchen by Durkhanai Ayubi
The Ayubi family fled Afghanistan and opened a restaurant, Parwana, in Adelaide, Australia. This book has some of the restaurant's best recipes for kebabs, dahls, dumplings, flatbreads, and everything else in between. Interestingly, it is also peppered with stories from the country which has been occupied by communist Soviet troops and US-led international forces, been ruled by militant groups, and the — infamous — Taliban in the years in between. A true deep-dive into the country.
---
10. How To Eat, Nigella Lawson
No best cook books list would be complete without a Nigella Lawson recommendation, would it? There may be newer Nigella books (after all, this is her first), but we really think this one stands the test of time. No photography, just brilliant, delicious, classic, and practical recipes with sound cookery advice — it is one for all ages. In honor of its 20th anniversary, it's been updated in the paperback version, and we can promise you'll turn to it time and time again if you're in a rut with what to cook.
---
11. Baan: Recipes and stories from my Thai home by Kay Plunkett Hogge
There's a lot more to Thai food than your local takeaway may suggest, and while those classics are in this book, Kay also has some lesser-known but very delicious things for you to try. Considerate towards novice chefs, the book provides ingredient substitutions and short-cuts and is a lot less daunting than some other Thai books. With over 120 recipes that have been gathered over 30 years, you'll never need to order a takeaway again. 
---
12. Simple: Effortless Food, Big Flavours by Diana Henry
This book is in its 10th edition, which how you know it's a good pick for a best cook books list. As the title handily suggests, the recipes are easy and stress-free but somehow manage to feel like you've got something fancy on the table. The key is in the easy ingredient list—there's no need for obscure spices and pastes here. We love the Korean chicken burgers, fish tielle (that's an Italian pie to you and me), and the sausage and fennel pasta. 
---
13. Honey & Co: At Home: Middle Eastern Recipes from Our Kitchen by Itamar Srulovich and Sarit Packer
If you're a fan of Ottolenghi's food, then this book is the one to buy next. These tasty Middle Eastern dishes are broken down into handy categories: "For Us Two, For Friends, For the Weekend, For a Crowd and The Kitchen,"—helping you decide what to cook and when. You'll find yourself turning to these chapters for each occasion when you want "hearty comfort food with a sophisticated edge," as Nigella said about Itamar and Sarit's cooking.
---
14. The Kitchen Without Borders by The Eat Offbeat Chefs
Eat Offbeat is a New York-based catering company founded by a brother and sister duo that hires immigrant chefs from Sri Lanka, Senegal, Afghanistan, Eritrea, Iran, Iraq, Syria, and Venezuela. They work with the International Rescue Committee charity to find talented home cooks resettled in New York City. The book has recipes from 14 regions, so it really is a cook book that spans the world and all of the culinary delights it has to offer. We reckon the hummus recipe trumps any other!
---
15. River Cafe 30 by Ruth Rogers, Rose Gray, Sian Wyn Owen, and Joseph Trivelli
This Thameside restaurant is a fantastic place for a celebration in the UK, and this book marks 30 years of good food at the southwest London establishment popular with celebs. Championing good quality Italian cooking, River Cafe 30 is a collection of ninety refined original recipes and 30 new ones. We love the iconic slow-cooked tomato sauce, pear and almond tart, crab and artichoke salad, and the spinach and ricotta gnocchi.
---
16. Jikoni by Ravinder Bhogal
16. Jikoni by Ravinder Bhogal 
Jikoni is the name of Ravidner's much loved smart restaurant in Marylebone, London, and this book is a mixture of joyous and heartwarming recipes. There's a take on a fish pie, curries, a lamb wellington with feta, pine nuts, sumac, and even cocktails. Ravinder, born in Kenya to Indian parents, came to the UK as a child and calls her cooking "proudly inauthentic"—we think it's wonderful, and it's no surprise her restaurant is such a hit.
---
17. Mexico: The Cookbook by Margarita Carrillo Arronte  
This book has a whopping 700 recipes, so there's an option for every diner, day, or time of the week. All of them are easy to make at home and are the closest you're going to get on a Mexican home cooking encyclopedia. Mexican Margarita has dedicated 30 years to teaching and cooking her home cuisine—and it truly shows. For those who love browsing cook books, this one is a colorful journey, with over 200 gorgeous pictures. The salsa is also a dream.
---
18. Table Manners: The Cookbook by Jessie Ware and Lennie Ware
The Table Manners podcast is one of our favorites, and now musician Jessie Ware and her social worker mother Lennie have switched their talents from discussing food to writing about it! The recipe book is filled with recipes which Jessie and Lennie have served up to the stars that feature on their podcast, and is divided into seven handy categories: Effortless, A Bit More Effort, Summertime, Desserts and Baking, Chrismukkah, and Jewish-ish Food.
---
19. One: Pot, Pan, Planet: A Greener Way to Cook for You, Your Family and the Planet by Anna Jones
Anna Jones trained under Jamie Oliver and has now made a name for herself as one of the best wholly veggie chefs, which is why this is one of our best cook books. Not only is it brimming with excellent recipes, this book is also a bible on how to live greener, healthier lives overall. Anna has spent three years tweaking and testing recipes to make them as easy, cheap, and sustainable as possible, and the product is this book.
---
20. The Silver Spoon Classic by The Silver Spoon Kitchen
lI cucchiaio d'argento (the silver spoon) was first published in 1950, and when Emilia Terragni, publisher of Phaidon, was growing up in Como, Italy, it was the only cookbook in her family's kitchen. This tome has continually been updated, and the most recent re-issue is the perfect guide for anyone who is fanatic about Italian cuisine and culture. Helpful recipe symbols indicate gluten-free, vegan, vegetarian, dairy-free, five ingredients or fewer, 30 minutes or less, and one-pot recipes.
---
Rachel is a freelance contributor to woman&home, covering news as well as books, lifestyle and travel. Her byline has also appeared in The Independent, The Financial Times, ELLE Magazine, VICE, Glamour Magazine and others. She loves nothing more than talking with people to share their stories. When she is not writing you will definitely find her nose in a book or magazine, or perhaps training for the next half marathon, practicing yoga or eating in London's best restaurants.