The best weighted blanket sales and deals to shop right now
The best weighted blanket sales include deals from Amazon, Layla, Remy, Nectar and much more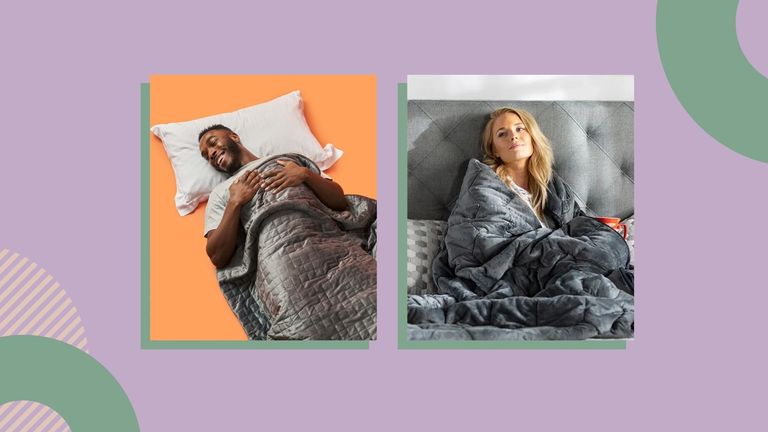 (Image credit: Future)
Now is the best time to find the best weighted blanket sales because the weather is warming up - meaning that the prices of warming items, like blankets, are dropping. So you can find a blanket that'll help you relax at night, sleep soundly and wake up feeling well-rested for a steal.
In addition to the best pillow and the best mattress, having a weighted blanket can transform your sleep experience in a major way — especially if you toss-and-turn in your sleep or have trouble turning off your mind in the evening. Weighted blankets can feel as cozy as a traditional fleece throw but contain weighted balls or pellets that are scientifically proven to help you sleep better and reduce stress.
A quality weighted blanket will cost you anywhere from $100 to $300 across sizes — but you can pay much less than that for one if you know where to shop. Below, we've rounded up a selection of the best weighted blanket sales currently happening in the UK and US, with discounts at high as 75% off. And if you're new to using a weighted blanket, we also have a brief checklist you can follow so you can ensure you're buying a proper sleep aid for your needs.
Where to shop the best weighted blanket sales in the UK
The best weighted blanket sales in the UK
Simba Orbit Weighted Cotton Blanket: £169 £84.50 | Amazon
Clip the on-page voucher to cut 50% off this popular weighted blanket. Featuring glass nano-beads and sweat-wicking cotton, the Simba Orbit will alleviate tension while keeping you cool. And despite weighing between 6.8 and 9kg, it won't feel too heavy to wear. Snap it up at this all-time Amazon low price before it's gone. You can also shop the best Simba sales and deals to find offers direct from the brand.
Quility 15lb Weighted Blanket: £74.99 £59.99 | Amazon
Here's a £15 saving on a 15lb (7kg) Quilty weighted blanket. It has seven layers, which include a 100% cotton layer plus two polyester layers containing millions of micro glass beads. Whether you need a nighttime blanket or a light cover for naps, the Quilty will fill the bill well. The heavier 20lb (9kg) version is also £15 off (now £64.99).
Cosi Home Luxury Weighted Blanket: £99.99 £59.99 | Amazon
This luxury weighted blanket from Cosi Home is now 40% off and tied as the Amazon all-time low price. Weighing 6.8kg, this 9-layer blanket will serve as a natural cure for insomnia thanks to its evenly-distributed hypoallergenic microbeads. It's also dual-sided (black/blue) so you can match it with the rest of your room decor accordingly.
Mela Weighted King Blanket: £149 £74.50 | Mela
The Mela weighted blanket is named as such for the melatonin-inducing effect of deep touch pressure (DTP), courtesy of the anti-rustle glass quartz pellets contained within. It also comes with a removable double-sided cover with a cooling cotton bottom plus a soft, quilted top. At half-off the RRP, run — don't walk — towards this weighted blanket sale at Mela.
Remy Original Sleeper: £149 From £109 | Remy
How would you like to save 25% on the popular Remy Original Sleeper weighted blanket? Available in five colours and multiple weights/sizes, you won't be left wanting for choice. It features a cotton shell on the outside and eco-friendly micro glass beads on the inside. The included duvet cover has a super-convenient 360-degree zipper, as well. Try the Remy for 180 days risk-free — and return it for a full refund if you're not satisfied.
Gravity Basic Gravity Blanket: £69 From £59 | Gravity
A £10 saving may not seem like much but it makes the Basic Gravity blanket even more affordable than it already is. It has precise gridded stitching to secure the inner glass beads and also includes a plush duvet cover with buttons and ties that keep the blanket snug inside. If you're new to weighted blankets, make this the one you start with.
Emma Hug Weighted Blanket: £169 £92.95 | Emma Sleep
As part of its St. George's Sale, Emma Sleep is marking down its Hug weighted blanket by 45%. As the name suggests, this 7-layer blanket is designed to feel like you're receiving a comfortable, continuous hug. No pressure if you're not settling into it right away. Emma Sleep provides a generous 200-night trial, with a full refund plus a free return if it's not for you. You can also shop Emma mattress sales for bundle deals on mattresses, blankets and the popular Emma memory foam pillow.
Where to shop the best weighted blanket sales in the US
The best weighted blanket sales in the US right now
Layla Weighted Blanket: $180 From $90 | Layla Sleep
Get the popular Layla Weighted Blanket for half-off its retail price. It has a unique reversible design offering two different feels — one side with plush cotton and the other a luxe poly/mink fabric. That way, you can use it like a light, airy bedsheet or a snug throw. And if it gets dirty, just pop it in the wash. A 120-night risk-free trial applies, along with a generous 5-year warranty if you choose to keep it.
YnM Dark Grey Weighted Blanket: $49.80 $35.90 | Amazon
The YnM weighted blanket has over 43,000 reviews at Amazon — more than three-quarters of them 5 stars. A lot of the most positive feedback comes from individuals with restless legs syndrome who claim that this blanket really helps with their symptoms. Many sizes and colors are available but the most noticeable discount is a 28% savings for the dark grey variation.
Tranquility Cool & Clean Weighted Blanket: $140 $27.99 | JCPenney
Whether you're new to weighted blankets or on a very tight budget, consider hopping on this unmissable deal, which slashes 80% off the original list price. In return, you'd be getting a 12lb weighted blanket with a reversible, removable cover. Maintenance is also dead simple as this blanket is machine washable.
Casper Weighted Blanket: $169 From $118.30 | Casper
Casper is cutting 30% off its weighted blanket in Dusty Rose (pink) or Fireside (copper). It comes in 10, 15 or 20lb weights. You'll feel supported instead of suffocated with a body-hugging design plus a breathable cotton cover for ample airflow. Try it free for 30 days or your money back.
Nectar 15lb Serenity Sleep Weighted Blanket: $149 $99 | Nectar
Save $50 on the rarely-discounted Nectar Serenity Sleep weighted blanket. With an anti-microbial, dual-temperature cover, it'll feel cool against your skin when you're warm while shielding you from germs and odors at all times. Glass microbeads are evenly distributed via 5.5in. quilted squares. This is a fantastic deal on a premium weighted blanket. The 20lb version is also on sale for $50 off, now $119. You can also shop the current Nectar mattress sales to find bundle deals on blankets, mattresses and pillows from the brand.
Ella Jayne Reversible Anti-Anxiety Weighted Blanket: $159 $49.99 | Macy's
The current Macy's Home Sale knocks 60% off a wide range of items — including this Ella Jayne weighted blanket. It's 15lbs of glass beads and polyester, with a dual-exterior of microfiber and soft mink. Customer feedback is overwhelmingly positive at Macy's, where there are numerous claims that this blanket is effective at easing nerves and lulling people to sleep. At this low price, it's certainly worth a try.
Brooklyn Bedding Dual Therapy Weighted Blanket: $159 From $119.25 | Brooklyn Bedding
Apply coupon code 'REFRESH25' for 25% off Brooklyn Bedding's weighted blanket in either 15 or 20lb increments. The 'dual' in 'Dual Therapy' refers to this blanket's two sides: cozy warmth or tranquil cooling. Meanwhile, 12 individual ties and loops keep weight evenly distributed throughout the blanket.
Bear Weighted Blanket: $150 $113 | Bear
Saving 25% off Bear's weighted blanket is as easy as applying code 'SPRING25' at checkout. Weighing 15lbs, it features a body contouring design and a plush microfiber cover to keep you cozy. You have 30 days to test it out, with free returns plus a full refund if you decide it's not for you.
How do you pick a weighted adult blanket?
When shopping the best weighted blanket sales, there are five things to keep in mind when it comes to choosing the right blanket for you...
Weight: A weighted blanket should be 10 percent of your body weight. So for instance, if you weigh 68kg/150lbs, aim for a blanket that weighs 6.8kg/15lbs. When it comes to purchasing a weighted blanket for couples, it's best to buy a blanket that's 7.5 percent of the combined body weight of both adults.
Size: You can measure a weighted blanket against the size of your mattress. If you sleep on a queen-sized mattress, for example, opt for a weighted blanket that has similar dimensions. It should be large enough to drape over your body without you completely sinking into it.
Filling: Two of the most common types of weighted blanket fills are plastic poly pellets and glass microbeads — the latter being the more expensive option of the two. You can also find weighted blankets filled with sand, steel shot beads or even rice. Ultimately, it comes down to which feels best against your skin, as all fills have their pros and cons.
Materials: How do you want the outside of the blanket to feel? Several weighted blankets offer double-sided outer covers that are plush on one side and cool to the touch on the other. If you tend to overheat, definitely seek a blanket with a cotton shell (or another breathable material).
Trial Period: Some weighted blankets come with risk-free trial periods if you're hesitant to buy one sight unseen. These can be as short as 30 nights or as generous as 200 nights, depending on the brand. It will take some time for your body to adjust to a new weighted blanket so it's a good idea to find one with a trial included.
Alison Barretta is a freelance writer and editor from Philadelphia, USA who specializes in home and lifestyle, skincare, and tech. For the last 15 years, she has been sharing buying advice and product reviews with curious, cost-conscious shoppers from around the world. Alison's work has been featured in Forbes, Business Insider, Tom's Guide, TechRadar, and Creative Bloq.
When she's not reviewing mattresses or waxing poetic about her favorite face cleansers, Alison can be found teaching/training in martial arts, streaming underrated TV series, trying new recipes, and singing karaoke until her throat is hoarse.