The best women's walking shoes and boots – whether you need lightweight, breathable or waterproof styles
These best women's walking shoes and hiking boots to help you to go the distance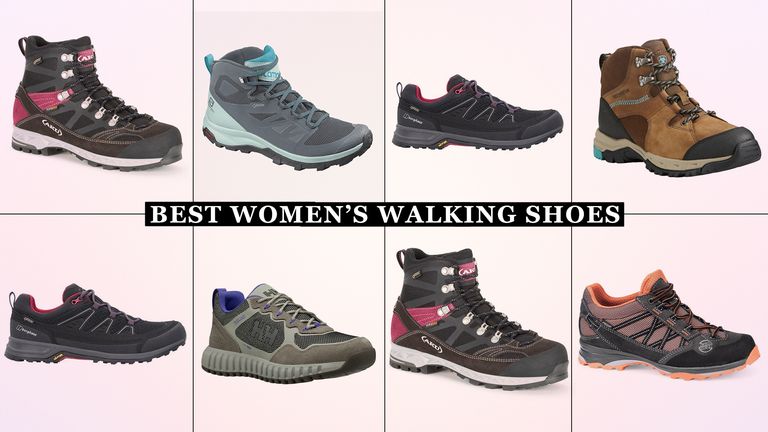 (Image credit: Future)
Whether you're a walking enthusiast or new to the activity, investing in the best women's walking shoes or boots is essential to protect your feet and ankles.
When it comes to a new hobby, it's easy to start splashing out on new gadgets, whether that's buying one of the best fitness trackers or upgrading your camera to capture special moments on your walks. But, it's important to always invest in the basics first, and a good pair of supportive and comfortable walking shoes or boots are a must-have to see you safely on your hikes.
First things first, you'll need to consider if you want a walking shoe or a boot. Walking shoes cut below the ankle and are best for long-distance walks over reasonably stable terrain as they tend to be more lightweight than walking boots. But, while a boot can be heavier, it often provides much more stability and keeps ankles protected, especially if you're venturing across uneven terrain or battling the elements in rain or snow.
Next, you'll need to think about the type of material that will suit your walking trips best. You might need a pair of the best waterproof hiking boots for stormy weather conditions, but for day-to-day dry walks, weather-resistant shoes should do the trick. You'll also need to think about whether you want leather or fabric walking shoes, and if you're willing to invest in a luxury pick or just looking for a pair of cheap walking boots.
No matter what type of walking shoes or boots you decide on, they should have good grip and fit well, so that you feel supported and confident on your walks.
To help you on your search, we've tested a range of walking shoes and boots to bring you the best. Each shoe or boot was tested over several months and on a mixture of terrains, including grass, tarmac, and earthy, rocky trails. We assessed each shoe or boot on its support, fit, comfort, grip and value for money.
The best women's walking shoes as chosen by our experts
Image 1 of 3
1. Berghaus Women's Explorer FT Active Goretex Shoes
Best women's walking shoes overall
Specifications
Size range: 4-8
Weight: 630g
Sole: Rubber
Waterproof: Yes
Reasons to buy
+Comfortable+Lightweight
Reasons to avoid
-Not a traditional boot-Slightly large fit
The benefits of walking are endless and armed with the right walking shoes or boots, there's no stopping you. For us, the Berghaus Women's Explorer FT Active Goretex Shoes tick all the boxes - easy to slip on, lightweight, breathable and supportive.
Whether you like city hikes or off-road adventures, these shoes work for both. The sole provides great traction, ensuring you feel secure and avoid any nasty slips. In fact, these shoes do everything a boot does – just without the extra bulk! That means, from walking the dog in wet grass to hiking up the side of a mountain, they are a great alternative for anyone who hates the restrictive feel of a traditional walking boot.
They are smaller and lighter than a lot of picks on the market, which is great for those who are always on-the-go. What's more, they are also super comfortable, thanks to the Ortho-Lite Multisport footbed.
We found the Berghaus shoes are a slightly large fit, so recommend sizing down half a size or wearing thick socks.
See our full Berghaus Women's Explorer FT Active Goretex Shoes review
Image 1 of 3
2. Salomon Outline Mid GTX Boots
Best women's waterproof walking boots
Specifications
Size range: 3.5-10.5
Sole: Rubber
Upper: Textile / synthetic
Weight: 760g
Waterproof: Yes
Reasons to buy
+Easy to get on+Great fit
Reasons to avoid
-Lacking a little cushioning-Slightly stiff at first
Available in three colorways, the stylish Salomon Outline Mid GTX Boots are some of the best waterproof hiking boots on the market. The laces work hard to draw the boot snugly to your foot, and the long ankle cuff ensures ankles and feet are protected as you hike. Despite their high ankle cuff, they're easy to get on and they're lightweight, too.
The boots combine a sleek look with a technical shoe – Salomon certainly knows a thing or two about grippy soles – plus, their Gore-Tex membrane makes them ready for those wet-weather excursions. They might be more expensive than others, but we think they're a sound investment. However, it's worth noting they lack a little on the cushioning front compared to other walking shoes and boots.
Image 1 of 3
3. Aku Trekker Pro GTX Ws
Best luxury women's walking boots
Specifications
Size range: 3-9
Weight: 1.05kg
Sole: Rubber
Waterproof: Yes
Reasons to buy
+Secure grip+Good sizing
Reasons to avoid
-Restrictive-Quite heavy
Want to go out in all weathers? Then you need a pair of walking boots that won't let the elements in. Step forward, the Aku Trekker Pro GTX Ws. Sleek and stylish, these definitely have wow factor – but it's not just about looks with this pick. They can be fully submerged in water and feet will stay dry and safe, and they are incredibly sturdy even on steep slopes. This is partly thanks to the toe caps, which allow you to really dig into terrain without harming your feet.
The grip is good when wet, thanks to the well-spaced, multi-directional deep lugs, making these ideal boots for walking in snowy conditions. They are heavier than some of the other options, but even with all the extra padding these walking boots are true to size, so you won't have to bulk them out with ultra-thick socks. We love!
See our full Aku Trekker Pro GTX Ws review
Image 1 of 3
4. Helly Hansen W Monashee Ullr Low HT
Most comfortable women's walking shoes
Specifications
Size range: 3.5-8
Weight: 500g
Sole: Rubber
Waterproof: Yes
Reasons to buy
+Good stability+Really versatile
Reasons to avoid
-Chunky-No wow factor
Whether you're taking on a hiking challenge, walking for weight loss or just on the hunt for a pair of shoes for daily strolls, the Helly Hansen W Monashee Ullr Low HT walking shoes do it all and are great for daily use, so you'll definitely get your investment back.
Not only are they comfortable and flexible enough to be worn all day, but they have a generous amount of cushioning in the sole, which really helps protect joints against impact. Plus, being low rise, they won't restrict your feet in the way some boots can.
One of the best features of these shoes is the fact that they are also 100% waterproof and, once wet, they still won't cause slipping and skidding, thanks to the HellyGrip rubber sole. We think these will really appeal to a lot of people who need protective footwear on a day-to-day basis, whether they are doing full-on walking workouts or going for a casual stroll.
See our full Helly Hansen W Monashee Ullr Low HT review
Image 1 of 2
5. Hanwag Belorado II Tubetec GTX
Best women's walking shoes for high impact
Specifications
Size range: 3.5-9
Weight: 710g
Sole: Hanwag TubeTec
Waterproof: Yes
Reasons to buy
+Good lacing system+Very comfortable
Reasons to avoid
-Large sizing-On the heavy side
Low-rise with a sporty style, these walking shoes are ultra-comfortable and fit well. Hanwag prioritizes a good fit when it comes to its walking shoes and boots and the Hanwag Belorado II Tubetec GTX shoes have laces that start much further down the toe box – so simple, but it can make a great deal of difference, especially if you have any type of injury and need to take special care of your feet or are doing some serious Nordic walking.
Made by Bavarian bootmakers, they've been designed for the mountains, so really keep out the elements (including wind and rain) when needed. This is thanks to the Gore-Tex lining, which definitely keeps feet dry. These shoes are so versatile, they would also work well at normal altitudes for dog walking, mucking out horses and long walks in the countryside.
See our full Hanwag Belorado II Tubetec Lady GTX review
Image 1 of 3
6. Ariat Skyline Mid GTX
Best women's walking boots for winter
Specifications
Size range: 3-8.5
Weight: 539g
Sole: Rubber
Waterproof: Yes
Reasons to buy
+Fashion-forward+Great heel support
Reasons to avoid
-Not breathable-Not vegan-friendly
Planning a holiday in the Norwegian fjords or working outside in chilly conditions? The super-stylish Ariat Skyline Mid GTX boots are a modern twist on the classic walking-boot and could be the perfect pick for you. With multi-directional deep lugs, they grip well on slippery surfaces, while offering great stability, arch support and comfort.
Both the tongue and ankle area are very cushioned, which keeps your heels in place, and the midsole is comfortable, with just the right amount of bounce to help take pressure off your joints.
You won't need to worry about them rubbing or having to break them in, as they are soft straight away. These are incredibly versatile boots, especially during winter, when they will keep feet feeling warm, even in harsh conditions. They definitely helped us keep going for longer on our winter walks!
See our full Ariat Women's Skyline Mid GTX review
Leather vs fabric walking shoes
Leather shoes
Reasons to buy
+They provide great weather resistance, especially with a Gore Tex lining+Leather will last longer if looked after correctly+They generally have less stitching so have fewer areas of weakness for wear and tear, meaning they're likely to last longer+They're more supportive+Better suited for mountain or winter climbing
Reasons to avoid
-They need to be well looked after in terms of keeping clean and being reproofed-Leather styles tend to be a bit heavier-They take longer to wear in
Fabric shoes
Reasons to buy
+Generally best for 'out the box' comfort+Most likely to have a 'trainer' style fit if that's your preference+Easy to look after+Generally lighter than a full leather boot+More options available in a range of colors and styles+Generally cheaper than leather shoes and boots
Reasons to avoid
-May not last as long as leather boots-Not as protective-Not as naturally supportive as leather
What else should I consider before buying walking shoes?
If you're still not sure what walking shoes or boots to go for, there are a number of things you should always look out for according to Chris Nichols, from Cotswold Outdoors and Snow & Rock.
1. Buy the best shoes or boots you can afford. "Poor footwear is the surest way to ruin your walk, expedition or trip of a lifetime." When your boots are feeling less cushioned or starting to wear thin, it's time to invest in a new pair.
2. Choose the right product for the trip/conditions. "For example, you'll need a waterproof boot for most UK conditions, but not for a trip to the Sahara." Many waterproof walking shoes are made with material that has a GORE-TEX membrane in it. This is designed to prevent water from getting inside your shoes, while also making them breathable.
3. Get the right socks for ultimate comfort. "Good socks should stabilize the foot and provide all-day comfort, reducing the risk of blisters." Your shoes should be snug and secure at your heel, with wiggle room at the toe.
4. Maintain your footwear. "Ensure you have the right products to look after your shoes or boots and maximize performance and life of the product. If you look after your footwear, they should last many years."
How do I clean my walking shoes?
"It's important to care for your footwear to both maximise the performance of the boots and make them last as long as possible," says Chris.
1. Always clean them after each use. "You can clean them with a damp cloth or water if they are really muddy. After a major clean they will need to be reproofed (made waterproof again using a specialist product)."
2. Use a suitable fabric proofer. "A fabric/leather boot can be re-sprayed with fabric or leather proofer."
3. Apply wax to leather boots. "A leather boot will benefit from a wax application, such as Nikwax or Grangers G Wax. Shoe polish will also help keep the leather from drying out."
4. Air dry leather boots. "Try to let leather boots dry naturally, rather than placing them in an airing cupboard or on a radiator, as this can crack the leather. Place newspaper inside the boot to dry out the inner more quickly."