The best cheap walking boots - for great support, ultimate grip and staying dry on a budget
Our round-up of the best cheap walking boots will help you clock up some extra miles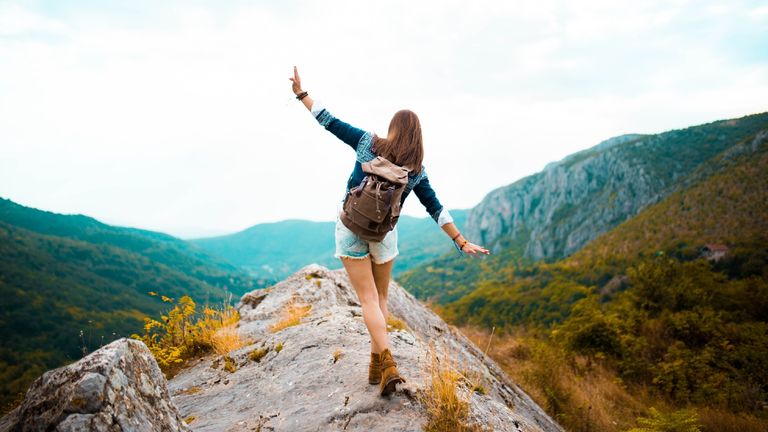 (Image credit: Getty / South_agency)
Whether you're tackling mountains or your local park, finding a pair of cheap walking boots that are comfortable and supportive can seem near impossible. Our experts searched high and low for walking boots that tick all the boxes for quality and comfort, ensuring they're well worth your money (even at an affordable price tag).
If you're new to walking or hiking and not quite ready to splurge on an expensive pair of the best women's walking shoes, then picking up a pair of cheap walking boots is a great alternative. They'll keep you steady and comfortable on your feet without breaking the bank.
To help you with your search, we tried and tested a range of reasonably priced walking boots, including popular brands such as Gelert, Karrimor, and Columbia. We put every pair of walking boots through its paces in a variety of weathers and on a mixture of terrains, including grass, tarmac, and earthy, rocky trails. We tested how supportive they were on the different terrains, how good the traction and grip were, how comfortable the boots were, and how well they fit.
We also made sure all the walking boots we tested were budget options, coming in with a much lower price tag than other walking boots on the market.
The best cheap walking boots, as reviewed by our experts
Image 1 of 3
Image 1 of 3
Image 2 of 3
Image 3 of 3
1. Gelert Ottawa Mid Ladies Walking Boots
Best cheap walking boots overall
Specifications
Size range: 3 - 8
Sole: Synthetic
Upper: Synthetic / textile
Weight: 425g
Reasons to buy
+Good lacing+Great for all terrains +Supportive
Reasons to avoid
-High at the front -Tricky to get on
Gelert is a great brand to look out for when you're on a budget, and we were particularly impressed with its Ottawa Mid Ladies Walking Boots. Available in two colorways, we really rate the charcoal and purple pick, which at first glance, definitely looks just as pricey as some of the more expensive options on the market.
Not only are these walking boots cheap, but they're also lightweight and supportive with a great fit. The boots feature seven eyelets to help control the fit and make it easy to tighten and loosen laces as you wish. The cushioned insole adds extra comfort and ensures these boots are a snug fit.
The only downside to the Gelert walking boots is that despite being a low-rise boot, they come up quite high at the front, making them tricky to put on and take off.
Image 1 of 3
Image 1 of 3
Image 2 of 3
Image 3 of 3
2. Karrimor Womens Hot Rock Walking Boots
Most comfortable cheap walking boots
Specifications
Size range: 4-8
Sole: Synthetic
Upper: Leather / textiles
Weight: 555g
Reasons to buy
+Waterproof+Good grip
Reasons to avoid
-Small sizing-Stiff at first
When looking for high-quality, budget hiking gear, Karrimor is one of our go-to brands. Of all the cheap walking boots we tried, we rated the Karrimor Women's Hot Rock Walking Boots for comfort.
Although these boots are super sturdy, they don't look too chunky, so they would suit being paired with leggings and shorts. The sole is very hardwearing and, thanks to the DynaGrip technology, you won't slide about in wet conditions.
The high ankle cuff on these boots is perfect for keeping you supported and stable on rough terrain. Plus, they are super comfortable, and the padding was the best out of all the cheap hiking boots we tried and tested. The Weathertite Extreme, waterproof material will also keep your feet dry while still being breathable.
The only downside to this pic is the sizing. We'd recommend going for a size larger than you usually do, or they may be on the snug side, especially if you like wearing your hiking boots with thick socks.
Image 1 of 2
Image 1 of 2
Image 2 of 2
3. Quechua Women's Mountain Walking Waterproof Shoes MH100
Best waterproof cheap walking boots
Specifications
Size range: UK 3-8
Sole: Rubber
Upper: Polyurethane, polyester and leather
Weight: 395g
Reasons to buy
+Great protection+Good fit
Reasons to avoid
-Slightly rigidWith
We loved the Quechua so much that we also included them in our round-up of the best waterproof hiking boots. Despite having a significantly cheaper price tag compared to other waterproof hiking boots, these boots really come into their own because of how comfortable and breathable they are.
In fact, they feel like a little hug for your feet – exactly what you need if you're headed out on a long day of hiking. Plus, thanks to the protective rubber guard, you don't have to worry about stones and tree roots. The rubber sole also offers good traction on the dry or muddy ground—an all-around great buy.
Image 1 of 2
Image 1 of 2
Image 2 of 2
4. Mountain Warehouse Path Waterproof Women's Walking Shoes
Most versatile cheap walking boots
Specifications
Size range: 4-9
Sole: Rubber
Upper: Synthetic
Weight: n/a
Reasons to buy
+Heel and toe reinforcements+Extra grip
Reasons to avoid
-Slightly narrow-Not great when submerged
While walking boots are a must-have for hiking over rough terrain, if you're just looking for something to wear while walking the dogs across stable ground, a pair of walking shoes might be the best option for you.
The main difference between walking boots and walking shoes is that shoes are low-cut, with no ankle cuff, and are much more versatile.
Step forward, Mountain Warehouse Path Waterproof Women's Walking Shoes. Lightweight and comfortable with plenty of mesh to allow air to circulate, you could wear these all day. This is partly thanks to them being designed with the comfort of a slightly chunky trainer and the good arch support from the specially molded footbed.
If you're looking for something to withstand the elements when you walk the dogs, on the school run, or mucking out the stables, this versatile, stylish buy is for you. However, watch out – despite the name, these are more water-repellent than completely waterproof.
Image 1 of 3
Image 1 of 3
Image 2 of 3
Image 3 of 3
5. Columbia Women's Newton Ridge Plus Hiking Boot
Most supportive cheap walking boots
Specifications
Size range: 5-12
Sole: Rubber
Upper: Leather / Mesh
Weight: 13 ounces
Reasons to buy
+Breathable+Good fit+A best-seller on Amazon
Reasons to avoid
-More expensive than the other options
If you're going off-road on an intense walking workout across tough terrain, you may want a pair of low-cut walking boots for better movement. Enter - The Columbia Women's Newton Ridge Plus Hiking Boot.
The Omni-Grip on these hiking boots will keep you steady and safe on rough ground. The durable mesh material and lightweight midsole cushioning are ideal for ultimate comfort. The low-cut boot provides great support and is perfect for anyone who finds a traditional boot too restrictive or needs more movement for longer hikes.
What's more, the waterproof material means these boots will keep feet dry in wet conditions while still being comfortable and breathable. They perform just as well on city pavements as they do in the countryside, thanks to the chunky sole, which helps reduce the impact on joints.
How to choose the best cheap walking boots for you
It goes without saying that if you choose a cheap pair of walking boots, you are going to miss out on a few features more expensive walking boots offer.
"Paying more may get you finer materials, greater durability, lighter weight, and superior comfort," says Jeremy Stevens, footwear buyer for Ellis Brigham Mountain Sports. "All of these are well worth having because comfortable feet will keep you better able to enjoy every mile you walk."
However, if money is tight or you're not ready to invest, buying a pair of walking boots at the top end of your budget is a good idea. No matter the price point, there are some key features you can look to find the best pair for you.
Support: The best walking boots are designed to withstand rough terrain, harsh weather conditions and offer great support for your walking ventures. Look out for a sturdy footbed design and comfortable ankle cuff for protection and comfort while you hike.
Good grip: All good walking boots have grip and traction that keep you steady and in place even on the most slippery of terrain. Look at the sole of the boot and go for those with smaller, deeper lugs.
Comfortable fit: Try on as many pairs of walking boots as you can to get an idea of what is most comfortable for you. Look for options with well-cushioned insoles and made from breathable material for ultimate comfort while you walk.
Planned activities: You should also consider what activities you'll be doing in your walking shoes. Are you planning on climbing mountains or walking the dogs? Do you need lots of support with a high ankle cuff, or will a low-rise cuff help you move quicker on everyday walks? How important is style and color to you? These are all questions to ask yourself when shopping for cheap walking boots.
How to get the most from a cheaper pair of walking boots
If you find the right pair of cheap walking boots and look after them properly, they will last longer. Here's how to get the most out of your walking boots, from the selection process to upkeep:
Consider insoles. "Footbeds that give arch support (like Superfeet) are a great way to help hold the foot securely," says Jeremy. "They can make a substantial difference to the comfort of a boot."
Socks can help. "Many people will also find that just wearing better socks can make a world of difference," says Jeremy. "Choose socks made from merino wool for the best comfort. Merino is a natural fiber with performance properties, wicking sweat away from the skin to keep feet drier and more comfortable. Merino socks also hold their shape better, which reduces the chances of getting hot spots or blisters."
Get the right fit. It's often the fit that causes pain, not the material of the boots. "Boots that are too tight or too loose can cause rubbing or bruising at the heel or toes," says Jeremy. "Try wearing your new boots around the house for a while, going up and down the stairs and checking the shape and size seem correct."
Clean and care for them. Dirt particles tend to creep deep into the fabric, causing it to wear over time. Mud, in particular, sucks moisture, leaving your boots less pliable and decreasing their lifespan. Make sure to invest in a boot-specific brush or toothbrush if you're in a rush. You'll also want a mild solution (think: dishwashing soap) and water to scrub off the grime. Make sure to clean them as soon as possible post-walk.
Change laces. Believe it or not, the way your laces are tied affects how your heels and toes are positioned, as well as your level of comfort. So, when your laces become worn, it's important to replace them to get the most out of your boots for longer.
Protect the material. Cheap material will become more flimsily, more quickly, and less comfortable. For long-lasting protection, clean your shoes after every walk and invest in boot-specific protection and maintenance products.