What does a normal vagina look like? A no-nonsense guide to vaginas and vulvas
With the help of an expert, we're opening up the conversation about intimate health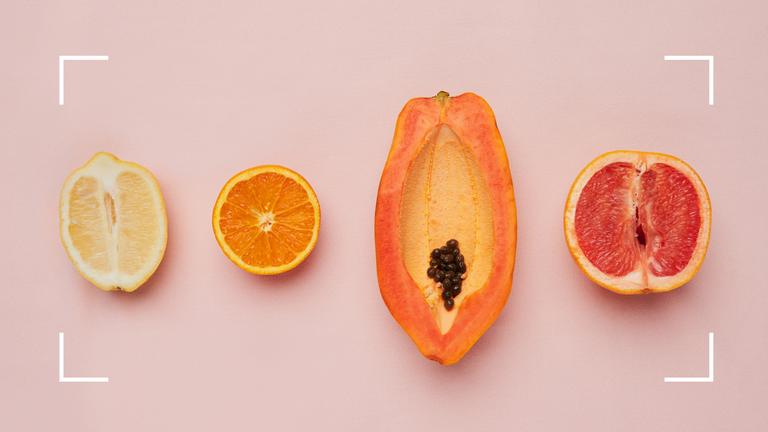 (Image credit: Future/Getty Images)
Vulvas and vaginas have long been considered taboo subjects—a topic to be whispered about quietly or avoided altogether. Heaven forbid if we women were to have a frank conversation about our health or discuss the ins and outs of normal vaginas and vulvas
Conversations around our sex lives are becoming more common, even if they initially bring a little blushing. But, conversations around our intimate health, common vagina problems and the importance of kegel exercises are still rather taboo—and it's no surprise this is damaging to women, says Lynn Enright, author of Vagina: A Re-Education.
Many women don't understand their own anatomy or what vagina problems are really a cause for concern. Now more than ever, it's important we women start smashing the taboos and having open and honest conversations about our vaginal health, with ourselves, our doctors, and even our friends.
It's time we understand our own health, overcome the stigma around vaginas and vulvas and get to know what's 'normal' for us down there...
What does a normal vagina look like?
The vagina actually isn't the correct general term for our intimate area at all. Our vagina is inside our bodies and it's the muscular tube that leads from the vulva to the uterus, Enright tells us.
The visible part of the female genitalia is actually called the vulva.
"We're not very comfortable with the word vulva. It's not a word we hear very often," Enright says. She speculates its lack of popular usage could relate to society's struggle to address female sexuality. "It's still such a taboo. We don't like to talk about it except for in relation to male sexuality. The vagina is something that a penis goes into, and a baby comes out of, so we've become more comfortable with that word".
What is a vulva?
The vulva is the correct term to use when speaking about female genitalia in general. And, when you're questioning 'what does a normal vagina look like?', it's likely you're actually wondering what a normal vulva looks like.
The vulva is all the external genitalia—the pubic mount, the inner and outer labia, the clitoris, the urethral opening and the vaginal opening, and so on, Enright explains. It's the part we're most familiar with seeing.
What does a normal vulva look like?
With all the secrecy surrounding vaginas and vulva, it's no surprise women are left wondering what is normal when they haven't been armed with accurate and useful information. However, if you're worried your vulva looks different that what you think it's supposed to—rest assured, everyone's vulva is different and as different as every other part of our bodies.
There is actually a great variation," Enright reveals, "The range of what vulvas look like is similar to what faces look like. Everyone looks slightly different. But we're just not told that. It's perfectly normal for your vulva to look different - there is a variation from woman to woman."
In fact, a project by photographer Laura Dodsworth for the BBC highlighted just how different vulvas are from woman to woman. The project showcased photos of 100 vulvas to show the range of 'normal' among women.
But, there are some things you should expect to see when looking at your vulva, according to Enright:
Labia—folds of skin around the vaginal opening. The inner labia can be longer or bigger than the outer labia and vice versa. They can also be slightly different in color, and the color can change as you get older. The inner labia can also look different after childbirth.
Clitoris—located at the top of the vulva where the inner lips come together. The tip of the clitoris is visible, but it extends inside your body. It has thousands of little nerve endings that become swollen when you're aroused (exactly like a penis). It's there for pleasure purposes only, and it can range in size. Some women have a clitoris the size of a pea, while others are larger—both are normal.
Urethral opening—located just below the clitoris is the urethral opening when urine comes out.
Vaginal opening—below the urethral opening you'll find the vaginal opening, this is where childbirth occurs, where menstrual blood leaves the body and where a penis, sex toy, or fingers can be inserted. The hymen is located near the vaginal opening, it comes in a variety of shapes and it's a well-known myth that the hymen 'breaks' after a woman has sex for the first time—this is untrue. The hymen can still be visible after sex and even childbirth.
A difference in color—the skin of the vulva can sometimes be a different color from the skin on the rest of your body
Hair variations—some people will have more hair in the vulva area than others.
Does the menopause affect the vulva?
Women's bodies experience lots of changes during menopause. A reduction in estrogen production during this time affects sex drive and the appearance of the vulva, too.
"Estrogen is quite essential for our skin and the tissues over our body," Enright explains, "you make less estrogen when you're older. Which means your skin becomes dryer all over. And the skin over the vulva becomes drier and thinner" This can cause vaginal atrophy, which can lead to vaginal dryness, recurrent UTIs and pain during sex.
"It also means urinary stress incontinence can happen, because the skin around the urethra has become thinner. We have to realize again that our vulva is just another part of our body. Like the rest of our body, the skin around the vulva ages," Enright says.
Popular menopause treatments can help relieve symptoms of vaginal atrophy and urinary incontinence. Enright recommends Hormonal Replacement Therapy to combat the loss of estrogen or pelvic floor therapy to strengthen the pelvic floor.
And of course, there are the more visible differences to vulvas during menopause, too. "Hair might go white, and there might be less hair there the older we get. It's a completely natural part of aging," Enright adds.
When is a vulva not 'normal'?
All vulvas are different, but there are some red flags to be aware of. While vaginal discharge that smells is perfectly normal, there are some instances where you should seek the advice of a medical professional.
Unusual smell that is not normal for you
Pain in your stomach or groin
Pain during sex
Pain during exercise
Persistent itch
Raised and thickened patches of different colored skin on the vulva
A lump on the vulva
An open sore on the vulva
A mole that changes shape or color in the vulva area.
Why haven't we been talking about vaginas and vulvas?
Why have vaginas been such an out-of-bounds topic for so long? Male genitalia is well documented—in TV, books, and in our culture in general. Yet female genitalia is kept much more hush-hush, leaving many women wondering what really is normal.
"Ask the average woman to draw you a vulva and she'll more than likely struggle," says Enright. "Ask her to draw you a penis, and she'll sketch you a broadly accurate, if rudimentary, representation with minutes."
Enright has a theory as to why this is. "We live in a society where straight, cisgender men have more privilege and are more dominant—and have been the ones running the medical profession for centuries. That has made a difference.
"Medical diagrams [of vulvas and vaginas] are quite neat and symmetrical. And then, in porn, vulvas are quite neat and symmetrical. I think girls can get a shock when they really look at their own vulva for the first time and realize it looks different to the ones they see in porn or medicine."
"That happens because they're not empowered with the information in the first place," Enright adds.
As with all aspects surrounding our vaginas and vulvas, the main way to tackle the stigma is to talk about them. This way we can make sure that younger generations understand what is normal.
"Talk about it with whoever you can feel comfortable talking about it with. It might be a medical professional, it might be a friend, it might be a feminist group. Educating ourselves and eradicating shame are two ways we can tackle the lack of information or the misinformation that has surrounded the vulva," Enright says
---
Vagina: A re-education by Lynn Enright: $31.67 | Amazon
Lynn Enright is a journalist and the author of the book, Vagina: A Re-Education. Lynn's book dispels common myths around vaginas and what a 'normal vagina' is.
Amy Hunt is an experienced digital journalist, currently working as Life Channel Editor at womanandhome.com. She began as the magazine's features assistant before moving over to digital as a News and Features Writer, before becoming Senior Writer, and now a Channel Editor. She has worked on other women's lifestyle websites previously too—including Woman's Weekly, Goodto.com, Woman, and Woman's Own. In 2019, Amy won the Digital Journalist of the Year award at the AOP Awards, for her work on womanandhome.com.
She is obsessive about everything homes and interiors—whether she's sniffing out the very best deal on a KitchenAid stand mixer or keeping up the latest Dyson release. And when she isn't editing or writing articles on interior trends or the latest home gadgets, she's passionate about books—you'll usually find her with her nose in a gripping thriller at the end of the working day.