5 Nordic walking tips to know before you start—plus the health benefits and an essential equipment list
Nordic walking will take your walks to the next level while supporting your joints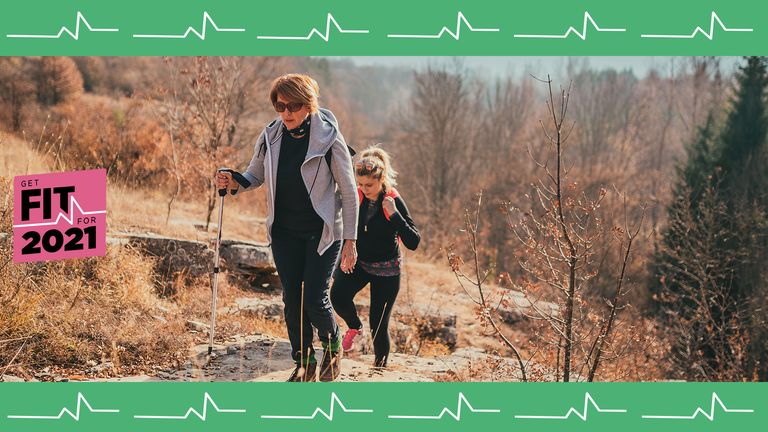 (Image credit: Getty)
Often see fellow ramblers Nordic walking when you're out and about? Turns out those walking poles don't just make you look like a pro, they can also help you take your walk to the next level and burn more calories.
It's not only a pair of the best women's walking shoes or best walking socks that can give your walking workout a boost—it's the style of walking you choose, too. Step forward, Nordic walking. Unlike methods that rely on speed to get results, Nordic walking is more about technique.
First, you'll have to invest in the best walking poles and then master the technique before you set out walking. This technique involves holding a pole in each hand to make sure you use both your upper body muscles, as well as your legs while you walk. This makes you work harder, yet it feels like less effort—win-win!
What's more, its health benefits go beyond fitness. Diabetes UK recommends the activity for keeping fit, while some research shows it could help with lymphatic drainage after breast cancer surgery.
"Public Health England (PHE) and the Centre for Ageing Better recently said it's one of the best activities for strengthening muscles and balance," according to Dr. Melanie Wynne-Jones, "Which is essential, as this tends to deteriorate as we age, making us more prone to falls."
Interested in trying Nordic walking? Here are five things you need to know to get you started.
1. Nordic walking will improve fitness while making you feel lighter on your feet
Striding out with poles – also known as Nordic walking—uses the upper and lower body simultaneously. Research by the Cooper Institue in Dallas, Texas found Nordic walking can burn more calories than regular walking.
"Holding on to walking poles means the upper body muscles are used as well as your legs – a bit like when you use a cross-trainer at a gym," explains Gill Stewart from Nordic Walking UK. "As you use the poles to propel yourself along, your body has to work harder. However, what's clever is that because the poles take some of the weight of your knees and lower body joints, you feel lighter on your feet."
Nordic walking also improves posture, making it ideal for those with neck, shoulder and back problems. Plus, it spreads body weight more evenly, reducing pressure on knees and joints. Though if you have particularly bad back problems, maybe try wearing one of the best sports bras on your walks to give you extra support.
2. Everyone can benefit from Nordic walking
Beginner or walking pro? Nordic walking is the nearest you can get to a truly bespoke walking regime. Done correctly, it burns calories and helps you get fit. What's more, it's the perfect return-to-fitness regime for those with aching joints, necks and backs.
"It's ideal because the poles reduce pressure on lower body joints," says Gill. "You can add muscle groups and really work them without the discomfort of something like jogging. We call it 'upping the gears'. The poles help to move you forward—it feels easier and people can last longer."
3. You have to master the Nordic walking technique
"This isn't simply walking with poles," says Gill. "It's straightforward, but getting Nordic walking right is the difference between going for a walk with a pair of poles and getting an effective workout. You need to learn how to use them to gain propulsion and not harm your wrist joints."
A few sessions with a nordic walking trainer will help you master the technique, but Gill suggests:
Start by walking naturally. Relax your shoulders and arms, and swing from your shoulders.
Hold the pole handles, not too tightly. The straps are there so you can relax your grip. Swing your arm forward in front of your body but keep the poles angled back, so they push you forward.
Lean slightly forward. With each step, land on the heel and roll through your foot to push off on your toes.
Keep your arms straight when you push back on the poles. You'll work your back and stomach even more. Open your hand and release the pole after each strike, but keep it close to your body. If you want to work 90% of the muscles in your body, you need to be shown how to strike and push off to get your legs moving correctly.
4. You should build distance slowly
As tempting as it might be to get going, you need to start Nordic walking slowly. "Don't go from nothing to two hours on your feet," says Gill. "Once you have learned the technique, start at 30 minutes, until you feel comfortable – and don't fret if you don't have miles of open country. Some Nordic walkers are strictly urban, using only streets and local parks. Longer group adventure walks are easy to find through your trainer—all very social and interactive."
5. Investing in good poles is so important
Unfortunately, it isn't just a case of one size fits all when it comes to choosing your walking poles. One survey found that poles can reduce the load on joints by up to 25%, so getting the right ones for you is essential to reap the health benefits.
Not only do they have to be the right height (when you're standing, your hand should be able to grip your poles with your elbow at a 90° angle), but being adjustable also has benefits. A quick-release strap is also a good idea. "It's so much easier when you're opening a gate or blowing your nose," says Gill.
The best Nordic walking poles