Silentnight's new couple's duvet is set to resolve bedtime arguments for good
Genius idea!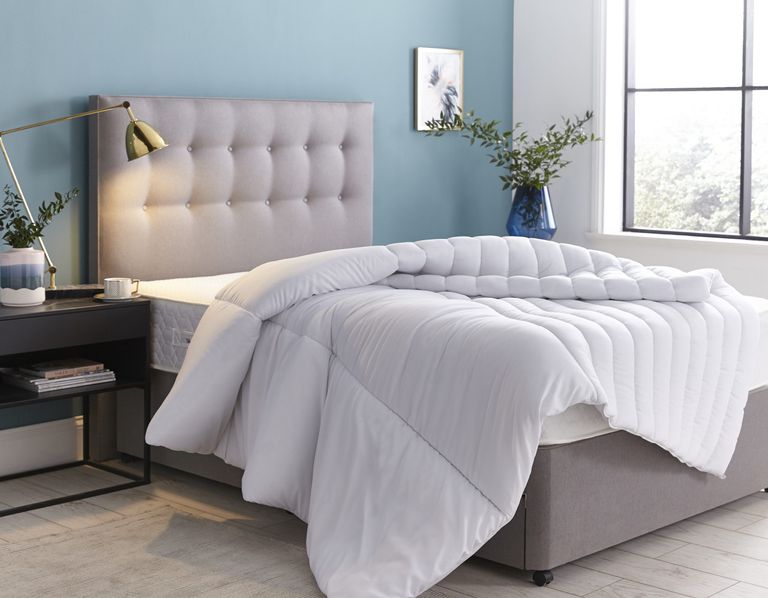 Sharing a bed can be frustrating, especially when it comes to bedtime arguments. If one of you is too hot and the other is too cold, it can result in a disturbed night's sleep.
But UK Sleep Experts at Silentnight have created a new couple's duvet, which could mean that bedtime arguments are a thing of the past. That sounds good to us!
So how does it work? Well, each partner is able to select how hot or cold they like their side of the bed, thanks to the innovative design.
The duvet has an increase in channel stitching on its cooler side, allowing for more air circulation. As for the warmer half of the duvet, it has reduced stitching, so it's able to retain more heat for a cosy night's sleep.
Silentnight's sleep expert, Dr Nerina, said, "If you notice that your partner has a negative impact on your sleep, or vice versa, communication around these issues is the most effective way of solving them. Start the conversation about whether you're both getting enough sleep in your current situation and whether there are things that either of you feel could help you get a better night's sleep.
MORE: The best pillow – for a comfortable, pain-free night's sleep whether you're a back, side or stomach snoozer
"Following the conversation, either partner may have to make compromises to accommodate the other. These may only be small things such as turning the lights off earlier or turning the brightness of a phone down, but they could greatly improve the situation."
However, Silentnight hopes that the new Yours and Mine duvet could be the simple solution couples are looking for when it comes to getting a decent night's sleep.
The couple's duvet is available from Argos, and is available in double or kingsize. According to the company, the couple's duvet is 'soft to the touch' and is made from a 'soft microfiber cover'.
Silentnight's Brand Licensing Manager, Clare Rix said, "Having a great night's sleep is essential in helping people to function throughout the day. Silentnight wanted to ensure that individuals ideal sleep environment was uncompromised by bedtime bickering.
"We created the Yours and Mine duvet to help prevent squabbles in the household and allow everyone to create their own sleep haven. To make this work, the duvet has a unique design of two togs in one, a higher tog is featured on one side to allow warmth and the other half is created with a lighter tog for a cooler night's sleep."