20 Ways to Lose Weight Without Dieting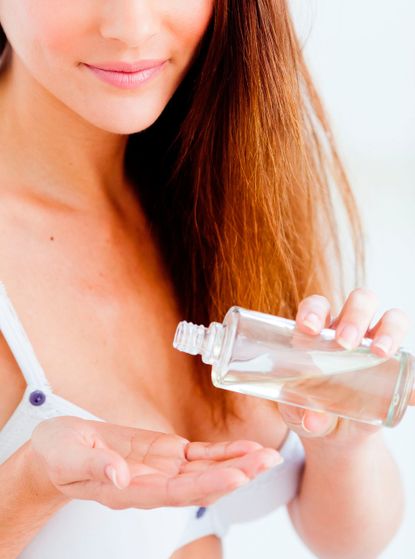 (Image credit: Garo/Phanie / Rex Features)
Do you keep trying – and failing – to lose weight? Instead of worrying about what you eat, focus on when - follow your body clock and lose pounds fast
From indulging in guilt free pasta dishes, swapping your sugary cereals for a fat-burning breakfast, to following the pattern of your body clock, our no-diet weight-loss tips are clever and easy to follow...
Cheat with a little bit of massage magic! Without changing her diet habits at all, and by simply massaging her stomach for a month, detox expert Margo Marrone said she felt, 'less bloated' and had, 'some inch loss'.
Try doing Margo's mini massage every day, using gentle fingertip pressure. Begin at your left hip, then sweep across to the right. Move up to the lower right rib, across to the left rib and down to the left hip again to make a square-shaped movement around your navel. Repeat six times.
Margo combined the routine with The Organic Pharmacy Resculpting Body Gel (opens in new tab), £94.95.
Crack your sugar cravings
Sweet tooth wrecking your diet? Fucus Complex 6c combines three homeopathic remedies - Calc Carb, Fucus and Lycopodium - and taking one tablet a day for a couple of months can help beat sugar addiction, says homeopath Margo Marrone. Try Fucus Complex 6c (opens in new tab), £12.95 for 14g from The Organic Pharmacy
Try the 80-20 rule
Many of us keep eating until we're stuffed. but the trim residents of Okinawa in Japan eat until they're 80 per cent full. They even have a name for this healthy habit: hara hachi bu. We can adpot this by simply dishing out 20 per cent less food, according to researcher Brian Wansink, PHD. His studies show that most people don't even miss the extra food.
Build muscle
Our body burns calories even when we're doing nothing. This resting metabolic rate is much higher in people with more muscle. Every pound of muscle uses about six calories a day just to sustain itself, while each pound of fat burns only two calories daily - a small difference that adds up over time. In addition, resistance training increases your daily metabolic rate. Not keen on weight training? 'Try adding ten minutes to your walking routine', says Dr Glenville. Walking briskly for an extra ten minutes three times a week racks up an additional 168 calories.
Ban your diet enemies
Be specific, but think simple. Say you always have a packet of crips with your lunchtime sandwich - nibble on some nuts instead. Start with 'one' baddie that always wrecks your healthy eating plans and ban it, full stop, and don't buy it anymore. Once you've conquered one, add another one to the list. This doesn't mean you have to cut back on how much you eat, just what you eat - and eliminating the worst offenders will have a huge impact on your weight loss.
Eat an apple before each meal
To curb the amount of calories you eat by a third (the necessary amount to see noticeable weight loss), scientists say snacking on an apple 15 minutes before each meal will decrease the calories you consume by about 15%. Why? Apples are high in fibre which helps to dampen the appetite and make the body feel fuller. The result? You'll eat a smaller plateful - and be less likely to reach for a sweet treat at the end of your meal as the apple's natural sugar will also cut sweet cravings.
Eat within an hour of waking up
'People who do this are slimmer,' says James Duigan. 'There are several reasons for this. Firstly, breakfast is so-called because it breaks your (overnight) fast. If you go for too long without food - ie, more than 12 hours - your body starts to think starvation is imminent. So an evolutionary throwback happens - your body clings to calories just in case you can't find any food, which generally isn't a modern day concern. Breakfast stops this process and fires up your metabolism for the day ahead.'
Spruce up your salad with low-carb pasta
Looking for a way to trigger weight loss but hate dieting and cutting out carbohydrates? Shaping up doesn't need to involve shunning nutritious carbohydrates like pasta, noodles and rice. Instead, look to aid weight loss by making your own versions of pasta, noodles and rice with healthy fruit and vegetables. An exciting new gadget has arrived on the market meaning that you can eat carbohydrates while maintaining a healthy weight loss. This weight loss friendly gadget is Spiralite by Spiralz, £28. This tool is already a hit in the U.S. This magic weight loss machine churns all manner of vegetables into guilt-free spaghetti, noodles and rice - trimming hundreds of calories from your plate and your waistline, aiding your weight loss but meaning that you stay full of energy at all times and don't have to embark on the laborious task of cutting out carbohydrates. For this magic machine to work and help with your weight loss, use firm, fleshed fruit and vegetables to make delicious pasta, noodles and rice. Courgette is a popular choice and a particular favourite among recipe websites. Vegetables with a similar consistency to courgette such as aubergine or sweet potato will also work well. The advantage of having such a versatile range of fruits and vegetables that will work with this machine, is that you can choose the flavours you like the most, making your weight loss easier. At 21 calories and less than 4g of carbohydrate per 125g portion, compared with the 364 calories and 64g of carbohydrate of a regular bowl of pasta it is easy to see why.
Try seaweed for an instant fat burn
Sushi fans can rejoice in the knowledge that a recent Japanese study on rats found that those who ate seaweed lost 10% of their body fat. Seaweed contains fucoxanthin, a pigment known to help burn the fat stored around internal organs. For a further fat loss boost add soya beans to the mix: the levels of DHA (docosahexaenoic acid) are known to ramp up your metabolism.
Curb the caffeine
It may be great for a quick fix boost of energy, but that morning cup of coffee is actually doing more harm to your waistline than you realise - even without the milk and sugar! Caffeine boosts the production of the stress hormone, cortisol, which raises our blood sugar levels and causes us to store more fat - especially around our waist and stomach. Add to that the fact that 85% of UK coffee drinkers take milk, and 57% take sugar and you're looking at 80 calories per cup. That's not to mention the dent it makes in your GDA of 400mg of caffeine per day! So curb the caffeine - that includes tea too - by limiting yourself to 2 cups per day, and watch that coffee belly disappear. Why not try The Decaf Diet (opens in new tab)
Follow your body clock for fast results
When it comes to the old adage, 'You are what you eat' perhaps 'You are when you eat' is more appropriate. Growing research has found that the timings of our meals - and even exercise - impacts on how easily we lose weight. 'Your body is more prone to burn fat at certain times of day and store fat at other times,' says Professor Satchin Panda from the Regulatory Biology Laboratory at the Salk Institute in California. Here we reveal how tiny tweaks to your schedule make a big difference to your body... Find more weight loss tips
Don't eat late at night
Satchin's study found that the best way to keep your metabolism healthy is to go 12 hours without eating overnight - something many of us fail to do thanks to late night meals and snacking. The study found that when you go this long without food, your liver begins to burn fat cells while you sleep. This means if you have your evening meal at 7pm and don't eat again until 7am the next morning, you'll burn fat in your sleep. Always leave 12 hours before your evening meal and breakfast. Dr Frank Lipman - Gwyneth Paltrow's New York based doctor - agrees: 'It's what our caveman ancestors did and they were lean and strong,' he says. 'Our bodies are still hard wired to live this way [and] never get a chance to work off food.' Find more weight loss tips
Avoid stimulants
There are two more reasons to ditch late night grazing. A study published in the health journal Obesity found that people who go to bed late tend to eat an extra 248 calories. Eating late also ruins sleep: 'Many snack foods disrupt sleep,' says personal trainer James Duigan, who trains Elle Macpherson. 'Chocolate contains sugar and caffeine, which are both stimulants. They reduce your ability to fall into a deep, restorative sleep and studies show that when you don't get enough of this kind, you become hungrier and have more sugar cravings.' Find more weight loss tips
Head to the gym after work
New research from the Clinical Research Centre of the University of Chicago has found that people who go to the gym, do a Pilates class or go for a jog in the early evening are fitter than those who exercise in the morning or at lunchtime. The scientists found that the body's metabolism responds better to evening exercise than at any other time of day. 'This is the first study to look at the variation in the effects of exercise at four different times of day,' says Dr Orfeu Buxton, who led the study. 'We didn't expect to see such large differences. There were signs that metabolism adapted well to exercise and suggested that it may be better to train after work rather than first thing in the morning.' Find more weight loss tips
... but don't forget to have fun!
However, James Duigan warns this approach only works if you enjoy the exercise you do: 'If the thought of the gym after work stresses you out, it will be counter-productive. Stress can make you fat, because it causes the release of the fat-storing hormone cortisol. So it's important to do something you love and enjoy, like a dance class, a yoga or Pilates class, swimming or going to the gym with a friend.' Find more weight loss tips
Eat a fat-burning breakfast
Eat eggs: research shows people who eat eggs for breakfast are slimmer. 'They're full of protein and good fats and keep you full for longer,' says James. 'Poach or scramble them and serve with asparagus and a little sea salt, which is loaded with health-boosting vitamins and minerals.' Find more weight loss tips
Don't just have carbs
A big, but common, diet mistake is a carb-only breakfast,' says James. 'Toast and cereal contain barely any protein, and as a result won't keep you full. A carb-only breakfast will convert to sugar in the body so you'll get an instant energy rush but your blood sugar levels will then crash leaving you hungry and craving sugar within an hour or two.' Find more weight loss tips
Make it quick
If you don't have time to cook eggs, make sure you keep the following combinations in your kitchen, all of which make a perfect breakfast according to James: 'Full fat yoghurt, berries and nuts, or half an avocado sliced over a few oatcakes. Lastly, eat leftovers for breakfast! I do it all the time - I often have a cold salmon steak with some chopped peppers if I'm in a rush in the morning. It sounds weird but it's the perfect way to start the day and will keep you full until lunch.' Find more weight loss tips
Follow your body clock
Follow this guide for the perfect fat-burning day: 8am - breakfast (eating breakfast at the same time each day helps your body burn fat more efficiently, according to studies). 11am - a snack (James advises his clients to eat two snacks a day to keep their metabolism fired up. The perfect snack? 'Some chopped green vegetables with a handful of nuts,' he says). 1.30pm - lunch ('Make sure it contains a palm-sized amount of protein, like fish, chicken or eggs,' says James. 'If it doesn't, you'll crave biscuits all afternoon). 3pm - another snack (try oatcakes with peanut butter or a handful of berries and nuts) 6.30pm - dinner ('If you work late, try to have a small meal around 6pm at your desk,' says Dr Frank Lipman. 'Then something small when you get home from work.' 7pm - exercise. According to studies, this is the perfect time to exercise. 'But don't overdo it otherwise your adrenaline levels will be too high and you won't sleep well,' says James. Find more weight loss tips
Indulge in guilt-free pasta
Farewell pasta lockdown! It might have been a necessity of brutal low-carb diets in the past, but now you can have your spaghetti and eat it with the creation of a guilt-free spaghetti that boasts 310% more protein than other brands. Dr Zak's Protein Foods pasta contains all-natural ingredients including pea protein isolate, durum wheat semolina and fresh eggs. With half the carb content of regular pasta, it's the ideal substitute to lose weight without even trying. Available at dr-zaks.com (opens in new tab)