10 ankle boots under £100 you can wear with absolutely anything
Brilliant boots that won't break the bank!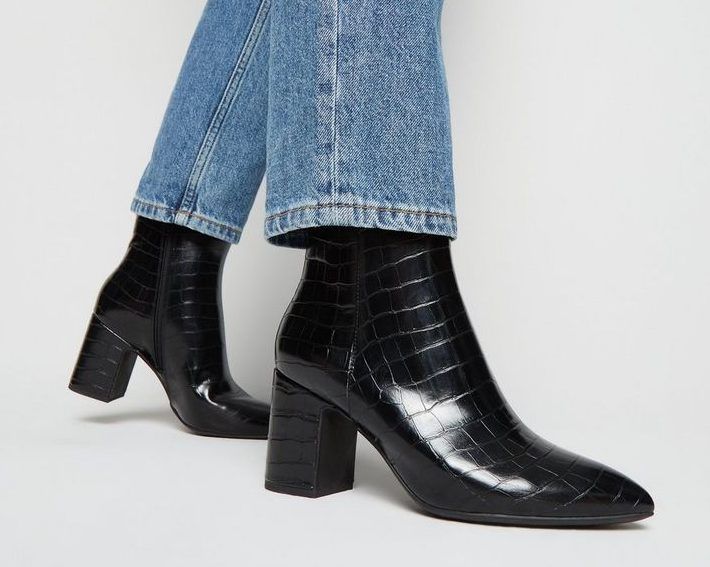 Ankle boots are a must-have for any wardrobe.
Ankle boots are a staple garment that you'll turn to time and time again - perfect with dresses, jeans, smart trousers and skirts of any length.
There are so many styles and variations of ankle boots to choose from, with different colours, materials and boot heights. If you're planning on wearing your new boots to work, you will mostly likely need a pair that offer your feet comfort and support while looking smart and stylish.
MORE:Marks & Spencer launches trendy denim line – and Holly Willoughby is already a fan!
Or - if you want footwear for the weekend - perhaps you want a style that is more casual but will still provide the comfort you need for days out? Nevertheless, we've rounded up some of the best everyday styles, that can be worn to work, out in the evening and at weekends.
They're affordable too - all coming in at under £100.
Shop our edit of ankle boots below
John Lewis Pierce Kitten Heel Leather Ankle Boots
£69.30, John Lewis Over the past year or two we've witnessed a kitten heel revival. These sleek black boots from John Lewis are great for getting back into the trend. They're elegant and look incredible paired with both dresses and trousers. (Picture: John Lewis)
VIEW NOW: John Lewis Pierce Kitten Heel Leather Ankle Boots
Marks & Spencer Block Heel Ankle Boots
£39.50, Marks & Spencer When it comes to ankle boots, it's easy to stick to familiar black and brown shades, but we're seeing more and more white and cream boots on the high street - especially during the warmer months. These sophisticated boots are in a neutral stone shade - so look great with a whole host of colours. (Picture: M&S)
VIEW NOW: Marks & Spencer Block Heel Ankle Boots
Overton Ankle Boots
£48, Boden Suede boots are timeless and this interesting rust shade gives the boots a more contemporary feel to them. The added texture makes them look (and feel) high-end and they're mid-heel height makes them ideal for everyday, practical wear. (Picture: Boden)
Office Alessia Buckle Boots
£60, Office It's all in the details with these boots, from the pointed toe design to the triple chunky buckles. They gives off a biker boot feel but with a more delicate, feminine twist. (Picture: Office)
VIEW NOW: Office Alessia Buckle Boots
Monki Croc Boots
£31.50, ASOS Those who like injecting colour into their looks will love these eye-catching yellow boots from Monki. If the colour wasn't enough, they also feature a croc print for added texture. We can't get enough of them! (Picture: ASOS)
Vagabond Chelsea Boots
£89.99, Office Vagabond is known for its high-quality boots in timeless styles and this pair delivers on just that. These Chelsea style boots feature a stretchy panel for comfort and a flat design for easy wear. (Picture: Office)
VIEW NOW: Vagabond Chelsea Boots
Black Faux Croc Ankle Boots
£19.99, New Look Croc detailing gives these simple black boots some edge. The animal effect adds interest to the shoe but still retains its classic style. These would look great paired with a midi skirt or slim fitting jeans. (Picture: New Look)
VIEW NOW: Black Faux Croc Ankle Boots
Block Heel Ankle Boots
£35, Marks & Spencer Animal prints were a key trend last year and it seems they won't be going anywhere in 2020, either. These bold boots still work with everyday outfits - simply pair them with neutral tones for an elegant look. (Picture: M&S)
VIEW NOW: Block Heel Ankle Boots
Dorothy Perkins Taupe 'Adda' Ankle Boots
£21, Dorothy Perkins Prepare to be tickled pink with these boots. They're also a triple threat, merging a glorious pink shade with snakeskin and suede. (Picture: Dorothy Perkins)
VIEW NOW: Dorothy Perkins Taupe 'Adda' Ankle Boots
Dune Peper Leather Low Block Heel Ankle Boots
£79, John Lewis Every wardrobe should be home to a pair of comfortable, black ankle boots. These versatile shoes have a low block heel for comfort but stand out with their gold zip and buckle embellishments. (Picture: John Lewis)
VIEW NOW: Dune Peper Leather Low Block Heel Ankle Boots
Karen Millen Womens Toni Mid Leather Boots
£184.99, Get The Label Black never goes out of style. These classic black boots are a must-have in any wardrobe. Dress them up with trousers for a smarter look, or pair with a dress for a more casual outfit. If you're looking for a reason to update your wardrobe – this is it. These Karen Millen boots are also more than half price in the Get the Label sale. (Picture: Get the Label/Karen Millen)