Five beauty secrets from Trinny Woodall (including her £14 home face mask of choice)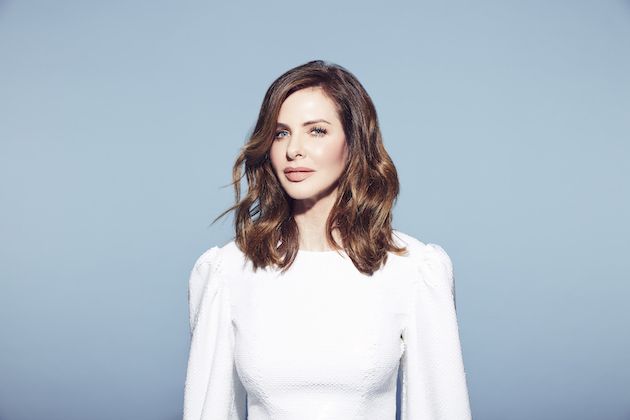 (Image credit: Photographer: Anna Mårtensson)
Best known for her no-nonsense attitude on cult noughties show What Not To Wear, these days Trinny Woodall is something of a social media superstar.
Boasting more than 500,000 followers on Instagram, she shares her style, skin and make-up advice in hugely popular videos.
After spotting a gap in the market, Trinny launched her eponymous brand Trinny London in 2017.
The ethos is simple but effective, encouraging customers to swap bulky make-up bags for curated 'stacks' – portable, stackable pots of high-tech cosmetics.
We caught up with Trinny to chat all things beauty, and find out which products she just can't be without...
Trinny Woodall's beauty secrets
1. Hair by Sam McKnight Lazy Girl Dry Shampoo
"For hair, I love Sam McKnight Dry Shampoo, but as a texturizing spray not as a dry shampoo," says Trinny.
"Ouai Dry Shampoo Foam is incredibly good too as it gives texture to your hair without feeling sticky.
"I've got slightly frizzy hair and always get it blow-dried so I just need something to zhoosh it when it gets a little flat".
SHOP NOW: Ouai Dry Shampoo Foam, £24, Cult Beauty
2. Ameliorate Transforming Body Lotion
"A lot of women who have dry skin don't exfoliate but Ameliorate exfoliates as it hydrates," says Trinny.
"It's brilliant because it's got some fruit acids in it, it's reasonably priced and you can really feel the tingle for fresh, glowing, soft skin.
"If you exfoliate first anything you put on afterwards is going to go in".
SHOP NOW: Ameliorate Transforming Body Lotion, £14.50, Cult Beauty
3. Trinny London Flush Blush Blusher, £20
"'Where do you get your energy from?' is the question I am asked the most," says Trinny. "For me it's all about looking in the mirror and not feeling tired.
"All the products that I design for women have that in mind.
"I use blush a lot to give life to my skin, more than bronzer, because I think it's still allows the shape of your face to come out".
SHOP NOW: Trinny London Flush Blush Blusher, £20, Trinny London
4. The Light Salon Boost Hydrogel Face Mask, £42 for pack of 3 (£14 each)
"I've been using The Light Salon Boost Advanced LED Mask for the last year and I love it," says Trinny.
"They also have a Hydrogel Face Mask that goes with it to hydrate and brighten.
"I find that with consistent use my skin is just so much better. It really does leave it glowing".
SHOP NOW: The Light Salon Boost Hydrogel Face Mask, £42 for pack of 3 (£14 each), The Light Salon
5. DCL C Scape High Potency Night Booster 30, £108
"I'll look at my skin in the evening and think, 'in the morning do I want to feel like tackling those lines or do I want to feel I'm getting a glow?'," says Trinny.
"I alternate a prescription retinol called Tretinoin with DCL C Scape High Potency Night Booster - I'm quite obsessed with unbelievable vitamin C.
"Once you're in your 40s or 50s, these kind of products are so important to help collagen rebuild in our skin.
"For me, I'm always looking for how can I keep my skin feeling bouncy and plump".
SHOP NOW: DCL C Scape High Potency Night Booster 30, £108, Cult Beauty
Thanks Trinny for the advice!
Jess Beech is an experienced fashion and beauty editor, with more than eight years experience in the publishing industry. She has written for woman&home, GoodtoKnow, Now, Woman, Woman's Weekly, Woman's Own and Chat, and is currently Deputy Fashion & Beauty Editor at Future PLC.
She caught the magazine bug during a stint as Fashion Editor of her university newspaper alongside her English degree, and hasn't looked back since. As for the fashion bug, that came as part and parcel of growing up in the 90s, but the less said about that the better!
Jess' average day in the office is spent researching the latest fashion trends, chatting to industry tastemakers and scouring the internet to bring you this season's must-buy pieces - as well as advice on how to wear them. Weekends are equally fashion-focused, and Jess has been known to visit no less than five Zara stores in a single day in search of the perfect occasion dress.
The only thing that comes close to a buzz of finally tracking down that much-coveted dress is the joy of discovering a new beauty wonder product or hero ingredient. A beauty obsessive, Jess has tried everything from cryotherapy to chemical peels (minus the Samantha in Sex and The City-worthy redness) and interviewed experts including Jo Malone and Trinny Woodall.