How to repair damaged nails (and then keep them in tip-top condition)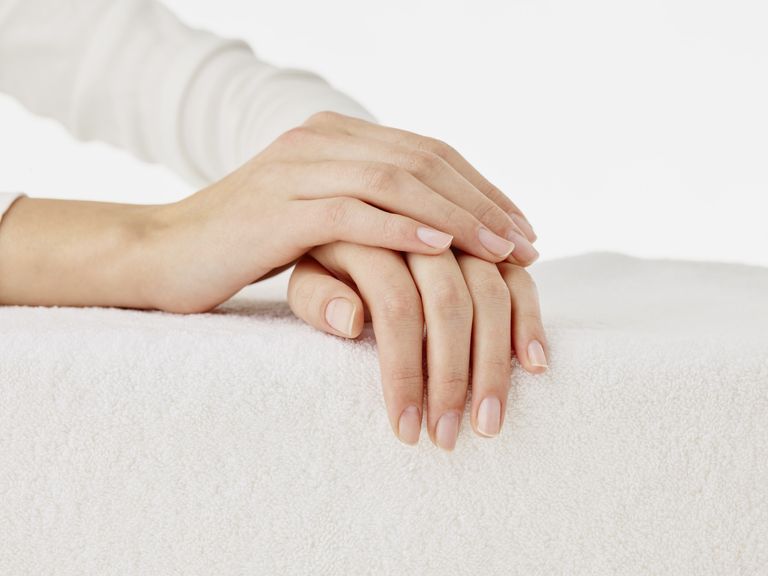 We all love perfectly manicured nails, but it can be difficult to keep nails in a good condition when constantly decorating them.
It's often the case that once we remove our polish that our nails are weak, brittle and prone to breaking. This is made far worse if you are prone to picking off your polish – or worse, biting your nails.And while the best beauty advent calendars 2020 are bursting with luxe treats to prevent your nails from breakage, there are also some important everyday habits you can implement to repair damaged nails and keep them in tip-top condition.
How to repair damaged nails
1. Keep nails short and rounded
The best shape for strong and healthy nails is rounded.
File your nails from the outer edge into the centre so that each half is filed in one direction. This helps keep nails even, which prevents snags and breakages.
2. Don't cut cuticles
Although it's tempting to cut off unsightly cuticles, your cuticles are what protect the growing part of your nails so cutting them will stunt nail growth and means an infection is more likely to develop.
Instead, push cuticles back using an orange stick or cotton wool bud.
3. Use a cuticle oil
Use oil on your cuticles to keep them healthy and to stimulate nail growth, and prevent damaged nails.
OPI Prospa Nail and Cuticle Oil is one of our favourites, it's full of vitamins and contains a mixture of sunflower, cupuaçu and grape seed oils to provide nourishment to your cuticles.
SHOP NOW: OPI Prospa Nail and Cuticle Oi, from £12, Look Fantastic
4. Eat plenty of protein
Nails are made from a protein called keratin.
Eating foods rich in protein will help keep your nails strong, so tuck into chicken, tofu, fish, beans and eggs!
Also drink plenty of water to keep your nails hydrated.
5. Don't bite your nails
Biting your nails and constantly exposing them to the moisture from your mouth can leave them weak and more prone to damage.
If you have a terrible habit of biting your nails you need Mavala's Stopin your life!
It has a nasty, but harmless taste that will discourage you from nibbling those nails.
SHOP NOW: Mavala Stop Nail Biting Prevention, £11, Look Fantastic
6. Always use a base coat or hardener to prevent damaged nails
We never go a day without coating our nails in a base coat to protect them.
Like a personal trainer for your nails, Sally Hansen's Hard As Nails will stop your nails from flaking and will build up their strength.
SHOP NOW: Sally Hansen Hard As Nails with Nylon, £5.99, Look Fantastic
7. Keep hands moisturised
Moisturising your nails is essential to keeping them healthy, so keep a travel-sized hand and nail cream in your bag so that you can moisturise on the go.
We love La Roche-Posay's Cicaplast Baume B5 Repairing Balm as it targets dry and sensitive skin without leaving a greasy residue behind.
La Roche-Posay Cicaplast Baume B5 Repairing Balm SPF 50, £8, Look Fantastic
8. Carry a nail kit
A snagged or broken nail when you don't have a nail file to hand is a recipe for disaster!
We keep Tweezerman's Nail Rescue Kitin our bags for moments like this. The mini trimmer, cleaner and file mean you can easily fix any on the go disasters!
SHOP NOW: Tweezerman Nail Rescue Kit, £22.95, Look Fantastic
9. Use a gentle nail polish remover on both healthyanddamaged nails
Harsh chemicals are a key cause of damaged nails, so when you remove any polish use as gentle a nail polish as you can.
OPI's acetone-free remover dissolves nail polish without exposing the skin to the harsh chemicals usually found in removers.
SHOP NOW: OPI Acetone-Free Nail Polish Remover, £7.50, Look Fantastic
10. Nourish your nails
We all know how great face masks are for your skin, so why not give your nails the equivalent pampering!
Soak nails in milk to whiten them, in warm water with a squeeze of lemon juice to remove stains, and in olive oil to moisturise them.