Why hair dryer hoods are good for your hair – and the benefits of using one in your routine
Hair dryer hoods have come a long way...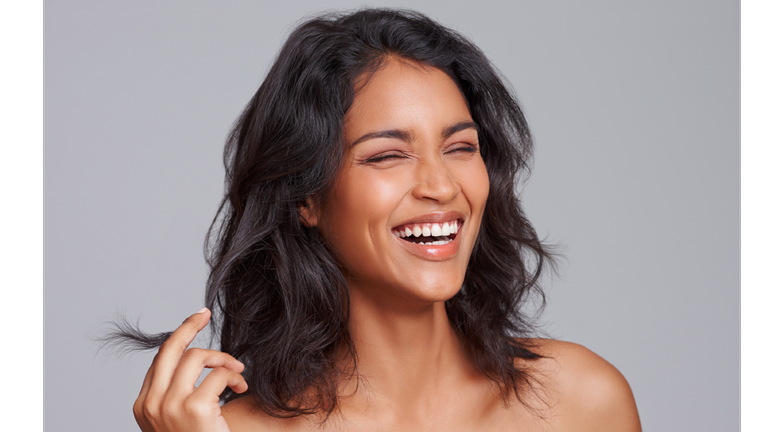 (Image credit: getty images)
Hair dryer hoods have come a long way since their debut in France in the late-19th century. After more than a hundred years of perfecting, hair dryer hoods are now less 1950s Grease-style salon, more high-tech and portable and they have benefits for all hair types and textures. Whether you opt for a traditional hard hair-drying hood – à la Marilyn Monroe – or an inexpensive soft bonnet that'll allow you to use the best hair dryer (opens in new tab)hands-free, this classic styling tool is the dressing-table staple that you never knew you needed.
While you'll want a little more time on your hands than you would for a conventional blow-dry, we assure you that the extra drying time is worth it. Especially if you want to achieve professional-looking results without needing to step foot in a salon – think Duchess of Cambridge style volume to perfectly nourished curls and coils. When you weigh up the following hair gains, you'll wonder why you never considered a hair dryer hood before now.
The benefits of using a hair dryer hood
1. It's less damaging to hair
Craig Taylor, Creative Director of Hari's Hairdressers, explains how a hair dryer hood can be a more gentle drying option for fragile hair:
"A hair dryer hood works by encompassing the head and hair together, providing air and heat to dry hair. This air and heat is diffused and less intense than when you dry hair with a regular hair dryer, which is a brilliant benefit if you're after a more gentle option. It's especially helpful for those who have damaged hair."
If your hair is suffering the effects of heat damage, harsh colouring, or has generally been through the wringer, a hair dryer hood could be just what the doctor/ salon director ordered.
2. It makes blow-dries last longer
Hankering after a glossy blow-dry that the Duchess of Cambridge (opens in new tab) would be proud of? A hair dryer hood could help; according to Craig, "hair dried using a hair dryer hood can produce a style that lasts longer than a blow-dry with a manual hair dryer.
"Just bear in mind that, for styles to set, you need to sit under the hood until hair is completely dry (anywhere from 15-45 minutes depending on your hair type). If hair is even slightly damp then the style that you are hoping to achieve will fall flat or drop out quickly."
3. It creates incredible volume and shine
A hair dryer hood isn't just handy for creating vintage-inspired victory rolls or pin curls – it can also conjure up blow dries with body, perfect if you're looking for the best hair dryer for fine hair. (opens in new tab) They also work wonders for setting braids and twists and reduce the frizz and static commonly associated with using a handheld hair dryer. In other words, you can 'set' hair under the drying hood in all manner of ways.
"To get the best results, prep hair with your chosen product and then set it," says Craig. "This could mean fixing it in rollers or bending rods to create shape and volume, forming curls with hair pins, sectioning it with clips for a 'finger wave' effect, sculpting a parting or simply fixing twists and setting the hair's direction of movement.
"Once you've decided on your desired style, just sit it out under the hood until your hair is dry from root to tip."
To prevent hair from looking rigid or dated, Craig recommends running fingers or even a manual hair dryer quickly through the hair post-set to relax the style and create natural-looking movement.
The fact that a hair dryer hood diffuses hair evenly also reduces the potential for tangles; many modern designs feature smoothing ionic technology to boost shine and prevent static 'halos'.
4. It gives deep-conditioning treatments superpowers
Speaking of halos, a hair dryer hood certainly deserves one when it comes to maxing out the moisturising potential the best hair masks. (opens in new tab)Michelle Sultan, Creative Director and Global Ambassador for Imbue Curls, tells us that hair drying hoods can make your Sunday masking sessions even more effective.
"Drying hoods are really brilliant for making the most of at-home hair treatments," says Michelle. "I recommend applying a deep treatment after shampooing hair (try Imbue Curl Restoring Intensive Mask, £12.99 (opens in new tab)), then putting on a shower cap and sitting under the hood for 20 minutes. This will allow the treatment to fully penetrate into the hair cuticle."
Rinse and then style hair as desired. A hood is also a brilliant way to speed along the air-drying process for naturally textured and curly hair types. Michelle notes that, in particular, this piece of kit can help twist-out styles and finger coils to set much faster.
5. No more sore arms
Whether you've got thick hair that takes serious effort to dry, mobility issues or simply want to combine your morning blow-dry with catching up on emails and having a coffee, hair dryer hoods can make the styling process a whole lot smoother. Keisha Lawlor, founder of haircare brand Trepadora, is a fan:
"What's not to love with hands-free hair drying? That's exactly the kind of freedom you get when you invest in a hooded dryer.
"Depending on the model that you go for, they can take up a bit of space, but a hooded dryer gives you the chance to recreate your favourite salon experience in the privacy of your own home. Make yourself your favourite brew, flick through a magazine and enjoy some 'me' time."
Hair styling that doubles as self-care sounds pretty good to us.
Our experts recommend...
Eleganty Soft Bonnet Hood Hairdryer Attachment
With SO many rave reviews, this soft bonnet hair dryer attachment is a must-try for salon-worthy results in the comfort of your own home. Easy to use, attach your go-to hair dryer onto the hose, wear the bonnet around your hair before turning on your hair dryer to let the magic happen. Oh and thanks to evenly distributed ventilation holes in the hood - you'll get just the right amount of heat air-flow all over.
BaByliss PRO Ionic Hood Dryer
PRO by name, pro by nature – this powerful hard bonnet hair dryer is guaranteed to give you salon-level results. Featuring three heat settings, two speed settings and ionic technology for smooth styling, this do-it-all hair hero is great for all hair types and textures. The wheels make it easy to manoeuvre and the height can be adjusted to suit you.
Gold 'N Hot Professional Ionic Soft Bonnet Dryer
No hair dryer? No problem! Gold 'N Hot's Soft Bonnet Dryer comes complete with an ion generator that has four heat settings (cool, low, medium and high). Choose your preferred heat, secure the bonnet around your head with the drawstring and sit back while it dries and sets hair. Easy!
Hair Flair Deluxe Soft Hood Hair Dryer Attachment
Ideal for holidays, this lighter than light soft bonnet hair dryer can be folded away into a small bag so you can still travel light and have great hair. The long nozzle can be attached to hairdryers with a nozzle diameter of up to 5.5cm. There's also a handy chin strap to hold the bonnet in place and it is safe to use on wigs and weaves.
Kiss 1875 Watt Ceramic Tourmaline Salon Bonnet Hair Dryer
For those who want a hard bonnet hair dryer that doesn't take up lots of space – look no further than Kiss 1875 Salon Hood Dryer. Equipped with four heat settings, adjustable height control and an easy fold-up design – this dryer is compact and easy to move. What's more, the ceramic tourmaline technology helps control frizz for shiny, long-lasting results.
Anna is a multilingual award-winning journalist with over ten years of experience working in the beauty, lifestyle and travel industries.
Her extensive editorial portfolio includes Women's Health, Woman & Home, The Sunday Times Style, Refinery 29, Cosmopolitan, Elle, Red and Good Housekeeping.
Anna is also well versed in commercial work, having experience in both start-up and corporate environments.