GHD Platinum+ vs GHD Gold: Is there a difference in the two renowned stylers?
Which of the premium GHD Platinum+ vs GHD Gold straighteners should you choose?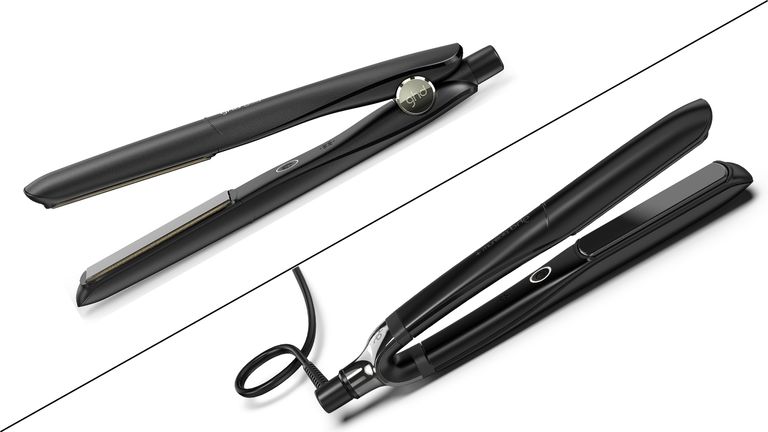 (Image credit: GHD/Future)
Just like owning any laptop other than a Macbook raises eyebrows among certain groups, opting for any pair of the best hair straighteners other than GHD has become somewhat of a social faux pas over the past couple of decades – meaning buying a new pair may simply come down to GHD Platinum+ vs GHD Gold.
The renowned brand has transformed the world of home hair styling with industry-leading products, from stylers to the best hair dryers. These constantly evolving and easy-to-use tools boast amazing results even when it comes to more difficult hair types.
So with two standout (and expensively-named) straighteners in their repertoire, the GHD Gold and the GHD Platinum+, it's hard to know which one to pick. We put them to the test to find out...
What is special about the GHD Gold?
Branded by the company as 'the hair straightener stylists adore', this was GHD's first deluxe launch. With a sleek new design and clever features that let you perfect different hairstyles, it's one for those who don't rely on daily styling but want a high-end finish whenever they do.
Specifications
Temperature settings: 185ºC
Weight: 1.1kg
Cord length: 2.7m
Available colours: Black, Moon Silver, Powder Pink
Auto shut-off: After 30 minutes of inactivity
Added extras: dual-zone technology, gloss finish floating plates
Design
Gone is the brand's recognisable noughties plastic grey casing with its signature gold plates. A new take on its predecessors, the standard-coloured Gold boasts a streamlined black body and classy charcoal grey plates, with a symmetrical hinge and sparkly new silver GHD logo. The straighteners have also said goodbye to the classic power switch with its accompanying red light, instead opting for a swanky illuminated button.
A swivel cord makes for simple, uninterrupted styling, but a small speaker emits a rather tinny tone to alert you when the tool has preheated.
Technical performance
Dual-zone technology works to maintain the optimum 185ºC temperature while the floating plates mean that you can glide through the hair snag-free.
The rounded barrel also lets styling pros work their hair into curls or waves, without any kinks.
User experience
The lightweight tool is easy to use, but doesn't pack as much of a punch when it comes to styling as the Platinum+ does. Thick or naturally frizzy hair may need a few swipes through to properly straighten - or perhaps one of the best hair straightener brushes may suit instead? Users may have to put a lot of pressure when clamping to get their desired results.
While using, hair is also relatively hot to touch, which you don't really get with the Platinum+, meaning that the Gold is perhaps not as successful at maintaining the optimum temperature.
Results
A lovely straight and shiny look – but for thicker and frizz-prone hair the finish doesn't last as long as with the Platinum+.
What is special about the GHD Platinum+?
A cutting-edge development on its predecessor, this glitzy styler is one for anyone who is all about aesthetics. And the strong, shiny results speak for themselves...
Specifications
Temperature settings: 185ºC
Weight: 0.4kg
Cord length: 2.7m
Available colours: Black, white, Cobalt Blue, Scarlet Red, Rose Gold, Powder Pink
Auto shut-off: After 30 minutes of inactivity
Added extras: Ultra-zone predictive technology, and precision milled, ultra-gloss floating plates
Design
Like the Gold, this beauty comes with sleek contoured edges, but a wider body and luxe wishbone hinge makes it stand out.
The styler preheats with the same snazzy button as the Gold, but reaches the optimum 185ºC a little quicker, and has the same swivel cord benefit for styling. Oh and the preheated alert chime is much easier on the ears than the Gold's.
Technical performance
GHD has upgraded the heat sensors in this one with ultra-zone technology that monitors heat hundreds of times each second to ensure the styler stays at 185ºC, meaning you can straighten hair evenly without losing heat or exposing locks to surplus damage.
Precision-milled ultra-gloss plates also leave a shinier finish to hair than the Gold does, and manage to work through a wider chunk of hair in each swipe.
User experience
The Platinum+ definitely has a silkier feel than the Gold when gliding through the locks, making this one of the best straighteners for curly hair. While unique wishbone hinge makes for more control over the hair when styling. It also works a lot more quickly given the more advanced plates that can work on larger sections of hair.
Curved edges mean the tool can be used to curl or wave hair, but it can sometimes leave a couple of kinks here and there, unlike the Gold, which leaves a smoother, wavy finish.
Results
A shinier and more flawless finish than the Gold, which makes hair feel stronger.
See our full GHD Platinum+ Hair Straightener review
GHD gold vs GHD platinum: the verdict
Both are intelligent tools featuring advanced technology, but we just love the luxurious look of the Platinum+, which comes from the wishbone hinge and wider contoured barrel. Needless to say if you're looking for something to class up your dressing table we'd opt for the Platinum+, but if you're deciding solely based on the performance and results then it really depends on hair type.
For those with thick, coarse or naturally frizz-prone or curly locks, the Platinum+ is definitely the clear choice, as it makes for faster styling that will last longer on your hair type. Dry or damaged hair types will also benefit from the styler's ultra-zone technology that means tresses are not exposed to surplus heat.
But for those with finer or easier-to-manage hair, there's no reason the Gold wouldn't meet all of your hair needs and save you a few pennies in the process.