Why I left my family at home to take a solo holiday – and you should too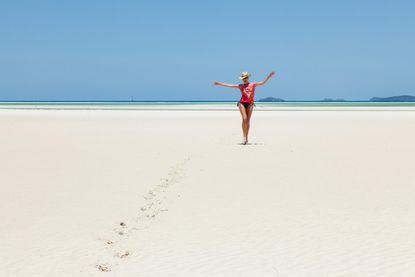 I lie back on the lounger and grin up towards the sun, laughing quietly to myself. To any onlookers, this lone chuckling woman in a flamingo-print bikini probably looks a bit daft - where are her friends? Her partner? Her children? But to my total surprise, I actually couldn't give a hoot: this week, I'm totally without baggage - all alone in sunny Spain - and loving it.
When I was in my twenties and early thirties, I travelled a lot - but always with friends. City breaks, beach trips, a nine-month career break in South America... I loved exploring, but never had the guts to do it on my own. When I met my husband, we travelled together too, though our attention soon shifted to starting a family.
Some of my friends caught the solo travel bug years ago, and would wax lyrically that heading off on their own - even if just for the weekend - kept them sane. Leaving my husband and ten-year-old daughter to fend for themselves would have the complete opposite effect, I countered.
More like this: Take the leap! 13 of the best places to travel alone
With our little girl heading off on a school camp for five days, hubby and I took the rare chance to plan a break in Barcelona. I had a big birthday looming, so was ready for a sun-drenched adventure with on-tap cocktails - but when his boss said they needed him for a vital last-minute project, just one week before we were due to fly, I was devastated.
No amount of reasoning or sweet-talking could change his mind, and it was too late for a girlfriend to join me. After years of making excuses for not travelling solo, suddenly I had no choice. Barcelona, with no plus-one - for five days. It was, I'm embarrassed to admit, utterly terrifying.
Who would I talk to? Who would eat dinner with me? Who would suncream my shoulders? Nobody - that's who. I resigned myself to five long days of loneliness, packed my bag full of novels, and resolved to shrink into the background.
3 solo travel ideas...
A Woman & Home holiday - Many of our exclusive trips have no single supplement, because we want to keep the price fair for everyone. On our bucket listholiday to Machu Picchu in Peru, you'll share a room with another group member of the same sex (or pay just £378 for your own room) - and on our Tuscany cooking holiday you'll stay in a lovely double room for no extra price.
A European city break - If you're short on time, try one within two hours of the UK.
A solo spa break - While these gorgeous UK spa hotels are great for girlie weekends away, they're perfect for a quiet trip too. Also, don't miss our exclusive Algarve spa holiday offer...
Now, four days into my solo holiday, I'm wondering why I never did this before - and no, I don't feel lonely at all. Mornings are blissful. I get up early, and have a quiet breakfast on the terrace - uninterrupted by school runs and "Where are my keys, babe?" - just me and a pot of coffee for one.
After breakfast, I head out into the city to explore the modern art galleries, gawp up at the famous unfinished turrets of the Sagrada Familia, or just mooch along La Rambla, dipping into shops and cafés as I go. The freedom is delicious; I wander wherever I like, and stop whenever I please. The guide book is my best buddy, and I relish the anonymity of blending into the crowds. Some days, like today, I go straight to the beach.
If I had my family with me, this would be a completely different trip. There would be more laughter, certainly, and more conversation - but also more compromise. I miss them, of course, but I'm also rediscovering the joy of being a little bit selfish. As a mother, that's new territory - but now is not the time to feel guilty.
I had dreaded eating alone in restaurants more than anything else, but actually it's quite fun. It took a few tries to get over the feeling that everybody was looking at me, wondering who this strange lonely woman was, but it turns out that people are far too consumed by their own business to care. Nobody bats an eyelid.
More like this: 12 of the world's tastiest food tours and cooking holidays
This lunchtime, I went to a café, and sat outside with a glass of rosé and a Spanish omelette. In my big shades, dining incognito, I felt like a movie star - albeit one with slightly sunburnt shoulders.
I have one day left in my solo travel eyrie, and how will I spend it? Not worrying - that's how. Next week, when I'm back on the school run, making packed lunches and running from the office to after school club, I'll look back on this week and smile. But for now, I'm happy alone on my sunlounger, people watching while pretend-reading my novel, and rekindling the lost art of solitude. I can highly recommend it.
Sign up to our free daily email for the latest royal and entertainment news, interesting opinion, expert advice on styling and beauty trends, and no-nonsense guides to the health and wellness questions you want answered.