13 of the world's tastiest wine tours and cooking holidays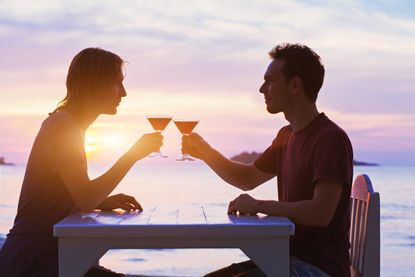 Feast on amazing seafood, sip the world's best wines, and learn how to make authentic Italian cuisine on these great food tours and cooking holidays...
1. Tapas & famous fizz in Spain
If you've ever wondered where your bottle of Freixenet cava came from, you'll love Explore's 11-day Wine, Walks and Tapas (opens in new tab) tour of Spain. As well as visiting the very vineyard where that famous Freixenet fizz was grown, your journey from Bilbao to Barcelona will call in at the wine regions of Rioja, Montsant, Priorat and Cava.
Along the way, you'll feast on traditional tapas, plus an authentic dinner with a local Catalan family. Your guide, a true food connoisseur, knows all the best bites in the Basque Country, La Rioja and Catalunya - and will even help you hunt for gourmet souvenirs in Barcelona's 'La Boqueria' food market.
More like this: 11 cultural holidays that will change how you see the world (opens in new tab)
2. Meet Mary Berry on the Douro
Mary Berry is one of our favourite foodie stars – and now we're giving you an exclusive opportunity to meet her on our fabulous new 8-day cruise down the Douro through Portugal and Spain.Mary will join you for two days on the Emerald Radiance, a luxury ship custom-built to navigate the Douro. Your wonderful itinerary, which starts and ends in the ancient city of Porto, includes the chance to visit some of the region's best Port-producing wineries.
Enjoy a talk, Q&A and book signing with Mary Berry, plus she'll join you for a fabulous afternoon tea. Ask the "Queen of Cakes" her baking secrets, and enjoy a four-course gala dinner hosted by Mary on your final evening - a stunning end to this once-in-a-lifetime holiday. See the details
3. Raymond Blanc
For the first time ever, world-famous chef Raymond Blanc is hosting an exclusive culinary adventure on board our foodie river cruise through beautiful Bordeaux. On this 11-day Woman & Home holiday with Raymond Blanc, the world-renowned chef will join us for two magnificent days of gastronomy on board the five-star Scenic Diamond.
Joining you in Cadillac, Raymond will take part in an exclusive talk and Q&A session plus a photo opportunity. You'll also have the privilege of watching a special cooking demonstration by Raymond and his sous-chef. As Raymond says, "There are few greater pleasures than drifting quietly along the rivers and canals, perhaps with a nice glass of wine in your hand. I look forward to meeting you on board and toasting together to beautiful Bordeaux." See the details
4. Sail the Amalfi Coast with Aldo Zilli
He's best known for his successful Italian restaurants, countless recipe books and TV cooking shows, but next summer Aldo Zilli will also join Woman & Home's foodie cruise along the Amalfi Coast– sailing in the magnificent Royal Clipper tall ship.
On the 8-day voyage from Rome down to Sicily, you'll have the chance to meet Aldo, hear about his life and career, enjoy two cooking demonstrations and join him for a special lunch in Amalfi. "I'm over the moon to be travelling to some of my favourite parts of Italy," says Aldo. "I'll be teaching and learning about the different foods this amazing region has to offer to us all."See the details
5. Learn to cook in Tuscany
If you've ever lusted after the rich pasta dishes, parmigiana bakes and juicy grills that Tuscany is famed for, learn how to make them on our new four-day cooking holiday withKatie and Giancarlo Caldesi - the husband-and-wife team behindLondon's Italian cookery school La Cucina Caldesi, and the restaurant Caldesi in Campagna in Bray, Berkshire.
As well as an exclusive talk, Q&A and food demonstration from Katie and Giancarlo, you'll get hands-on cooking lessons from local chefs, plus have time to explore Florence and its markets, enjoy lunch at a local trattoria and visit a local winery for a tasting."Tuscany holds so many special memories for us, and we can't wait to share our love of it," says Katie. See the details
More like this: The 8 trips every woman should take in her fifties (opens in new tab)
6. Festive flavours in Germany
It wouldn't be Christmas without a pretty festive market or two! A few days of bratwurst, mulled wine and gingerbread will cure those winter woes. Europe has Christmas markets aplenty, but Germany's are the original and best – so which Christkindlesmarkt to choose?
On our Fabulous Festive Cruise, you'll visit all of Germany's best Christmas markets! Over 5 spectacular days in December 2018, you'll visit themarkets in Cologne, Bonn, Koblenz, Rüdesheim and Mainz – with plenty of gluhwein along the way. On board the cosy MS Serenity river cruise ship, you'll also enjoy wine tasting workshops, gala dinners, and a festive baking masterclass with Great BritishBake Off winner Jo Wheatley. All for just £695! See the details
7. Feast on Swedish seafood
With a hire car and pre-booked hotels, all you need to worry about on InnTravel's self-drive West Coast Sweden (opens in new tab) trip is what's for dinner - and happily, they've got some fantastic recommendations. Sweden's superlative seafood is the focus of this foodie road trip, which takes you from Fjällbacka to Gothenburg, via great restaurants, food markets, fishing villages and island-hopping adventures.
You'll feast on mussels, oysters, lobsters and langoustines - all freshly plucked from the west coast's waters. This is genuinely great food, sourced responsibly and served simply - and enjoyed in relaxed, non-stuffy surrounds.
8. Eat local in Guernsey
The Channel Islands are a real foodie hotspot: the sunny micro-climate is perfect for fresh fruit and vegetables, the local seafood is sublime, and who could forget the famous local butter, cream and potatoes? Thanks to its close proximity to France, the archipelago's cuisine is rich and beautifully simple - letting those top-notch ingredients speak for themselves.
Guernsey's capital, St Peter Port, has a vast range of restaurants, while you'll find fantastic fish and chips in the beach kiosks dotted along the coast. And for something extra special, the island's food producers and chefs showcase their wares at the International Food Festival (opens in new tab) every year - featuring the likes of Guernsey goat's cheese, cider and foraged berry reserves. Delicious!
9. Go gourmet in Greece
Forget what you think you know about Greek wine: retsina is only the (not very tasty) tip of the iceberg. Wine-making is intertwined with Grecian culture: from the ancient days of spice- and honey-infused blends and the Zitsa wine that inspired Lord Byron's poetry, to the world-class wares of today's forward-thinking wine producers.
On Arblaster and Clarke's Story of Greece (opens in new tab) holiday you'll be treated to the most memorable restaurants, a cooking lesson from a local chef, and tasting sessions with your expert sommelier guide. If your idea of heaven is sitting on a sun-drenched terrace sipping boutique wines while the Aegean glitters below, this trip is for you.
More like this: 8 alternative ideas for a girls' weekend away (opens in new tab)
10. Croatia & Slovenia on a plate
Whether you're foraging for truffles in Croatian forest with specially-trained dogs, or sharing a bottle of wine with Slovenian vineyard owners, Active Gourmet Holidays' Food Journey Through Croatia and Slovenia (opens in new tab) is stuffed with incredible gourmet moments. You'll have a food tour of Ljubljana, taste traditional cakes at Lake Bled, and savour a five-course feast in Goriska Brda - with local wine pairings, of course.
Food here is honest and hearty, with age-old recipes that have stood the test of time: think wild boar goulash, beef with prosciutto and red wine, and sweet melt-in-your-mouth honey cakes.
11. Sip Champagne in Reims
There's something about the rolling countryside around Reims, the birthplace of Champagne, that makes a glass of bubbly taste even better: maybe it's the sunshine, maybe it's the romantic setting, or maybe the French simply keep the best bottles for themselves?!
We've designed a long weekend trip to Champagne, especially for Woman & Home readers, departing in spring 2019 – with wine tastings and vineyard visits galore. You'll even have a private party atthe glitzy headquarters of famous Champagne house Taittinger – sipping on on some of their finest vintages while enjoying canapés and a tour of their iconic chalk cellars. This extravagant weekend of superb food and wine is the ultimate treat!See the details
More like this: Have you seen our exclusive Woman & Home holidays? (opens in new tab)
12. The catch of the day in Scotland
Love langoustines? Crazy for clams? McKinlay Kidd's Scottish Seafood Trail (opens in new tab) from Inveraray to Wester Ross is the adventure for you - with an itinerary that's bursting with fish-rich lochs, restaurants serving the freshest oysters, mussels and crabs, and gourmet boutiques where you'll find foodie souvenirs galore.
But the highlight of this western highlands holiday is undoubtedly the opportunity to head out with a creel fisherman as he gathers langoustines and brown crabs - and then tuck into his wares on a shore-front lunch. Seafood doesn't get much fresher than that! On this week-long self-drive trip you'll stay in lovely little hotels and dine in the finest establishments - with a few wee drams in quaint village pubs too, if you fancy.
13. Wine and walking in Portugal
Port has long been the lifeblood of Portugal: it was created in the region by ancient civilisations, and has been finessed over hundreds of years to create the sweet nectar you know now. Today, all kinds of wines are grown in the country's lush vineyards - so on Explore's 8-day Walking & Wine holiday your glass will always be (at least) half full.
You'll venture from the city of Porto through the Douro Valley (a Unesco World Heritage Site, thanks to its famous vines), and then to Terras de Basto, where Portugal's 'young' vinho verde wine is produced - with plenty of tastings, tours and vineyard walks along the way.
All images from Alamy