Travelling in India: lessons from the ultimate mother-daughter adventure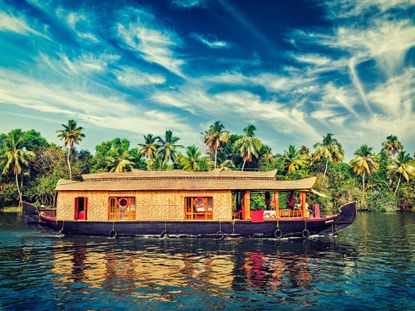 (Image credit: Alamy Stock Photo)
India is one of those countries that leaves an everlasting impression. But it's also a lot to get to grips with, and coming unprepared can leave you overwhelmed. After taking my mum on a two-week adventure, here are a few lessons we learned about travelling in India.
My month-long backpacking trip around India sent my mum wild. Not because she was worried about me – an 18-year-old travelling alone in a vast and unknown (to us) country – or because she missed me so much (though I like to think that played a part), but because she was jealous.
"You've got to take me, next time" were her welcome home words after she diligently sat through a TV slideshow of my 500-odd photos. I'd been camel trekking in the deserts of Rajasthan, sleeping under the stars on nothing but a woven cot, and I'd visited regal palaces, blue-tinted cities and countless epic fortifications. It really was the trip of a lifetime and I yearned to go back, so sure, I'll take you some day, I told her.
Five years later, I finally made good on that promise. University, then starting a new job had got in the way, but eventually, for her 50th birthday, I took my mum to India.
First stop was Mumbai, where we took a street food tour and tried exciting new dishes, like pav bhaji (the Indian answer to a chip butty) and bhel puri (hollow balls filled with chickpeas and coriander water).
We had high tea at the famous Taj Mahal Palace Hotel, and even stayed in an Airbnb with a local family. It was a traffic-choked, hectic city but we both loved it nonetheless. We found common ground in thriving off of the chaos and adjusting to a new culture.
More like this: 10 trips every woman should take in her 60s
In Kerala we took a leisurely backwaters cruise, explored Jew Town in Fort Kochin and embarked on a four-day cooking residency to master delicious, vegetarian South Indian dishes. A far more sedate section of the trip, we really took time to slow down and savour the new sights and flavours we experienced every day.
In our final week, a night train, in which we slept on the top two bunks of a three-tier berth shared with an Indian family, rattled us all the way up to Karnataka where we explored a regal palace and bartered for beautiful fabrics. No harder bargain had ever been driven by two visitors before, we were assured by the grinning shopkeepers.
It was the ultimate mother-daughter adventure – but it wasn't without its hiccups. Here are a few of the lessons we learned during our time travelling in India.
1. India is huge
When we began organising our trip, we had grand plans for lazy days on the beach in Goa, temple hopping in Tamil Nadu, and a day or two exploring the ancient city of Hampi. In reality, though, our Mumbai-Kerala-Karnataka-Mumbai itinerary, packed in over two weeks, was still to ambitious.
India is big. On a map it might look like certain places aren't too far away, but plug in your departure point and destination to Google Maps and you'll suddenly find that those two cities you thought were a simple hop, skip and a jump from one another, are in fact a 12-hour drive.
It pays to do a lot in a little area in India, especially as things can change so quickly, and transport rarely runs on time. Even if you've got a driver and guide, you'll likely be waylaid by a traffic-choked city or a herd of cows blocking the road, and feeling rushed is never fun.
More like this:12 alternative ideas for a girls' weekend away
2. You shouldn't plan too much
This beguiling country is genuinely fascinating. It's the ultimate people-watching destination. Which is why planning too much is foolish. One of the joys of travelling in India is going with the flow, following your instincts and seeing where your intrigue takes you.
Some of our favourite moments were sat in cafes or bars, watching the world go by, or simply wandering aimlessly around town until something caught our eye. You never know what you might see if you let go of your itinerary. One evening on our trip, after we got lost looking for a restaurant, we were invited into the home of an elderly couple. We talked politics and books and travel with them over lemonade and nuts, before finally finding our way.
And on the morning we left Mumbai, our Airbnb hosts invited us for a walk along the beach. It turned out that sunrise on the promenade was everyone's favourite exercise spot, so we joined the locals in a power stroll along the beach as the new light of day dawned.
More like this: Stunning hotels worth planning a trip around
3. It can get incredibly stressful
Sometimes stress on holiday can't be avoided, and in India it's inevitable. Whether you're stuck in a traffic jam, your train is delayed or you're lost in a chaotic market, you're going to find yourself in a stressful situation.
However, the less you are responsible for the better your experience is likely to be. We travelled independently in India, but there's no reason you shouldn't consider leaving it to the experts to organise and facilitate your trip.
Pettitts Travel have been running unique, authentic, tailor-made trips to India for decades, and they really know how to ensure you have the best holiday possible without all the stress.
4. Downtime is essential
My mum was adamant we needed beach time in Kerala, but the adventurer in me was too tempted by all opportunity elsewhere. This meant we were hairing from place to place, stopping nowhere for more than two nights. We saw and experienced (and ate) a lot, but we didn't have time to relax.
In such an exciting destination, it's easy to forget why we go on holiday in the first place: to chill out. Scheduling in some downtime amid the chaos of travelling in India is essential. Had we spent more time whiling away afternoons on a beach in Kerala, we might have come home a little less exhausted.
5. It's addictive
There's nowhere on Earth quite like India. It leaves a lasting impression on everyone who visits, and for many, it's an addictive endeavour. I've been to India five times now, and am already planning my return. Just a year after I took my mum, she embarked on a solo adventure around the country – her first big trip alone.
There's always so much more to see, the traveller can never be satisfied by India, but that's all part of its charm.
More like this: The best places to visit in 2019 according to experts
Lottie is an NCTJ-trained journalist, an experienced travel writer and an expert in creating compelling digital content.
Lottie has been in the travel writing business for nearly a decade and has writing and photography bylines at The Telegraph, The Times, The Independent, the i and National Geographic Traveller. She's done broadcast work for BBC Radio 4 and have contributed to a number of guidebooks and coffee table titles during her career.