Key workers can win a trip of a lifetime to Cambodia – tell them immediately!
Nominate a key worker for an amazing holiday in Cambodia!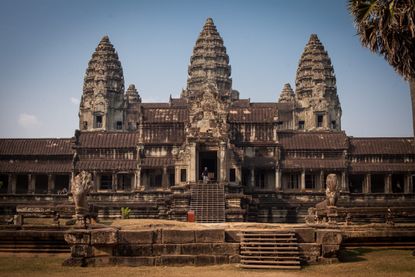 Here's a wonderful way to thank a special key worker with a trip of a lifetime...
We all know a key worker who deserves a trip of a lifetime. It might be a frontline nurse, teacher, police officer or refuse collector...
And while everyone's dream holiday destination is different, for some it might be the greek islands, for others Japan, we feel Cambodia is a must-visit country, even for those who haven't considered it yet.
So what would your key worker friend or family member say to a free holiday to Cambodia, one of the world's most sought after destinations? Cambodia in southeast Asia is a breathtakingly beautiful country, and Audley Travel, one our the best travel companies in our opinion, is offering a free 10-day holiday to a key worker, plus one.
All you have to do is nominate a key worker you know and they and a friend could be off to explore Cambodia on a luxury trip of a lifetime.
What do you have to do to enter?
If you are a UK resident, you can simply nominate a key worker for the trip of a lifetime here by August 31 2020. It involves completing a short form giving the name of your nominee and reason you are nominating them.
(If you're not sure who's classified as a key worker, check the government's list of critical workers here.)
What's the holiday like for the lucky key worker?
The jewel in Cambodia's crown is the awe-inspiring Angor Wat temple complex. Watching the sunrise there is simply magical. But there is so much more to enjoy – lush countryside, a fascinating history, luxury hotels, amazing food and warm welcomes.
A breakdown of the trip
The selected key worker will receive a trip for two people to Cambodia with a two night stopover in South Korea. See the itinerary below.
It will be a typical Audley trip with unique experiences, cultural immersion and the knowledge that everything included will truly support local communities.
More information as well as the terms and conditions are available from Audley Travel.
Day 1: Economy flight to Seoul
Day 2: Connect through Seoul and land in Phnom Penh for a private sunset river cruise on the Mekong River. Overnight in Villa Langka.
Day 3: Morning tour of Phnom Penh, including The Royal Palace and National Museum. Optional afternoon visit to the Killing Fields outside Phnom Penh and to the genocide museum. Overnight in Villa Langka.
Day 4: Morning visit to lively local markets before flying to Siem Reap. Overnight in Montra Nivesha.
Day 5: Visit to Roluos Group temples and Kompong Pluk floating village. Overnight in Montra Nivesha.
Day 6: Morning visit to Kulen Elephant Experience, a conservation initiative established to provide a sustainable retirement for the working elephants of Angkor. Afternoon at Beng Mealea – a temple first opened to visitors in 2002 after centuries consumed by the jungle. Overnight in Montra Nivesha.
Day 7: Hidden Trails of Angkor including lunch at Sala Kdei and visit to Banteay Srei Temple and Cambodia Landmine Museum. Overnight in Montra Nivesha.
Day 8: Angkor Wat at sunrise with monks blessing. Transfer to airport for flight to Seoul and overnight in Lotte L7 Myeongdong.
Day 9: Private morning city tour of Seoul. Overnight in Lotte L7 Myeongdong.
Day 10: Private transfer to the airport for flighthome.
Sharon has worked in lifestyle magazines for many years and is passionate about sharing information, whether that's about great places to discover, books to read, performing arts, or how to live a greener life. She has written for The Guardian and BBC Homes and Antiques, interviewed authors such as Isabelle Allende, and was a contributing editor to The Beekeeper's Bible.