Travel companies that go the extra mile to make your holiday sensational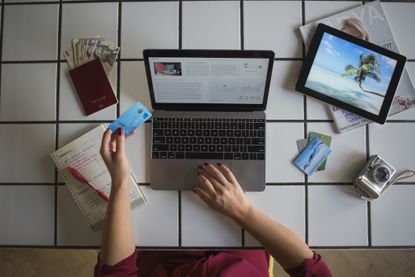 (Image credit: Getty Images/Westend61)
Witht the recent tragic collapse of the world's oldest travel company, Thomas Cook, it might be time to look at new travel companies for your holidays.
Here we've rounded up the best travel companies you can rely on. Whether it's unusual and exciting perks, or just really great customer service, these holiday operators really go the extra mile to make your trip exceptional.
Travel companies that go the extra mile to make your holiday sensational
Best travel company for exceptional on-the-ground assistance: Audley Travel
It's all very well getting experts to book your holiday, but what about on the ground? We all know travel doesn't always go smoothly, and sometimes it can be downright stressful. Audley Travel (opens in new tab) know this too, which is why they have a 24/7 helpline is ready and waiting to support customers with questions, or make things right when they don't quite work out as expected. Itineraries can even be re-routed by the team overnight if needed – such as when a flood stops a train running, for example.
Add this to the fact that Audley are one of the most widely-respected travel companies among travellers and industry bods alike, and you've got the perfect recipe for a reliable operator who can make your trip perfect.
Best travel company for exclusive access: National Geographic Expeditions
Do you really need travel insurance?
It may feel like an extra expense but travel insurance can give you peace of mind should the worst happen when you are travelling. The best travel insurance policies should cover most things, from emergency medical expenses and repatriation to flight delays and trip cancellations. You can even choose policies specifically tailored to your type of trip, such as cruise or backpacking insurance.
Compare Travel Insurance Quotes at GoCompare (opens in new tab)
Airline or room upgrades are exciting, and fancy meals or special service always makes a trip feel extra luxurious. But for something really special, book with National Geographic Expeditions. Their tours are not only accompanied by Nat Geo experts like marine biologists or photographers, but they also offer exclusive access to unique sights that others can't. On the Iconic Kimblerley Expedition Cruise (opens in new tab) in Australia, for example, you'll visit Horizontal Waterfalls in Montgomery Reef, Australia's largest inshore reef which is an area only accessible by ship.
Read more: Epic adventure holidays for the over 50s
Or on the Treasures of Indochina tour (opens in new tab), you'll get to have lunch with two former Viet Cong soldiers in their home to learn about life during the war. Usually, these are the kinds of experiences that money can't buy and travel companies can't offer, but thanks to Nat Geo's various projects around the world, you can now!
Best travel company for solo travellers: Riviera Travel
Travelling alone doesn't have to be lonely, and Riviera Travel (opens in new tab) are one of the travel companies that make it breezy for solo adventurers looking to explore a new place. They run a host of excellent escorted tours specifically for solo travellers (opens in new tab), offering private rooms with no extra cost (down with the single supplement!) and great social activities. You can travel anywhere from Italy to New Zealand to China. (And if you're keen on travelling solo next time, check out our tips for travelling alone and loving it.)
Best travel company for special occasion treats: Last Frontiers
Looking for travel companies that will treat you to special extras for that birthday or anniversary? Last Frontiers (opens in new tab), who specialise in bespoke itineraries for travellers to South and Central America, as well as the Caribbean, will do just that. Before you go, they'll check in on whether you're celebrating anything and ensure you get the VIP treatment you deserve. Expect birthday cakes, local fruit baskets, wine and chocolates or even a room upgrade.
Best travel company for a skiing adventure: Powder Byrne
Whether you love to ski or not, a time may well come that you find yourself on a mountain caked in snow. And if you do, make sure it's with Powder Byrne (opens in new tab). Once you get to your chosen resort, they offer a free ski guiding service, hosted by their ski managers who show you around and advise on the best runs. Non-skiiers aren't forgotten either, as the Mountain Host Programme offers a concierge service focused on non-ski activities. You'll meet your Mountain Host for coffee on day one and they'll ensure you've got plenty to entertain you throughout the trip, whether it's snowshoeing or spa treatments.
More like this: The best European holiday resorts according to mums
Best travel company for cruises: Silversea
Cruises are a wonderful way to see lots of places in one fell swoop – all in a relaxing fashion too. Many travel companies specialise in cruise, but Silversea (opens in new tab) make their trips even more relaxing with some seriously personalised service. (opens in new tab) They sail from the Med to the Antarctic, and every suite has a butler, who can unpack or pack your luggage, polish shoes and clean your glasses. They'll even draw you a bath if turning on the tap feels like too much effort. There's a choice of nine pillows available (bet you didn't even know there were nine types of pillow!) and free parka jackets and backpacks for their more adventurous, expedition cruises. Plus, there's a staff ratio of nearly 1:1 on all cruises, so you can expect exceptionally good service throughout.
Best travel company for escorted tours: G Adventures
G Adventures (opens in new tab) are an industry-renowned tour operator offering escorted tours of varying levels of comfort all over the world. You can visit Machu Picchu in Peru or spot big game on safari in Africa. These sorts of big trips are often booked months in advance, but we all know a lot can change between the time you book and the time you depart, so G Adventures have got you covered. Perhaps you experience some sickness, or simply can no longer afford the holiday you've booked due to unforseen circumstances and have to cancel. If this is the case, G Adventures will offer you a 'lifetime deposit (opens in new tab)', which means you can use the money you've paid against any trip in the future instead.
Whatever trip you're planning, with G Adventures you need not worry about losing out if you cancel. Very reassuring and why they made our edit of the best travel companies.
Lottie is an NCTJ-trained journalist, an experienced travel writer and an expert in creating compelling digital content.
Lottie has been in the travel writing business for nearly a decade and has writing and photography bylines at The Telegraph, The Times, The Independent, the i and National Geographic Traveller. She's done broadcast work for BBC Radio 4 and have contributed to a number of guidebooks and coffee table titles during her career.