Travel Money: 'We spent £7,500 on a twin-centre Cuban adventure'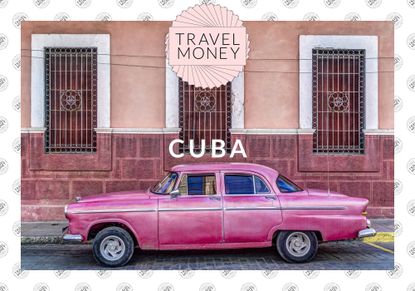 woman&home newsletter
Sign up to our free daily email for the latest royal and entertainment news, interesting opinion, expert advice on styling and beauty trends, and no-nonsense guides to the health and wellness questions you want answered.
Thank you for signing up to . You will receive a verification email shortly.
There was a problem. Please refresh the page and try again.
Ever wondered what a travel agent spends on holidays? Find out as we follow this week's Woman of the World on an adventure in Cuba
Welcome to Travel Money, woman&home's weekly feature where we talk openly and frankly about vacations and how much they cost. Each Sunday someone reveals where they went on their most recent holiday, how much they spent on it and how they paid for it. We've asked a cross-section of women, from those who planned a blow-the-budget once-in-a-lifetime trip, to those who travel on a shoestring. But they all have one thing in common: fastidious tracking of every penny spent.
"We spent £7,500 on a twin-centre Cuban adventure"
Age & location: 52, Southampton
Job & salary: £75k +, I'm an independent travel agent and my husband is a Sales and Marketing Director
Family make-up: Married with two daughters aged 12 and 14.
Travel habits: We travel three to four times a year abroad, and then the same in the UK, plus I travel more for business!
Saving period: 6-8 months
The trip:A Cuban family holiday - three nights in Havana followed by eleven nights in Varadero
The destination
Cuba has always been on our bucket list and we were keen to visit the country before too much changed. There are so many places to see in the world and this would be our last visit to the Caribbean in the short to medium term.
We split between Havana, where we stayed on a bed-and-breakfast basis, and Varadero, where we went all-inclusive. This combination gave us the perfect mix of city break and relaxing by the pool.
The Budget
I'm a travel agent, so I get lots of discounts and occasional freebies in my line of work, which I took full advantage of for this holiday. I worked closely with our tour operator to make sure the trip came within our budget, though.
Biggest splurge? Honestly just the holiday in general.
Biggest bargain? The staff concession I received for the holiday, plus I booked on a British Airways American Express card, which means for every pound spent I received one Avios point. This has enabled our family visit to Sweden and Sardinia the last few years for just £140 flight tickets.
The cost breakdown
Accommodation, flights and transport: £6,406.75
The package price for accommodation and transport was £6,406.75 – I was able to get a concession price as a travel agent, which is a great perk of the job!
I booked the holiday in October 2018 for July 2019. I wanted the holiday to be protected in the event of the tour operator going into administration. It was therefore important to buy a package rather than split the purchase of accommodation and flights.
We chose 5-star hotels in both Havana (opens in new tab) and Varadero (opens in new tab), which was a good decision as they are more like 4-star hotels in Cuba. A rooftop pool was an essential welcome relief in Havana due to the high humidity.
Experiences: £138
I received a free Classic American Car Tour of Havana (opens in new tab)for me and one adult as a part of a prize I won at a work event. This was a brilliant trip and worth every penny (we still had to pay for the kids). It was a personal tour of the city with your very own tour guide who was able to answer all of your questions.
This was the only tour we paid for, we spoke to our local holiday representative and also the concierge for other top tips on where to go.
Food & drink: £343
We ate out at two authentic Cuban restaurants, the first La Makina Gastro Bar which was a good small family run restaurant with very attentive waiting staff. Another night we ate at Al Carbon restaurant, which served huge plates of barbecued meat – enough to feed two families – and rum cocktails with practically a bottle of rum between the two of us!
We bought lunch from the hotel pool bar on two occasions and this cost approximately £40 per meal.
I found food shopping to be a pretty complicated process, and honestly the quality of food in Cuba is not as good as other Caribbean destinations. We visited the supermarket to buy water as we were told it was cheaper. We had to queue to get into the supermarket, weren't allowed to take any bags in and then realised there wasn't any water in the supermarket! We however did manage to get some water in a small back street 'shop' which was expensive but still cheaper than the hotel.
Whilst in Varadero, we visited the supermarket to get some crisps and snacks for the journey home. There are two types of currency in Cuba, one for the locals and one for the tourists. I found it virtually impossible to work out the prices of some Pringles in the supermarket and ended spending £5 a tube! They were good though.
Added extras: £280
We spent approximately £30 on new Kindle books. A top tip is to download all books/films/boxsets you want for the trip before you leave. Once in Cuba you won't be able to download anything. The whole family also needed new swimwear, shorts and t-shirts.
Health/medical costs: £59.50
I had to restock a few items in my first aid bag – this came to £9.50. We also all needed some new suncream – £30, purchased in the UK. Unfortunately we ran out so had to buy more in Cuba, which was £18 per bottle and of dubious quality!
Travel insurance: £275.76
We have an annual family policy, but the price is inflated due to the fact that my husband has a brain aneurysm.
Miscellaneous expenses: £0
No miscellaneous costs, however my parents stayed in the house for security purposes so there were no savings on electricity, gas or water!
Total cost: £7,503
The travel editor's verdict?
This Woman of the World really is a woman of the world – as a travel agent, it's clear she's got a savvy travelling head on her shoulders and has managed to get some great deals. The work perks make all the difference for her holiday, bringing the cost down significantly.
READ MORE: "A week-long solo adventure in Barbados cost me less than £1,000"
Inspired to recreate this for yourself? Our friends at Travelbag have calculated that the average cost of a family holiday for four in Cuba would cost£3,399, including 4-star hotels and return flights.
Top travel tip
Fancy a trip to Cuba? Don't miss a day trip inHabana Vieja, where colourful colonial architecture lines elegant boulevards, and the town'shistoric plazas are dreamy places to while away an afternoon with a cocktail or coffee.