Raymond Blanc to join our new Bordeaux river cruise this summer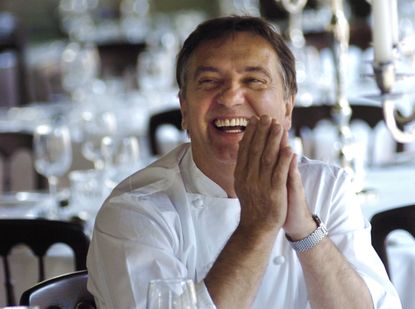 (Image credit: Gavin Crilly)
If you want to learn how to master a classic French dish, who do you turn to? Raymond Blanc, of course. With his Michelin-starred restaurants, best-selling recipe books, and sumptuous cookery shows, Raymond is the king of gorgeous Gallic cuisine – which is why we're over the moon to announce he'll join our gastronomic river cruise around Bordeaux this summer.
He'll join the 11-day cruise for two very special days of foodie fun – including an exclusive talk and Q&A session, gala dinner, and a private cooking demonstration by Raymond and his sous-chef. Plus, TV wine critic Susy Atkins will guide you through wine masterclasses and delectable tastings.
"There are few greater pleasures than drifting quietly along the rivers and canals, perhaps with a nice glass of wine in your hand," says Raymond. "I look forward to meeting you on board and toasting together to beautiful Bordeaux." See the details
The cruise will depart from the city of Bordeaux, in south-west France, before heading into the countryside – to award-winning vineyards, beautiful river valleys, and quaint riverside villages. As well as meeting Raymond and Susy, you'll enjoy a range of exclusive experiences – such as a classical concert at a13th-century Château,private cookery lessons with the ship's head chef, and guided tours of the region's loveliest areas. Raymond will join the ship in Cadillac, and stay for two nights.
For this exclusive holiday we have partnered with Scenic, whose luxurious river cruises are second to none. It's entirely all-inclusive, with all the exquisite food and wine you could wish for, and you won't even have to pay a penny extra for any excursions.
"There's so much to enjoy in Bordeaux, says Susy; "world-class red wines, crisp whites and rosés, and glorious dessert wines too". We can't wait! See the details & book
Explore the flavours of France with Raymond Blanc
When? 26 August - 5 September 2018
How long? 11 days
How much? From £3,230pp
Inside your luxurious ship
Vineyard in Bordeaux