6 reasons a Puglia holiday should be top of your 2020 to do list
Pssst, Puglia is the region of Italy where the Italians holiday. Magnifico!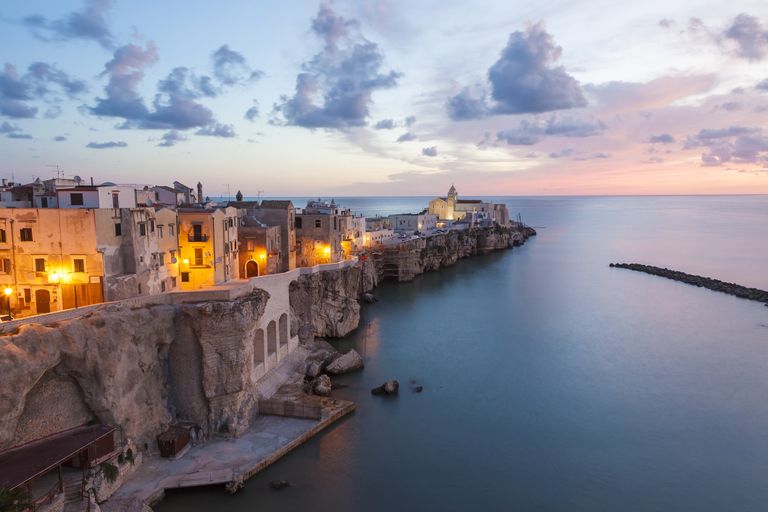 (Image credit: Getty Images/Mint Images RF)
The heel in Italy's boot is a sublime destination for a spring, summer or even autumn escape. Here's why you should holiday in Puglia, Italy...
Once a strategic province in Europe, Puglia has been conquered by almost every major power in history. The Romans, the feudal lords, and today? The tourists. This delightful region is now a popular spot for visitors from across the world to come and sample Italy's many charms, from its coastline to its bucolic interior. Yes, a Puglia holiday should definitely be on your travel to-do list for 2020!
Here are the top reasons we think you should holiday in Puglia…
6 reasons to book a Puglia Holiday
1. There's some fabulous accommodation in Puglia
Cliff-top hotels, farmsteads with cottages on their land, and unique to the region, little trulli – whitewashed storehouses with pointed dry-stone roofs – all make spectacular accommodation options for your Puglia holiday. And great accommodation and a relaxing setting can be the making of a holiday.
Woman&Home chose to stay in one of the fabulous CV Villas properties
We were in the area with young children and loved the family-friendly set up of The Olive Grove (opens in new tab). Just 1.5km from the picturesque village of San Vito dei Normanni, its a small private estate nestled within four hectares of ancient olive groves.
Its spectacular outside space, capacious interiors (with an amazingly well-equipped kitchen!) and proximity to beach clubs and adventure parks like Fasonlandia (opens in new tab), mean it's a great option for those with kids.
It also has a tennis court, a kids playground, a huge toy stash, a trampoline and go-karts, all of which will keep the little-ones occupied for as long as you wish to read. Perhaps best of all is the dreamy pool scene.
The swimming pool is exceptional, being private and bigger than many that we've swum in at large fancy hotels. It was a genuine treat to set eyes on it every day. We arrived with two non-swimming four year olds, but we left with two swimming four year olds. Delighted!
Oh, there is a problem with this place: you'll not want to leave it. You'll make excuses not to see this, or not to do that. But do try to drag yourselves out or you'll miss out on numbers 2-6 on our list of why you should book a Puglia holiday...
The Olive Grove (opens in new tab)is a CV Villas (opens in new tab) property. The Olive Grove is six-bedroomed villa in Puglia that sleeps up to 17 people and is priced from £329 pp (£3,493 total) for a seven-night stay, based on 12 sharing, including welcome pack and daily maid service. Reductions are offered for smaller parties.
2. Puglia's got the best of both worlds
From dramatic coastal cliffs to rolling hills covered in fields of wheat, this geographically varied region is a delight for the eyes. Historic cliff-top towns have intrigue and incredible views, like Polignano a Mare, which straddles a cosy little beach looking out to an azure Mediterranean Sea, or the Salento region in the south, where you can swim in crystalline waters beneath natural archways and inside sea caves.
More like this: This is the only Italian city you need to visit this year (opens in new tab)
Inland, pretty towns and cities make for excellent day trips. Ostuni is known as 'The White City' and its bianca-washed streets are brimming with charm and charmed tourists. Lecce has been called the 'Florence of the south', with its elegant architecture, Roman ruins and beguiling Old Town that's well worth lingering in into the evening on your Puglia holiday.
Further north is Matera, 2019's European cultural capital, a beautiful, historic city that is often over-looked by tourists for the likes of Rome, but if won't be for long. And Alberobello is famous for its intriguing little trulli buildings.
The curious 14th-century drystone storehouses have been converted into all manner of things, from shops to galleries to bars and restaurants, so spend a few hours here wandering this town that looks like it was built for gnomes, then head up to the Belvedere Trulli on Piazza del Popolo for views over the whole area.
3. There are some stunning islands just off the coast of Puglia
If mainland life gets too much for you, it's easy to escape to a more secluded spot just off the coast. The Tremeti islands are stunning. Almost 25 miles off the coast of Puglia, this archipelago has some of the clearest water in the Med. They tend to get taken over by tourists in summer, but come in spring or autumn and you'll have a far more relaxing time.
More like this: The best family holiday resorts in Europe according to mums (opens in new tab)
Ferries depart regularly from Termoli, as well as Vieste, Peschici, Manfredonia, and Rodi Garganico. Once on the islands, hole yourself up on one of the many beaches and coves – San Domino has the best – or head out hiking on one of the uninhabited isles during your Puglia Holiday.
4. Apulian cuisine is super healthy (and delicious!)
Thanks to the region's agricultural bent, there's a fair amount of veg in Puglia, making it one of the healthiest diets in Italy. Expect plenty of grilled aubergine, tomatoes, turnips, olives and chickpeas in your meals here, as well as healthy bowls of pasta, of course (with Orecchiette being the pasta shape of choice). On the coast, freshly-caught fish grilled and served with a side salad is the staple.
You'll find big bags of Taralli sold everywhere too. Usually savory, these are little crunchy rings of baked dough that are eaten like crisps in Puglia, often with a glass of red wine as an aperitivo. They're often flavoured with fennel seeds, peppercorns or poppy seeds, and are incredibly moreish.
The highlight in Apulian cuisine, though, is the burrata. This creamy, soft white cheese that oozes when you cut into it is absolutely divine and best mopped up with fresh bread and a drizzle of olive oil.
Where to eat in Puglia
Looking for specific restaurant recommendations? CVVillas' Italy Product Manager, Carolina de Capell Brooke, has some fabulous suggestions in Ostuni.
'There are some excellent and very well priced restaurants in the area. In Ostuni, after a walk in the old town, we recommend trying one of the tremendous restaurants "La Taverna della Gelosia" or "Piazzetta Cattedrale". We also suggest a visit to Masseria Brancati – a traditional fortified farm of the XVIIth Century – to enjoy a guided extra virgin olive oil tasting. At the end of your tour of the trulli town of Alberobello, try incredible almond ice-cream at "Arte Fredda"'
5. Puglia has some excellent vineyards
Along with excellent food, of course, comes brilliant wine. Italian wines are some of the finest in the world, and Puglia has ample opportunity for sampling some among the vines. Primitivo grapes are the most common here, so red is often the colour of choice, though there are some wonderfully refreshing rosés, and plenty of vineyards open their doors to visitors for tours, tastings and even meals.
Take a tasting tour like this one (opens in new tab) and you'll get familiar with the wine-making process, get the lowdown from a sommelier and meet the winemakers themselves, all while enjoying the gorgeous Apulian countryside.
6. Puglia region knows how to party
Add another dimension to your Puglia holiday by visiting during one of its many festivals – it's home to the most number of carnival celebrations, after all. Putignano's carnival is the longest in the country, beginning on 26 December and ending on Mardi Gras, the day before Ash Wednesday. Its history goes back to the 1300s and today it sees all the usual carnival celebrations such as parades and elaborate costumes.
Elsewhere in the region, though, there are hundreds of smaller festivals to enjoy. Whether you love ceramics (try Buongiorno Ceramica! in May) or jazz (Bar Jazz Festival is held throughout June, July and August) then there's something to entertain. Foodies should head to Maglie in Salento for an open-air food market, pasta making classes and more in August.
Getting around on your Puglia holiday
Puglia is a fantastic region with lots to see and experience. However, it's not quick or easy to navigate on public transport. We suggest hiring a car and we found the best deal booking through Auto Europe (opens in new tab).
Please note that if you hire a car and pick it up at the airport for your Puglia holiday, this can be subject to additional taxes on arrival. If you require car seats for young children we recommend that you travel with them.
Lottie is an NCTJ-trained journalist, an experienced travel writer and an expert in creating compelling digital content.
Lottie has been in the travel writing business for nearly a decade and has writing and photography bylines at The Telegraph, The Times, The Independent, the i and National Geographic Traveller. She's done broadcast work for BBC Radio 4 and have contributed to a number of guidebooks and coffee table titles during her career.