Motorhoming in Scotland: The best places to visit and why it's the perfect escape right now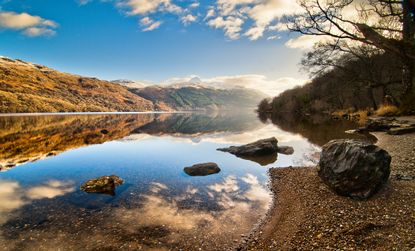 (Image credit: Getty Images)
If Scotland has always been on your bucket list - and let's be honest, why wouldn't it be? - maybe now's the perfect time to visit.
These are our top tips for motorhoming in Scotland, from the best way to get there to the unmissable spots to visit.
With travel rules changing all the time, the freedom that comes with hitting the open road and parking up at a beauty hotspot of your choice could be just what you need. Especially after months in lockdown.
The British Staycation has seen a true revival in 2020 and some of the best places to visit in the UK are in Scotland.
Plan your next adventure motorhoming in Scotland with our top travel tips...
Tips for motorhoming in Scotland
Living life on the road
Whether you're travelling as a couple, in a group or with the family, there's a motorhome to suit everyone. Sleeping from 2-6 beds, it's good to think about who's going, whether you'd like single or double beds, the amount of space required, and exactly where you're going.
Don't want to eat out? Most motorhomes are equipped with a kitchen, so if you just want a relaxed evening – pasta it is! Many will be equipped with a disposable BBQ, too - a family favourite.
And if you are taking the children or grandchildren, honestly - they love nothing more than the idea of travelling around in their 'house' and discovering the hidden beds and cute table that folds down from the wall. All part of the adventure.
With so much to see, travelling around Scotland in a motorhome, means you can take your pick - the best way to see so much in a short space of time. And, there's a lot to see!
Best places to visit in Scotland in a motorhome
Head for the Highlands
Driving around the majestic mountains, deepwater lochs and heather-covered glens of the Highlands will, quite literally, take your breath away. Every corner presents a heart-stopping moment as another magnificent mountain, waterfall, lake or clifftop castle reveals itself.
Try Loch Lomond - a national park with fantastic campsites, including the Argyll Loch Lomond Holiday Park. Featuring great watersport activities and gorgeous views, it's just an hour-and-a-half drive from Edinburgh.
And, the cute conservation village of Luss on the western shore with its picturesque campsite is just a five-minute walk from the village. Cottages strewn with flowers line up in neat rows, gift shops are plentiful, and the restaurants family-friendly Try the Loch Lomond Arms Hotel - a luxurious 17th-century coaching Inn - for a gorgeous seasonal family dinner or just a cosy drink for two in a squashy sofa by the fire.
See the cities
Boasting such an extensive natural playground, it's easy to overlook the gorgeous cities of Scotland, but with their awe-inspiring architecture, ancient castles and world-class galleries, they are a must-see.
Take Edinburgh. With its infamous ancient castle, historic old town and awesome architecture, it's no wonder it's considered one of the most beautiful cities in the UK. Wander down the Royal Mile for a shopping experience you won't forget. Cobbled alleyways, cosmopolitan shopping and enough bagpipe players, magicians and buskers to keep the little ones entertained. Take a tour around the city's famous castle or the National Museum of Scotland. Feeling active? Hike up Arthur's Seat – an ancient volcano – for the best view of the city.
Looking for an adventure?
Fort William is widely considered Scotland's premier adventure destination. Here at the Nevis Range Mountain Experience, the whole family can take a gondola up Aonach Mor, the UK's eighth highest mountain. Ascend the mountain and watch the mountain bikers take on some of the best trails in the country. Or in the winter, see skiers and snowboarders descend the slopes. There's a fantastic viewpoint at the top with views to Ben Nevis.
Head back down the mountain and there's an aerial tree adventure for the kids complete with tree swings, ropes and a zip wire. There's also The Pinemarten Cafe for those just looking to soak up the experience.
Can you park a campervan anywhere in Scotland?
Technically, no. As in the rest of the UK, when motorhoming in Scotland it is illegal to park your motorhome on private landwithout permission from the landowner. With vast landscapes of rural, wild and isolated space across Scotland, it's probably going to be pretty difficult to get that permission. Especially if your trip is of the spontaneous persuasion.
In our opinion, it's best to book a spot in one of the many beautiful campsites in Scotland. Although you don't have to book in advance, planning where you're going to stop and booking in your spot guarantees that you are securing a great place to rest. Plus the best views on the edge of a scenic loch or at the foot of a magnificent mountain. If you don't want to book in advance, our advice it to turn up early to avoid disappointment.
Tips for motorhoming in Scotland: How to get there
The quickest way to travel to Scotland is to fly directly from London to Edinburgh, which can take between 60-90 minutes. A train from London's King's Cross can take anywhere between four to six hours.
For a week's hire of a family-sized motorhome, sleeping five, prices start around £840 in low season rising to £1,365 in high season. Everything is included from a fully-equipped kitchen to a TV and Wi-Fi. Visit swiftgo.co.uk. For campsites see caravanclub.co.uk/membership.
Books Editor - Woman&Home
It's safe to say, woman&home's Books Editor, Zoe West has read a LOT of books.
As an avid young bookworm obsessed with the adventures of The Magic Faraway Tree and the misadventures of red-haired orphan, Anne Shirley, Zoe never lost her love of reading - and the fact she now gets to do it as her job is a constant source of wonderment for her.
When Zoe isn't reading she is interviewing authors, hosting live events where she gets all the gossip, and seeking out exciting new writers she can't wait to tell her readers about.