How Miranda Hart left her heart in Malaysia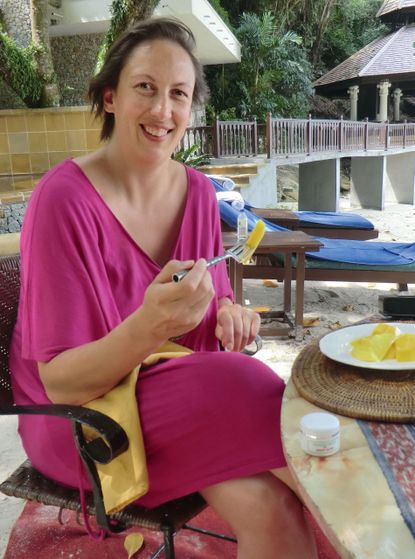 I have never been more welcomed than on arrival at the Majestic Hotel Kuala Lumpur. They knew I worked in media and had clearly pulled out all the stops, just in case I was the British Mariah Carey. They must have had a shock when, after a 12-hour flight, I stepped out of the taxi with a greasy bed head, eyepatch lines scarring my face, dried dribble and the breath of a skunk. But, despite my looks, the welcome was beyond generous.
The Majestic Hotel was built in 1932 and has been restored, having been dormant for some two decades, reopening in 2012. And it is, well, majestic. I was in the Majestic Wing, where it was easy to picture 1930s gentry in white tie, sipping brandy and talking all things Empire. Equally, despite evoking that spirit, it was beautifully contemporary in design and elegance. The perfect luxury for a two- or three-night stopover in KL to recover from jet lag and revel in a touch of home from home.
Afternoon tea? Don't mind if I do! Although good luck getting into the "drawing room". When I asked why it was locked, the answer was, "Well, if it isn't, people may go in it." WHAT?! A hotel's equivalent of a mother's best room, which is kept pristine and welcoming, but on-the-spot fines will be made should you enter on any other time than between three and five o'clock on 25 December!
Moving on My next step was the Cameron Highlands Resort in - yes, correct, a point to you - the Cameron Highlands. A couple of nights here en route to the beach gives you the chance to see another part of the country and, ultimately, savour the beach destination even more when you get there. (Particularly when you might be struck by cloud and drizzle in the Highlands as I was.) This did not deter from the wonders of seeing a tea plantation, though. I adore tea. Life moments are punctuated by a good old cuppa and now I sip with the image of a stunning view of rolling hills and tea bushes. It was also here that I discovered Malaysia gives exceptionally good spa, and the treatments at the Cameron Highlands Resort didn't disappoint.
Before your chosen treatment (in my case, a hot stone massage), you are given a tea bath. Yes, really, a bath of tea. Showered with floating chrysanthemums. Be prepared to be frightfully un-British on the old nudity front, as my attempt to bathe in a swimsuit was frowned upon and caused some confusion. Equally, be prepared when lying in a tea bath naked, for chrysanthemums tend to find themselves in places they shouldn't. We will say no more! I was given some honey exfoliator and limes for my knees and elbows, and teabags for my eyes. I was beginning to feel like a human cocktail and hoped the local bee farm hadn't lost a hive, as they would be heading straight for naked me. But the post-massage care was delightful. On thanking the woman who presented me with some camomile tea, biscuits and local strawberry jam (beyond yummy), she replied, "It is my pleasure to serve you, actually." The "actually" made it all the more nuanced and sublime. If only UK customer service could adhere.
My final stop Then the morning came to head to what had been hyped up in my Brit-craving-the-sun mind as "beach nirvana". Was it going to live up to expectation? The third hotel was Pangkor Laut Resort. It sounded fabulous. Expectations were high, I won't lie. But arriving at the port where you get a boat to the island, it was misty and raining. I panicked. Then we turned the corner (do you turn corners in boats?) and there was Pangkor Laut - lush and green, canopied by blue sky.
As I was put in a jeep to take me to the part of the island I would be staying in, I felt like I was arriving at Jurassic Park. I imagined Richard Attenborough was driving and I was next to Jeff Goldblum. Monkeys leapt out in front of the jeep (although these were, of course, "dinosaurs"), and giant hornbills flew above us.
It feels like you are the first people discovering the island. Yet you are set up in luxury. Yes, my bedroom had a tree through its veranda roof (because only trees that were essential to cut down for building were), and yes, keep your door and windows locked, as monkeys can get in. But, inside, it is comfort personified. And nothing is too much trouble for the staff. It really is their pleasure to serve you, actually.
One night, they suggested my friend and I have a barbecue on the beach. What a treat. To eat local fish barbecued on the beach with sounds of the jungle I thought I would only ever hear on a relaxation CD, stars in the sky and the gentle lapping of waves. I don't want to write a naff picture postcard, but I am afraid it's hard not to about this place.
I was beginning to feel fully at home on my jungle island. One morning, walking to the beach, I saw some hanging branches from a tree and, looking around to make sure no one was looking, did a little swing on them while saying, "You Tarzan, me Jane," then quickly resumed my walk. (I think I got away with it.)
After five spoiling days, I got back on the boat to the mainland, not realising an island tradition was that hotel staff wave guests off. As we pulled away, I found myself shedding a tear - I suppose at the thought of possibly never returning to such a magical place again. It was my pleasure to have stayed with you, actually.
HOW TO BOOK Cleveland Collection (020 7843 3531; clevelandcollection.co.uk (opens in new tab)) can arrange an 11-night stay in Malaysia from £1,960pp, based on two sharing a room. This includes flights, private transfers, two nights B&B at The Majestic Hotel Kuala Lumpur in a Deluxe room, two nights B&B at The Cameron Highlands Resort in a Deluxe room, and seven nights B&B at Pangkor Laut Resort in a Garden Villa. Upgrades are available to the Estate Suites at Pangkor Laut from £1,150pp, based on seven nights full board.