Why Martinhal resorts are so beloved by families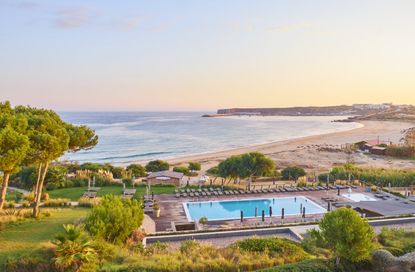 A guide to Martinhal Hotels and Resorts, including the top facilities and which is best for your next holiday…
If you were to ask one hundred families about the best resorts in Europe for families, there's no doubt that a fair few would immediately say Martinhal (opens in new tab). This Portuguese brand is beloved by families all over Europe, and it's been given the seal of approval by mums on Facebook (opens in new tab) too.
So what is it about Martinhal Hotels & Resorts that makes them so special, and which of their four properties is best for you? Read our guide to Martinhal to find out…
What do travellers say about Martinhal?
Mum of two, Joanna Booth, has stayed in three different Martinhal resorts with her family and says she'd go back in an instant. "Martinhal takes great care of kids but doesn't forget parents' needs too – rooms are child-friendly but stylish, the spa is as carefully considered as the kids club, and you can order a delicious three-course dinner with wine at 5pm while your children eat from a healthy buffet and then play in a dedicated, supervised play space while you finish dessert."
Read more: Travel Money: "We spent £22,500 on the perfect family holiday"
Travellers online rave about the kids club, swimming pools and excellent food, with one reviewer saying "If you have kids and are looking for a five star resort this is where you want to go!"
What the owners say
Owner and founder of Martinhal Hotels & Resorts says told woman&home that their ethos lies around making parents' lives easier. "Our collection of family hotels and resorts, located in four of the most beautiful areas of Portugal, remain a popular choice for families who want to get away, spend quality time together and create wonderful memories in a luxury setting.
"We aim to make parents' lives that little bit easier by providing a range of facilities that offer comfort, relaxation, fun and entertainment. From modern, child-friendly accommodation to tailored children's menus that include fresh purées for babies, children's clubs for different ages, a supportive baby concierge service, couple time facilities and services including babysitting and spas with family treatments. Plus there are fun activities from swimming, surfing to horse-riding, golf and more.
"There is something to suit every member of the family," she says, "including the grandparents."
A guide to the Martinhal Resorts
Martinhal has four resorts to choose from – two on the Algarve and two around Lisbon. Here's our guide to the best Martinhal resort for you.
Best for a family adventure: Martinhal Quinta (opens in new tab)
Do you really need travel insurance?
If your holiday plans amount to sunbathing by the sea or lounging by a pool, you may think of travel insurance as a needless expense, but it can give you peace of mind should the worst happen on your travels. A travel insurance policy will cover things like lost luggage and trip cancellations, as well as emergency medical expenses and the cost of getting you home. You can even get specialist cover for a specific type of trip, such as cruise travel insurance.
Compare Travel Insurance Quotes at GoCompare (opens in new tab)
This Martinhal property on the Algarve is a stunning break for all the family. It's a great location for exploring Portugal's south coast, from wide sandy beaches to pretty hilltop towns. Take boat trips on the ocean, introduce the kids to snorkels or kayaks, and try watersports as a family – all bookable at the resort.
Accommodation at Martinhal Quinta is in stylish, luxurious but practical villas and townhouses, each with their own private pools, and there's access to all the resort's amenities throughout your stay. For the children, the kids club provides an exciting place to make new friends and hang out with siblings. There are numerous playgrounds and games rooms across the resort suitable for all ages. Budding gymnasts will love the trampoline sunken in the sand, and water babies will love the pool's child-friendly slides.
Read more: Exquisite all-inclusive resorts that offer the best of both worlds (opens in new tab)
Parents get a pretty good deal too. Expect golfing opportunities, spa treatments, day trips to wineries and even diving or snorkelling excursions. Food is well thought out, too. While you could cook in the comfort of your own kitchen, there's plenty to eat in the resort too. Restaurants have specially-designed kids menus, which include fresh purees for babies, and exceptional dishes for the adults. Expect fresh seafood, silky gelato and sublime desserts.
Best for a beach break: Martinhal Sagres (opens in new tab)
This luxurious Algarve beach resort is simply dreamy. Martinhal Sagres has all the style and substance of the other resorts, but one added extra: it's right on the beach. Set within a protected natural park, its stunning locations on Martinhal Beach is unrivalled. Here, you've got direct access to sunbathing, swimming, snorkelling and watersports.
The resort itself has lots to love too. There's a spa for parents who need some pampering, tennis courts for family tournaments, bike hire for exploring the coast and a gym for those who want to keep fit.
There are eight different accommodation options here, providing an exceptional range to suit any family. The hotel provides comfort and convenience, varying types of villas and houses offer high-end, cleverly designed accommodation for up to 10 people. The Ocean Houses and hotel rooms have by far the best views, though.
Food is brilliant here too. From Portuguese cuisine to healthy kids food, there are three excellent restaurants to choose from. Plus, four takeaway outlets offer ease and flexibility for those who just want a night in. This Martinhal Resort is by far one of our favourites – you might just find it difficult to leave.
Best for a city break: Martinhal Chiado (opens in new tab)
Martinhal Chiado claims to be the world's first city-centre family hotel. Whether that's true or not, doesn't matter to us – it's one of the best we've ever seen.
Chic is the word of the day here, as colourful and cleverly-designed apartments make up the accommodation options. You'll get a fully equipped kitchen (with an all-important dishwasher), a cool living space and comfortable bedrooms. Kids get to sleep in bunkbeds, and in the largest apartments you'll have a great dining area for big family gatherings.
This Martinhal Resort has fewer amenities due to its central location in the Portuguese capital, but it's still a fantastic option for family holidays. Parents can drop children off at the kids club to get out and about in the city. You can even leave them there in the evening until 10pm so you can enjoy romantic date night dinners.
Location-wise, it doesn't get much better than this in Lisbon. Walking distance from some of the intriguing early 20th-century elevators that offer great views over the terracotta rooftops, and just a short journey from the Castelo de S. Jordge, you're in a great position for sightseeing. See the gorgeous architecture of the Praça do Comércio, just a few minutes walking from the hotel, and don't miss the city's impressive cathedral.
There's a fantastic concierge here too, so ask for tips on where to take the kids for a family day out.
Best of both worlds: Martinhal Cascais (opens in new tab)
Just a 40-minute drive from the city centre Martinhal Chiado hotel, this resort is an excellent place to get a few days of relaxation in before heading home. Sitting on the coast 20 miles west of the city, there are suites, villas and deluxe hotel rooms available to book, each tailored for families with kids.
There's the classic Martinhal kids club, plenty of outdoor playgrounds, plus bike hire for family days out on the coast. Adults will love the gym for keeping fit, the sublime spa and the myriad sports on offer from tennis to surfing to sailing.
Day trips include fishing, tuk-tuk tours, dolphin spotting trips and horse riding in the gorgeous Portuguese countryside. Food is brilliant, too, with three different restaurants to choose from with kid-friendly menus and dishes to please all palates.
Lottie is an NCTJ-trained journalist, an experienced travel writer and an expert in creating compelling digital content.
Lottie has been in the travel writing business for nearly a decade and has writing and photography bylines at The Telegraph, The Times, The Independent, the i and National Geographic Traveller. She's done broadcast work for BBC Radio 4 and have contributed to a number of guidebooks and coffee table titles during her career.